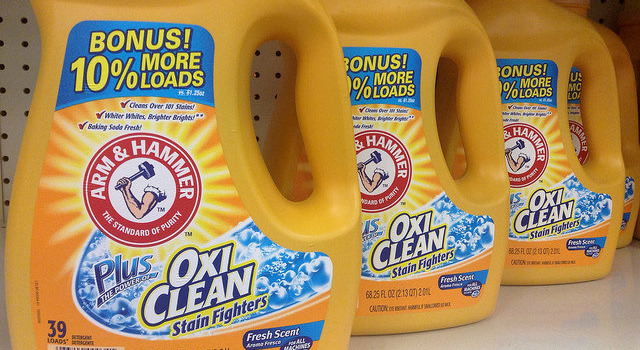 Church & Dwight (NYSE:CHD) has been on my watchlist for ages now. With its strong stable of brands and superb record for revenue, operating income and free cash flow growth I have always found it hard to ignore. It is, as I noted when I reviewed it back in February, an incredible company with a wonderful record for extracting the most out of its diverse brand portfolio.
Back then I noted that its valuation kept me away from investing. Since then it has continued to climb: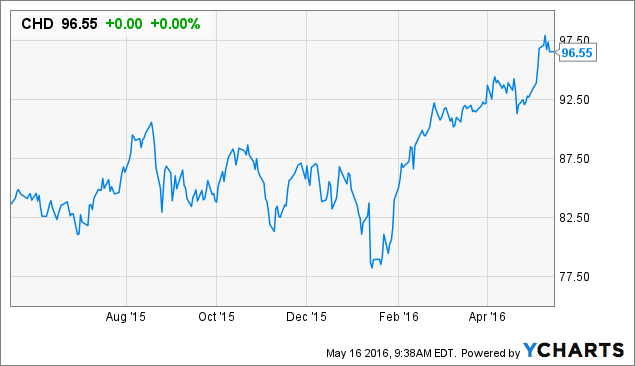 I must admit, however, that the more quarters like the recently declared Q1 2016 one I see from them the harder I find it to not at least nudge my way into a small position despite the valuation.
Let's see what I mean.
Revenue and Operating Income Continues to Climb
Church & Dwight continue to see robust growth both in revenue and operating income in Q1 2016 with both lifting over 4%: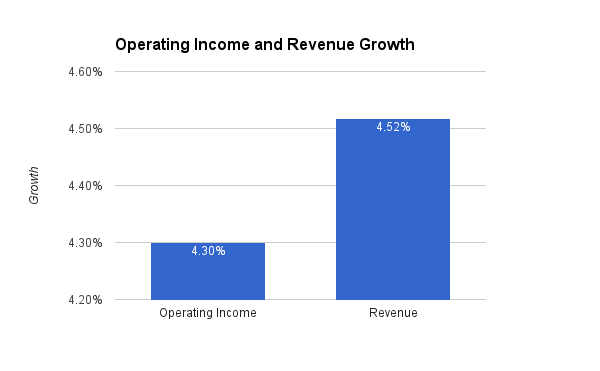 Although this is lower than the rate back before 2014, it is clear the pace of growth is still quick and, it seems, growing once again: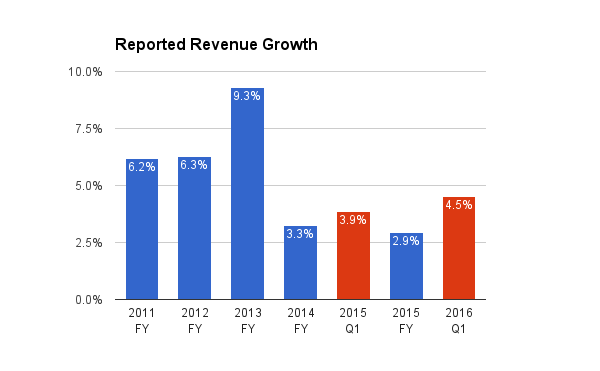 This is great news showing that top-performers like Church & Dwight can pull out strong growth through all economic weathers.
With revenue and operating income growth at pretty much identical rates, unsurprisingly this kept their impressive operating margins pretty much in line with this time last year: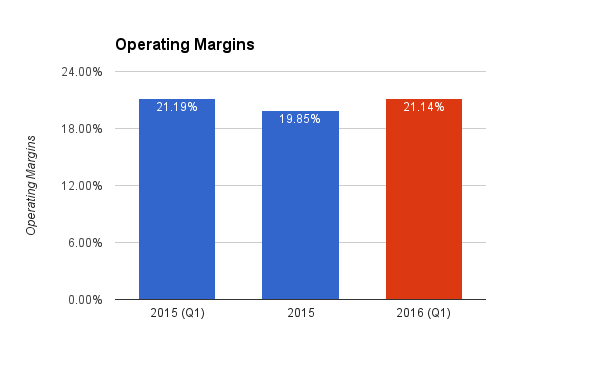 Obviously, branded consumer defensive business tend to have impressively high margins. Yet even amongst this high-performing peer group, Church & Dwight continues to impress relative to its peers*: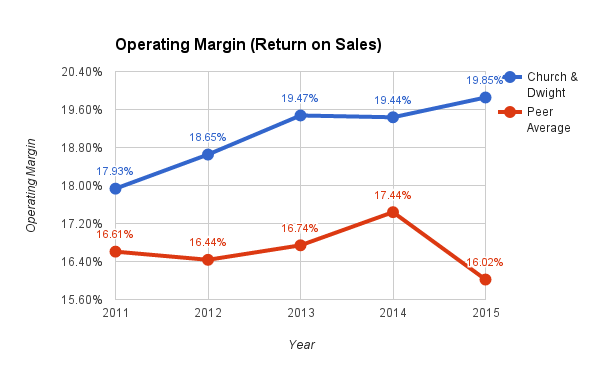 Growth was not universal, however, with their Specialty Products segment seeing revenue shrink in the quarter both on a reported and organic basis: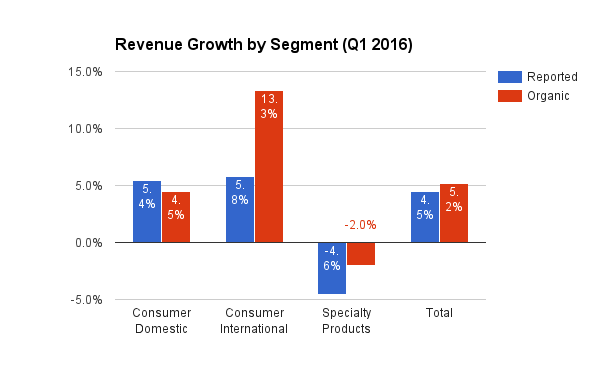 Specialty Products remains a small and, at the moment, shrinking part of the Church & Dwight business, however. Increasingly the Consumer International segment is becoming an important part of Church & Dwight's growth story as its plays a larger part in its supporting role to the core Consumer Domestic segment: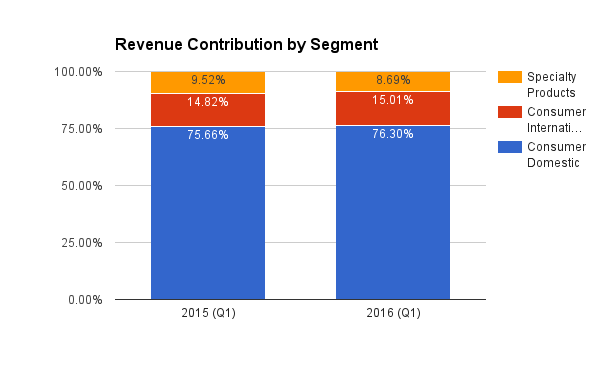 As can be ascertained from the organic revenue growth figures above too, the Consumer International segment is performing even more strongly when you look beneath reported figures. Indeed, the effects of foreign exchange headwinds chipped 8.9% off their Consumer International segments underlying growth:

The reality is that increasingly Church & Dwight is becoming a significantly geographically diversified consumer business too. This I like very much and is a trend I have to say looks like has only just begun.
Volume Growth
Something else I really like is that their performance was not resting heavily on pricing hikes alone. Several consumer goods companies (perhaps most prominently Procter & Gamble (NYSE:PG)) have had to rely on the pricing power of their brands to keep any semblance of growth on their report cards.
Yet Church & Dwight has relied much more on the more attractive growth in volume. Volumes grew 5.6% across the company, yet in the international segment they leapt 9.6%: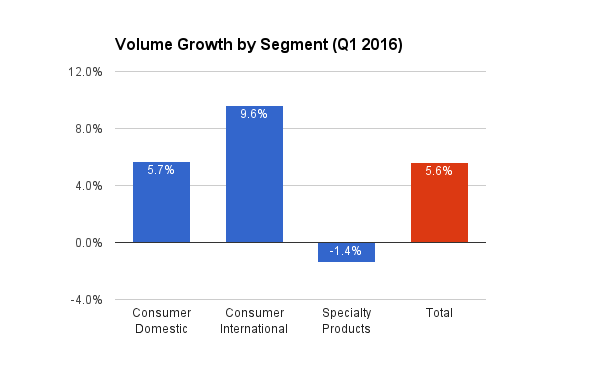 Clearly again its non-consumer Specialty Products segment has disappointed here too. Yet, overall, volume growth remains impressive across the core consumer divisions. Another great sign for the long-term and suggestive that the company still has plenty more volume growth to chase after. 5.7% volume growth in its domestic market is also superb and indicative of the strength of its present products and recent roll-outs.
Cash Flow Star
This is not all that impresses.. Church & Dwight continues to generate incredible levels of FCF. This was emphasized in Q1 when operating cash flow increased whilst CapEx also declined as the vitamin plant investment came to an end.
The result? FCF lifted from $122 million in Q1 2015 to $169 million in Q1 2016: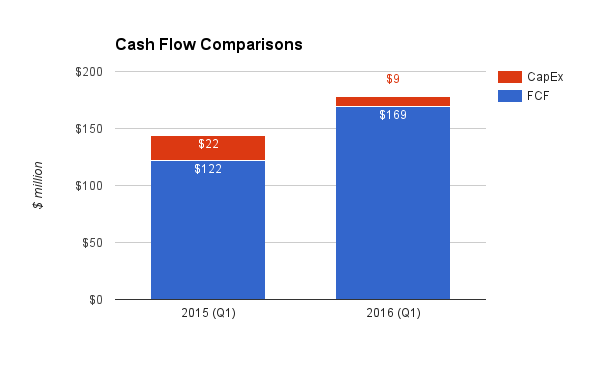 What is more, despite debt growing from $977 million in Q1 2015 to $1151 million, the company's CROIC (cash return on invested capital) looks set as a result of stronger cash flows to be bumped higher by the year's end. Assuming that Q1 2016 comprises a similar proportion of FY CROIC as last year we could see a CROIC of 23%: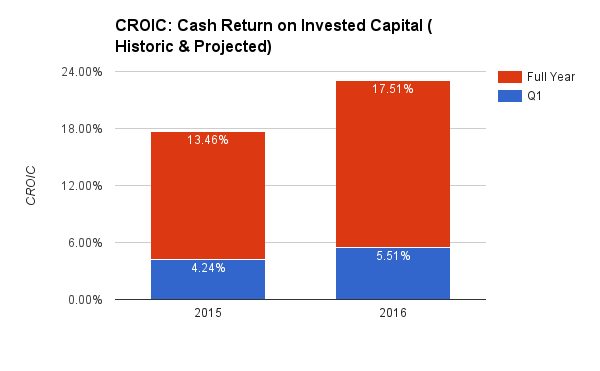 Certainly we should expect to see them continue to push their CROIC above 20% and-yet again-improve on their already historic performance: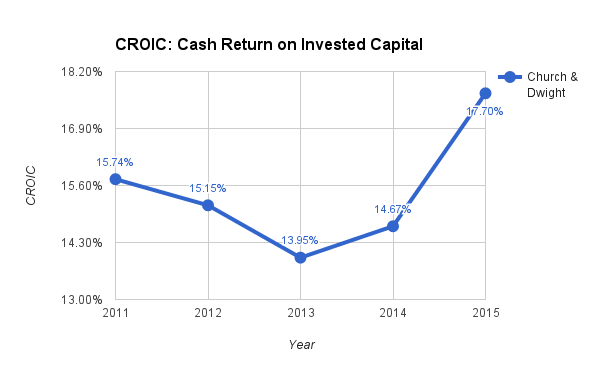 This is a great sign. Being set to generate over $20 for every $100 of capital invested in the business (that is, debt and shareholders' equity) is not something many companies can claim. Yet I have little doubt that Church & Dwight will be able to do just that sooner rather than later.
Conclusion
Church & Dwight continues to impress me immensely. It continues to never miss a beat with regards growth as well as showing a superb ability to leverage current brands and selectively purchase fresh brands to add to its portfolio.
Q1 2016's results really confirm that Church & Dwight deserves a place in my portfolio. Yet I still can't quite satisfy myself that it is attractively valued. Shortly I will set about applying my three valuation methods to see whether-despite its hefty present valuation-it still holds some value appeal for a long-term investor like myself.
Whatever that analysis may suggest, however, it is clear that Church & Dwight certainly deserves to retain its place high on my watchlist even if its place on my buy list still remains uncertain. It is a great company producing great performances in a tough environment. There is little more you can ask of it.
Notes
* Peers on this occasion are: Unilever (NYSE:UL), Procter & Gamble, Colgate-Palmolive (NYSE:CL), Clorox (NYSE:CLX), Kimberly-Clark (NYSE:KMB), Reckitt Benckiser (OTCPK:RBGLY), Tupperware (NYSE:TUP), & WD-40 (NASDAQ:WDFC)
Unless otherwise stated, all graphs and the calculations contained within were produced by the author. Creative Commons image reproduced from Flickr user jeepersmedia.
Disclosure: I am/we are long UL, PG.
I wrote this article myself, and it expresses my own opinions. I am not receiving compensation for it (other than from Seeking Alpha). I have no business relationship with any company whose stock is mentioned in this article.