Introduction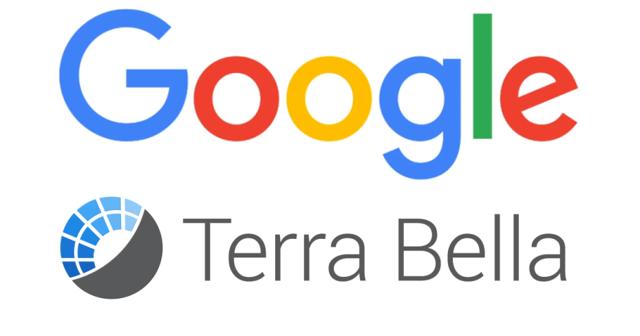 Google (NASDAQ:GOOGL) (NASDAQ:GOOG) acquired Skybox in 2014 and on 8th March 2016 renamed it to Terra Bella. The name was changed to highlight the extraction and analysis of information from raw data. The history of Terra Bella's success started in 2009, when a group of four Stanford students wrote a business plan. Between 2009 and 2014, they prepared their satellites, built data infrastructure, and designed their own toolbox for image processing and algorithms. Eventually, in 2013, they launched their 1st satellite SkySat-1. The company is going to send more than 10 satellites in 2016-2017 to the orbits. They also intend to increase broadly their data analyzing activity.

Taking into account their ambitious plans, it is interesting to find out, what place in existing Earth observation market Terra Bella can occupy. This question can be answered by narrowing all the market down to the biggest and strongest competitor: DigitalGlobe (NYSE:DGI). Let us see how it is possible to compare them.
Resolution
Terra Bella offers a resolution of 0.9 meters, while DigitalGlobe offers 0.4 meters. Higher resolution images create additional value for governmental and commercial data application. The reason is that they provide opportunities to track individual customers and to see small details in agricultural sites. Higher resolution images can also help in mineral deposits prediction and disaster tracking.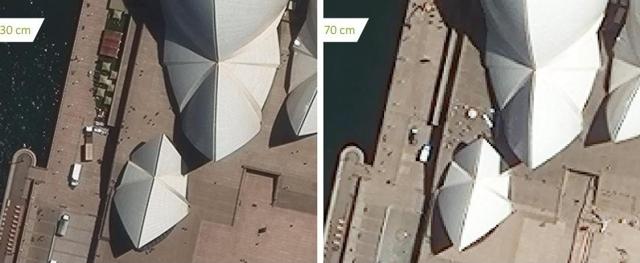 (source: DigitalGlobe Investor Presentation)
Video
The relatively strong side of Terra Bella is its ability to record HD videos of 30 images per second lasting 1.5 minutes. From my point of view, Terra Bella's videos look very good. Anyway, I feel it is important to mention such examples as:
- disaster monitoring, so it is possible to watch the speed of fire spreading and to track avalanches and earthquakes
- reading patterns of car traffic and learning from them by using Google's artificial intelligence
Video usage is not that much needed in ship tracking and it is sufficient to monitor an individual ship for several hours. The reason is that ships cannot hide or deviate far from its previous and predicted location. I did not find evidence that DigitalGlobe offers videos, so the readers are welcome to send links in comments.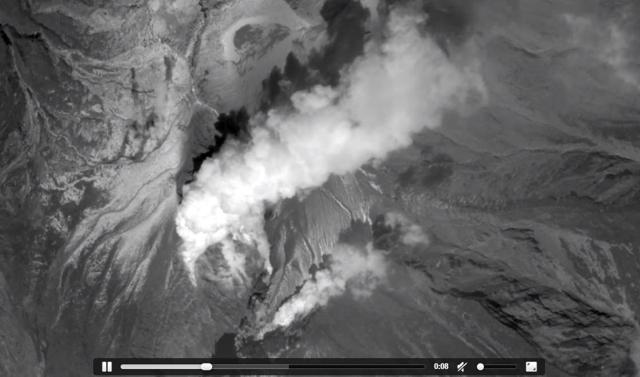 (source: terrabella.google.com)
Artificial Intelligence
Google's computational and data analytical capabilities offer opportunities in both quality improvement and cost reduction. Google can allocate as many resources for Terra Bella's data analysis as it wishes; the question is which resources Google is willing to share. However, it is possible that Google eventually finds that automated data analysis is too costly and decides to develop only those capabilities that DigitalGlobe currently has. I evaluate such opportunity to be far less than 50%. Overall, I would be glad to see how Terra Bella takes advantage of artificial intelligence.
Possible scenarios for Terra Bella
1) Pessimistic
Terra Bella fails to launch its forecasted number of satellites. Google will only explore Terra Bella's satellites for its internal mapping needs. The resolution of Terra Bella's images is not sufficient to compete with DigitalGlobe, so the latter can defend its niche the in governmental market and grow its presence in the commercial market. Or, they do everything correctly, but government officials are tied with DigitalGlobe. Although the outcome of all these events happening at the same time is very unlikely, some individual misgivings might happen. Estimated probability: 25%
2) Realistic
Terra Bella successfully deploys planned constellation. It competes on price and reasonably good artificial intelligence, but fails to match with DigitalGlobe on high resolution images. DigitalGlobe responds by taking pictures more frequently, so it lowers the advantage of Terra Bella's videos, but Terra Bella's videos still remain better. Terra Bella gets a big portion of the governmental market, where simple analysis is sufficient. The examples are comparing changes in territories on a before-after basis and a big portion of commercial ship tracking. DigitalGlobe responds with securing its high profile niche of analysis and forecasting for the variety of complex governmental tasks. As I pointed in my previous article about DigitalGlobe, for many government segments there are reasons to pay a very big premium on high class analysis. In the commercial market, Terra Bella takes a bigger share than DigitalGlobe due to commercial customers' price sensitivity and ability to create internal solutions from raw images. Estimated probability: 65%
3) Optimistic
Terra Bella has all upsides of the realistic scenario described above. In addition, its artificial intelligence works really well. Google's resources transform Terra Bella into a money generating machine, so they use cash proceeds to move to higher segments and create the whole ecosystem. The resulting Terra Bella's product for the end customer has better price than DigitalGlobe, however, Terra Bella's resolution of images still remains inferior. In the next step, Terra Bella launches a new generation of satellites to cover the omissions of previous launches (if applicable). These new satellites also have sufficiently high resolution and a whole bunch of infrared sensors. DigitalGlobe responds with even higher camera quality and maintains a small high profile niche of customers not willing to switch to Terra Bella. Terra Bella does not need to worry about DigitalGlobe anymore. Estimated probability: 10%
Investment Implications for Google
Let us calculate the effect of Terra Bella on Google. I am optimistic about Earth observation market, so I assume 30% growth until 2020, with a 39%/61% proportion of commercial and governmental markets. Then assuming market share for each sector and scenario, it is possible to project sales. Based on DigitalGlobe's Sales=$0.7b, MC=$1.3b and EV=$2.4b, I then obtain Terra Bella's implied EV, adjusted for borrowing capacity. Further, I compare this with Google's EV, which for this analysis is implied to be constant. All numbers are in 2016 $ billions.
| | | | | | | |
| --- | --- | --- | --- | --- | --- | --- |
| Scenario | Probability | Commercial Market Share | Governmental Market Share | Sales, b$ | Assumed EV, b$ | TB's EV as a fraction of GOOGL's EV |
| Pessimistic | 25% | 10% | 5% | 1.4 | 5.3 | 1% |
| Realistic | 65% | 35% | 15% | 4.5 | 34.6 | 8% |
| Optimistic | 10% | 50% | 25% | 6.9 | 79.0 | 18% |
| Total market, b$ | | 7.7 | 12.1 | Probability weighted EV | 31.7 | 7% |
Conclusion
I think that Terra Bella will take its fair niche on the low costs parts of markets with 65% probability and 8% positive impact on GOOGL's share price. However, for Terra Bella the journey is long and competitors are already there. Planning to do something and having it done are two different things, so I assume a high 25% probability for pessimistic scenario and only 1% price increase of GOOGL. The optimistic scenario is still possible, but it requires several consecutive steps for Terra Bella, thus a low 10% probability of high 18% share price upside is estimated. Overall, weighted average GOOGL's share price increase due to Terra Bella is expected to be 7% by 2020.
Disclosure: I/we have no positions in any stocks mentioned, but may initiate a long position in DGI over the next 72 hours.
I wrote this article myself, and it expresses my own opinions. I am not receiving compensation for it (other than from Seeking Alpha). I have no business relationship with any company whose stock is mentioned in this article.
Additional disclosure: The material presented in this article is provided for informational purposes only and is based upon information that is considered to be reliable.