BreitBurn Energy Partners (NASDAQ:BBEP) filed for chapter 11 bankruptcy protection in the United States Bankruptcy Court for the Southern District of New York on Sunday. This move comes as the partnership's grace period for an interest payment relating to two separate senior notes was expiring and the firm was obviously unable to meet these obligations. The partnership also had the overhang of a borrowing base redetermination for its credit facility, which could have potentially meaningfully hurt BreitBurn Energy Partners' liquidity position. I wrote about these liquidity issues in more detail in a May 10th Seeking Alpha article.
While the bankruptcy filing noted that the firm did have assets exceeding liabilities by roughly $1.3 billion, it is unlikely that the oil & gas assets would be able to be sold the price listed on the balance sheet given the current environment and tough capital markets, despite prior asset impairments. The partnership has secured a $75 million debtor in possession credit facility in order to fund its operations through the bankruptcy process. Unlike peers such as Linn Energy (NASDAQ:LINE), BreitBurn Energy Partners has not entered this bankruptcy process with a prepackaged bankruptcy plan, which could be good for development for its second lien and unsecured creditors. BreitBurn Energy Partners has noted that the partnership believes that there will ultimately be a distribution made to its unsecured creditors. It is unclear whether this would be in the form of the new equity of the post bankruptcy partnership or a cash value below par, but this is encouraging for its creditors ranking above the unsecured creditors. BreitBurn Energy Partners' chapter 11 bankruptcy filing was driven by liquidity issues and while common unitholders may ultimately be wiped out or significantly diluted during this process, there is value in the oil & gas assets and in a post bankruptcy BreitBurn Energy Partners with a lower debt load, especially if oil & gas prices have a sustained turnaround.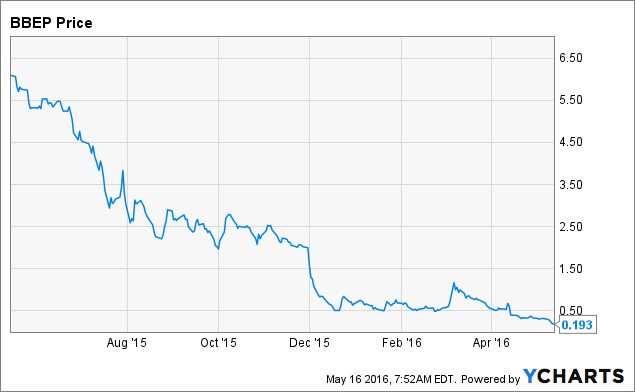 Where Does BreitBurn Energy Partners Go From Here?
The bankruptcy process for BreitBurn Energy Partners will likely take a number of quarters or years, but if the partnership is able to effectively reduce its debtload without a major deterioration in oil & gas prices, it should be able to emerge from bankruptcy as a more nimble and better capitalized firm. Unfortunately, it appears likely that the partnership's common unitholders will either be wiped out or heavily diluted as the secured & unsecured creditors and preferred stockholders all rank above the common unitholders in the bankruptcy process. Unsecured debt of the company has traded at around eight cents on the dollar, which represents investors' continued concern about the ultimate distribution that this class will receive as part of the restructuring process. As BreitBurn Energy Partners is taxed as a partnership and not a corporation, its unitholders need to be aware of the risks that cancellation of debt income or CODI poses to common unitholders through a bankruptcy or other restructuring process.
BreitBurn Energy Partners has entered into a new phase with an uncertain future and it is unclear what steps the partnership will take to attempt to meet its obligation to its creditors. A large portion of its assets are tied up in oil & gas properties and equipment and BreitBurn Energy Partners would likely have issues selling such a large amount of these assets in the current market at a fair price. Common unitholders and preferred stockholders of BreitBurn Energy Partners face significant risks of dilution or a full wipe out as BreitBurn Energy Partners will likely have trouble meeting all of its unsecured creditor claims at par value. It remains unclear what sort of distribution that the unsecured creditors will receive from this bankruptcy process, but the market is indicating that it will be at a fraction of par value. CODI and dilution/wipe out risks should keep investors away from BreitBurn Energy Partners' common units and risks remain for its debt as well.
Jordan Flannery has been a contributor to Seeking Alpha since 2012 and has covered a wide range of companies, including BreitBurn Energy Partners. To stay up to date with his latest Seeking Alpha articles, please click on the "Follow" button at the top of this article and consider subscribing to real-time alerts. Thanks
Disclosure: I/we have no positions in any stocks mentioned, and no plans to initiate any positions within the next 72 hours.
I wrote this article myself, and it expresses my own opinions. I am not receiving compensation for it (other than from Seeking Alpha). I have no business relationship with any company whose stock is mentioned in this article.
Editor's Note: This article covers one or more stocks trading at less than $1 per share and/or with less than a $100 million market cap. Please be aware of the risks associated with these stocks.