Retailers are scrambling in the face of what has been continued weakening of growth in retail sales. A look at the following YOY Retail Sales chart provided by Zerohedge shows striking similarities in what led up to the financial crisis.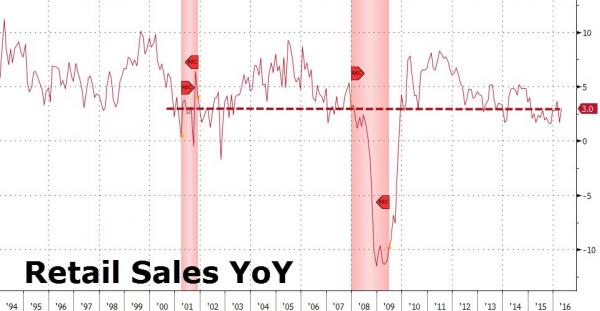 The period between 2003 and 2007 was identified with strong upward trending retail sales growth followed by weakening sales growth and then the plunge in 2008. A similar pattern, albeit from much slower retail sales growth, emerged in 2010 and has persisted for the last 5 years. The trend line for retail sales appears to be breaking toward the downside as of the last few months even as the most recent spike in April retail sales has come into focus. April retail sales climbed 1.3%, growing at the fastest rate since 2010. Not too bad! But this monthly anomaly may be just that as the places where retails sales are proliferating are more service, auto and experience oriented than ever before in history. Couple these trends with the continued consumer preference to purchase more and more goods online and brick and mortar retailers have a growing concern.
That growing concern was highlighted by Macy's (NYSE:M), Kohl's (NYSE:KSS) and J. C. Penney's (NYSE:JCP) quarterly reports last week. Macy's and Kohl's missed both top and bottom line estimates while J.C. Penney missed top line estimates. With a greater understanding as to how and where consumers are spending their hard-earned dollars, this article will serve to juxtapose the action plans in place as put forth by Macy's and J.C. Penney. Under such context, the aim of this juxtaposing is to see which retailer is most likely to benefit from their action plans. Subsequently such an exercise in due diligence might also indicate which retailer's stock may perform better based on executing their action plans.
Let's take our first look at Macy's recent and ongoing activities aimed at improving sales and earnings trends. The first activity of such is Backstage. The company launched the concept last year with 5 stores and management has noted its launch merits, but doesn't go so far as to claim success thus far. With over 1,000 Macy's stores, the Backstage in-store concept or initiative would not be able to impact results even if the initiative constituted 100 stores over the course of the next year. Macy's has the right concept with Backstage, but competing with the Ross's and TJ Maxx's of the world is going to be a tall order. As such, this is little more than a talking point that lacks impact and a year into the initiative, Backstage isn't helping offset more revenue declines from foot traffic and transaction issues. Does the consumer even know about Backstage and where they would find it in a Macy's store, let alone that there are freestanding Backstage stores?
There are a few issues readers and investors should consider with regards to the Backstage initiative, especially for the store-in-store practice. Dedicating floor space to even lower margin merchandise within Macy's otherwise high-rent anchor space could be quite a dangerous play for the retailer. The concept works for TJ Maxx (NYSE:TJX) and Ross (NASDAQ:ROST) because they generally operate in lower rent strip mall locations. Additionally, Backstage could serve to dilute the brand image of Macy's, which served as a middle to upper scale retailer in the past. There's a good deal of risk in this strategy from Macy's and it seems to indicate that management doesn't know where to turn to in order to fix the retailer's problems.
Macy's is also going to expand its Bluemercury store count as well this year as beauty has been well understood to be at the forefront of consistent and growing consumer purchases. Retail peers like J.C. Penney and Kohl's have both beefed up their beauty and beauty concierge services over the last couple of years. Sephora has proven to help retailers grow sales or at the very least offset weaker categories. Target (NYSE:TGT) another department store peer of sorts launched its beauty concierge service nearly 3 years ago and to what the retailer has identified as a successfully new store implementation.
Late last year, Macy's announced a partnership to enter China's growing e-commerce market via TMall. The company has formed a joint venture with Hong Kong-based Fung Retailing Ltd. to handle its first foray into China. Macy's China Ltd., to be based in the special administrative region, will be 65 percent owned by the US firm and 35 percent owned by Fung Retailing. While owning sales in China outright would be optimal for Macy's, that simply isn't the way things are done in the region. Macy's North America online sales are still growing double digits although the company has realized even this element of the business weakened as of the latest quarter.
Macy's would be wise to beef up its online offering in the coming months to include more SKUs and a wider category selection of goods so as to compete better with other e-commerce retailers. As it stands, while Macy's is growing online sales and its joint venture in China sound promising, this initiative does not help the retailer to "stand out from the pack" and as such is more of the same thing that most retailers are doing.
Macy's has set a course to restructure the business that has seen significant declines over the last year or so. As the company aims to close unproductive stores and monetize real estate assets, investors are hoping that such activities bring about relevant monetary value and thus prop up shares of M. Having said that, investors are by and large not convinced of these activities and history suggests that they shouldn't be.
It's not a matter of can or can't Macy's complete these activities, but rather, it is a matter of understanding the business of Macy's is retail and as such real estate monetization has little to nothing to do with the long-term outlook of the retail business. Investors desire to see more activities surrounding the retail business and Macy's, to some degree, seems focused elsewhere.
Some of Macy's seemingly inaction on the competitive front may very well lay within their dedication to the monetization of real estate assets. Macy's is not a real estate company or a landlord company, they are a retailer and will likely continue to find themselves valued as such regardless of how often and vigorously they attempt or succeed in monetizing certain real estate assets. Macy's is not the first to go down this path and they likely won't be the last. But if one looks at the desired end result, what is the goal if it is not to still be recognized and to operate as a retailer of scale?
Naturally, Macy's has also executed plans to reduce spending and improve access points for technology to become a more efficient retailer and drive greater profitability. Again, as it pertains to these activities, there simply isn't anything that touches the consumer in a relevant way to drive sales. Macy's needs a more comprehensive plan that shows its ability to bring consumers back into the store.
The retail and consumer landscape is likely to change too quickly. Discretionary spending is not what it used to be and that is the mainstay that is Macy's, discretionary spending. Macy's has indicated on their recent conference call that they are not betting on consumption trends to change any time soon, but yet they don't seem to be adjusting to the consumption trends of the day in a more meaningful way.
J.C. Penney has had its own struggles and most have been aligned with reemerging the brand from the brink of disaster. Over the last few years, J.C. Penney has surprised a great many investors with its turnaround story, albeit a story that burdens the company with a heavy debt. That burden, should investors choose to invest in shares of JCP, is one they carry in part as well. But over the last couple of years, J.C. Penney has worked to limit the growing debt and has recently found itself in a position whereby the retailer is paying down debt from ongoing operations.
J.C. Penney's store-within-a-store concept has taken hold. But this is not the only concept initiative put in place a few years ago that has brought the retailer back from the depths. Like Macy's is performing today, J.C. Penney chose to close underperforming stores and still evaluates such underperformance today. Additionally, all of J.C. Penney clearance stores were closed. In closing J.C. Penney clearance stores, this should serve as a warning to the Macy's Backstage concept.
As we fast forward to the here and now, J.C. Penney is confronted with the same consumer issues that all other retailers are facing and for which is identified within this article. To address the trend toward growing online sales, J.C. Penney is increasing its SKU count and assortment online. J.C. Penney is quite late to the online party and even though its online sales and presence is growing, it fails to compete with Macy's, which is recognized as the number 6 online retailer in North America. J.C. Penney has a lot of work to do here and as such they recognize the opportunity that lay ahead of them if they execute proficiently.
As part of the online sales dedication, the company plans to increase the buy-online-pickup-in-store business. This retailing aspect has shown to produce a 40% plus attachment rate for consumers who participate this way. While this activity will prove beneficial down the road and as consumer purchases grow toward this retail concept, most retailers are also employing a buy-online-pickup-in-store strategy and are ahead of J.C. Penney's efforts.
The "kicker" to remember with discussing J.C. Penney's initiatives and operational activities is they are mostly aimed at the consumer and J.C. Penney has been identified as taking market share from its peers in recent years. With that said, in short, J.C. Penney is not only serving its existing customers better while growing its customer base, the retailer is actually fortifying its customer base.
Like other retailers of scale, J.C. Penney is increasing its beauty and care offerings through its Sephora brand. The company has a total of 546 Sephora store-within-a-store locations, having opened 28 new locations since April. The retailer has touted the merits and success of Sephora for several years now.
The first few weeks of the selling season in these 28 new locations have exceeded our expectations. In fact, this wave of openings is delivering our best-ever new opening performance from an average sales-per-location perspective. This is incredibly encouraging as we're placing Sephora shops in the smaller more rural locations than ever before, but the power of this great partnership is clearly resonating with our customers in all locations. We have another 30 openings scheduled for mid-June, and we have two openings planned for later in 2016.
I would suggest that as part of the core turnaround strategy for J.C. Penney since 2011, Sephora is succeeding where other retailers are trying to get a foothold in beauty and beauty care. J.C. Penney Instyle beauty salon is another rebranding initiative the retailer put forth a couple of years ago and as such it has benefited the company by driving traffic to the store.
Be it Sephora or Instyle, these consumer shopping experiences are at the heart of where consumers are spending their hard-earned dollars. Target and Wal-Mart (NYSE:WMT) have similar experiential shopping programs with eye-care, banking and even salon services inside stores. These services and experiences are something that other retailers like Macy's and Kohl's are not presenting to consumers.
The latest initiatives for J.C. Penney come from increased assortment of furniture, drapery, appliance and flooring options from the retailer. J.C. Penney recently announced the following activities and plans going forward:
Expanding appliances to over 500 locations. Appliances will have a negative impact on our gross margin rate. Appliances will be live on jcpenney.com nationwide next week, with over 1,200 items available to purchase from partners like Samsung, LG, and GE. The sales productivity was 10 times higher than the product the new appliance set replaced. Over 70% of the appliance purchases were on the J.C. Penney credit card, and 30% of those were new credit customers. The average transaction was over $1,200, and this business added low-single-digit comp sales lift to the entire store in the pilot locations.
Increase and enhance the window coverings presentation by an average of 25% in approximately 500 stores by early fall.
Announced partnership with Ashley's Furniture, and testing 21 of their signature collections in select stores by Memorial Day weekend. In addition, approximately 1,500 SKUs of Ashley Furniture will be available on jcp.com in time for Memorial Day weekend growing to over 4,000 SKUs later this summer.
Empire Today inside J.C. Penney will operate independently, and will be responsible for staffing, the environment, marketing and customer service. They will occupy between 750 square feet to 1,000 square feet of location in a Home department, and they will display samples of hardwood, tile, laminate, vinyl and carpet competitively priced to fit the J.C. Penney customer demographic.
Expansion of Collection by Michael Strahan in nearly 500 doors by this Father's Day. In addition, based on the strength of the relationship with Michael, J.C. Penney is launching an exclusive active lifestyle brand called MSX by Michael Strahan, which is being developed by best-in-class sourcing and design team. Launching these goods in nearly 500 stores just prior to Father's Day.
Rolling out a new in-store plus-size concept called Boutique in nearly 200 stores. This will be a one-stop shopping destination for plus-size fashion, which will include casual sportswear, denim, and active wear. Additionally, merchant and design teams have conceived and developed J.C. Penney's first plus-size private brand for millennial women called Boutique+. Plus-size apparel represents a $17 billion industry, and will be a destination for millions of fashion-conscious plus-size women who are not finding what they need in terms of style, quality, and value.
Focused on winning market share, but will intensify the focus and commitment to reducing expense and being a more operationally disciplined company. For the second quarter and for the remainder of 2016, the company will focus on being an aggressive expense reduction company, and will focus on key initiatives to make that a reality. Remain committed to growing top line, while aggressively reducing controllable expenses i.e. payroll and logistics.
What you might notice about the initiatives and activities put into motion by J.C. Penney is that they turn away from relying so heavily on apparel and what might be weather impacted goods. Where J.C. Penney does focus on apparel is with what is working and where consumer trends are finding increasing amount of purchased apparel like plus-size apparel and athletic wear. It is not to say that these activities don't carry with them their own set of risks, but the concept of becoming less of a weather sensitive retailer is compelling for J.C. Penney and as apparel sales wane.
J.C. Penney's recent discussions and announcements concerning the greater expansion of appliances to be sold in 500 stores brings with it lower gross margins. Additionally, if we understand the nature of appliance sales, the risk is that they take up a great deal of floor space and produce high dollar value sales, however infrequently. Apparel sales can achieve greater than 50% gross margins and often do. As such, the early success with J.C. Penney appliance sales may prove fleeting longer term and find the retailer adjusting back to more apparel in the future. But with respect to such a shift, you do what the retailer dictates you should do and J.C. Penney seems to be adjusting its product assortment to accommodate the consumer and where they are spending money.
The J.C. Penney initiative related to its partnership with Empire Flooring is intriguing, especially as the retailer's CEO is a former Home Depot (NYSE:HD) "guy." I've seen these type of service-product/store-within-a-store concepts in the past with Bed Bath & Beyond (NASDAQ:BBBY) and Sleep Number. Unfortunately, the concept failed in less than a few years for the two parties and Sleep Number was extrapolated from Bed Bath & Beyond stores.
Having said that, this concept will take some time to evaluate and recognizably offers a change from the normal and expected department store concept. Empire is a strong brand and the brand is becoming increasingly sought after in light of Lumber Liquidators' (NYSE:LL) shortcomings. J.C. Penney believes that pairing its flooring initiative with its drapery expansion offers consumers important design touch points for consideration that will lead to increased sales and foot traffic.
In juxtaposing the activities put forth by J.C. Penney and Macy's, I come to appreciate the differentiation from the norm with J.C. Penney. While that seems favorable at present and on-trend, it remains to be seen whether or not it will work and provide greater sale and profitability. Macy's, however, is doing much of what its peers are doing in the way of reducing spending and restructuring the retail square footage.
New initiatives don't seem to carry a value added weight and fail to entice consumers. The retailer finds itself still very much at the mercy of weather related sales issues and lacks the experiential shopping touch points that consumers are leaning toward. Where I would like to see both retailers move toward is a greater café-within-a-store concept to provide yet another service and experience for shoppers. Where Target and Wal-Mart have such café's, a health and wellness café might go beyond these existing concepts and provide a more on-trend experience for consumers.
Disclosure: I am/we are long JCP.
I wrote this article myself, and it expresses my own opinions. I am not receiving compensation for it (other than from Seeking Alpha). I have no business relationship with any company whose stock is mentioned in this article.