About 5 years ago when a few companies were still in clinical trials for new branded anti-obesity pills analysts looked at the potential market and felt that approval may lead to blockbuster sales, a solution to the obesity epidemic, and investment accounts that were sure to grow. The positive thoughts led Arena (NASDAQ:ARNA) to partner its drug candidate Belviq with Eisai in a very healthy deal. Vivus (NASDAQ:VVUS) with its pill Qsymia was in the hunt for a partner as well, but never landed one. Orexigen (NASDAQ:OREX) was a latecomer to the party, but was able to land Takeda as a marketing partner. Lastly, Novo Nordisk (NYSE:NVO) took another path, which was using the ingredient in its diabetes drug Victoza as a path to a new indication (obesity).
Despite the fact that the number of overweight and obese people was on the rise, none of these drugs have caught the nation by storm, and all of them have seen that selling an anti-obesity drug is far more challenging than they thought.
As stated, Vivus was never able to land a partner. Eisai tried marketing Belviq for two years with an effort that included a television ad campaign. Takeda, tried using a big pool of sales reps and a lower price, but ultimately walked away fro its deal with Orexigen. Novo Nordisk, which is bigger and richer than its brethren in the space seems to be taking the "slow-but-steady" approach.
Arena and Belviq
Sales of Belviq saw their U.S sales peak in Q2 of 2015. Marketing partner Eisai then pulled the television ad campaign and trimmed back its sales force to record low levels. A year after the peak of over 15,000 scripts per week, sales have faltered to a bit above 9,000 per week. This past week sales of Belviq came in at about 9,200 scripts.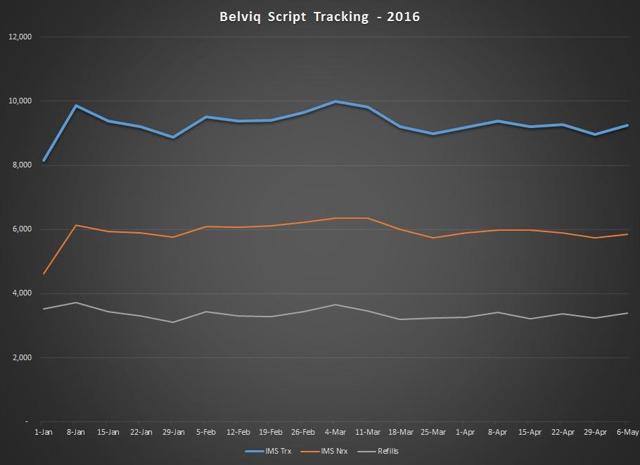 Chart source: Author's own work.
The drop in sales is best illustrated when looking at the quarter by quarter chart. In the past Q2 has represented the peak in sales, but this year the peak may have actually happened in Q1. Sales in Q2 of 2016 are actually trailing behind Q1 by 1.65%.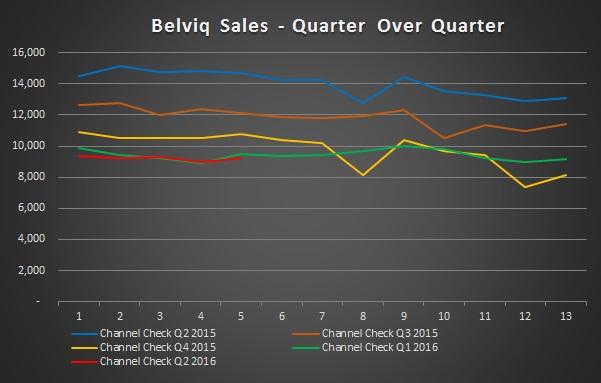 Chart source: Author's own work.
Belviq sales on a year over year basis are perhaps even more troubling. Year over year comparisons are usually the language of Wall Street. If things are moving up, then the equity may appreciate good year over year comparisons. When year over year numbers are bad, the street looks for reasons and typically gets far more critical. With last weeks numbers, the year over year trend for Belviq is a drop in sales of 37.63%. That is the type of number that is not fixed by cost cutting alone. It is also the type of number that demands answers as to how things can turn around. The problem is that the answers we have seen thus far are not very compelling.
Arena has tried to give the Belviq franchise hope. The company has touted Belviq Extended Release. This once a day formulation will help keep patients compliant in taking their meds, but will it be enough to drive sales back to levels that are 15,000 scripts a week in growing? In my opinion the answer is no. Patients missing pills is not the problem.
Arena has also touted its pending cardiovascular studies as an answer. The problem with this is that those study results are still years away. Having heart data may help, but is a lack of heart data the core issue? In my opinion the answer is no.
The Core Problem
The core problem, in my opinion, is that the drug is not viewed as effective enough by consumers. Right, wrong, or indifferent, consumers view these new anti-obesity pills as a potential solution that will get them to their desired weight. The reality of the situation is that these pills tend to deliver good results for 3 or 4 months and then weight loss tapers off or even plateaus. If you lose 20 pounds in the first month you love it. Month two sees another 15 pounds come off. Month three trims another 5 pounds. Month four sees nothing come off. In the mind of the patient this is yet another product that works initially and then stops working. The patient is still 30 pounds away from goal weight, and is disappointed.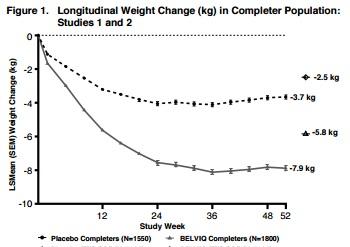 Chart source: Belviq.
Secondary Problem 1
Insurance companies have been hesitant to cover weight loss drugs. One reason that there is a lack of coverage (or poor coverage) is that the results delivered by these drugs is not compelling enough to merit benefit to the insurance companies. Certainly it can be argued that weight loss helps other medical conditions improve, but it is not always that simple.
In looking at the data, it is a fair assumption to state that Belviq works well with 25% of those that try it. It works okay for another 25%. It does not work well for the remaining 50%. For an insurance company results like that could mean treading water, or even losses. Arena has patented a predictor of sorts to identify responders, but that program seems to have been placed on the shelf.
In the same way that doctors do a risk vs. reward consideration on health, insurance companies do one on dollars. At this stage, insurance companies are not seeing the potential reward as being compelling enough to the bottom line.
Secondary Problem 2
Doctors are not scripting Belviq in the types of numbers that deliver sales. As sales forces have been cut, we have seen the level of scripting decrease. Doctors are also seeing real world results that are less than compelling. They see a few success stories, but see a lot of failure as well. The anecdotal evidence is simple. If doctors were seeing overwhelming success in patients, they would be scripting the drug more often. It is clear that most doctors are erring on the side of caution when it comes to weight loss.
Doctors grasp that even losing 5% of a patients weight has great health benefit. They even grasp that patients that are seeing success are seeing better numbers in other areas of health. That being said, most doctors would rather see a patient get 5% weight loss with proper diet and exercise than through a pill that has side effects and possible contradictions with other meds. Doctors know very well that many patients lack the discipline to do what is needed to get their overall weight and health in check. Doctors know that patients want a solution in the form of the pill that solves the issue. The problem is that doctors are simply not seeing success in the numbers needed to continue scripting or expand it.
The Possible Solutions Being Touted
The company, its partner, and analysts have considered various possibilities that could help turn around the Belviq franchise. The main problem is that most of these things have very little meat on the bones and the Street is not likely to get fooled again.
Belviq XR
I discussed the concept of Belviq XR a bit above. The concept here is an extended release version of Belviq that allows patients to take 1 pill a day instead of two. As I have stated, this could help with patient pill taking compliance, but simply getting patients to be compliant is not really going to address the core problems.
An FDA approval of Belviq XR is expected in Q3 of 2016. Certainly that news will generate a press release, and the Arena faithful will celebrate the news. It may even be enough to generate a small pop in the stock price. In my opinion such stock price moves will be difficult to sustain, and many will see them as an opportunity to help lessen the blows of losses already sustained.
From what is known, the health benefits of Belviq XR are not that much different than taking Belviq twice a day. Thus, the same dynamics of responders vs. non-responders will continue, as will the dynamics of seeing weight loss plateaus.
Approval In Other Countries
This is another proverbial carrot on the table. Approval in other counties can generate some milestone payments, but will sales in other countries differ materially from sales in the United States? In my opinion the answer is no. Belviq has been on the market in South Korea for over a year and sales there seem to be stuck at about 2,500 scripts a week. Further, competitor Contrave was just approved there and will be launching in the next several weeks. This will make Contrave the "new" and "novel" drug, and could take away from sales of Belviq.
It has long been thought that Israel will be the next approval. Teva is the marketing partner in Israel, but the population of the nation is very small. Even if Belviq were to see population penetration that was triple the rate in the United States, the needle would not move much.
Mexico and Brazil both have had applications pending for quite some time. As yet, we have not seen movement there. Europe is off of the table until at least 2018, so the prospects of approval in other countries changing dynamics is slim.
Cardiovascular Trials Will Boost Sales
This narrative was fed to Arena from Eisai, and Arena has fed that mantra to its investors. I ask the simple question. Does Eisai really believe that the CVOT data will be compelling enough to shift the story? In my opinion the answer is no. I see this as simply kicking the can down the road and fending off any real questions until at least 2 years from now. In its most recent conference call, Eisai barely mentioned Belviq. That is quite telling.
The Treat and Reduce Obesity Act
This legislation has been used by each company at one time or another as the item that will turn the story on its head. The act failed in the 113th Congress, and in a few more months will have failed in the 114th Congress. In my opinion this legislation is essentially "feel-good" legislation that allows Congressmen to point to their "concern" over a particular issue. The bill is short, lacks any real meat, and the impact of it on the sector, if approved, would be held off for 2 years and simply allow Medicare to cover weight loss scripts. The legislation does nothing to address the core problems.
I predict that the current Treat and Reduce Obesity Act will die in committee.
The Bottom Line
The bottom line with Arena is that Belviq sales are not going to be something that the company can count on to drive the revenue story. In Q1 sales were high enough to offset cost of goods sold, but far from what would deliver a meaningful sum that could drive the pipeline costs.
The story of Arena at the moment is the pipeline and the cash situation. In my opinion it is likely that a positive story at some point in the near future will be an event that the company will use to conduct an offering. There is compelling and real potential in APD334, but getting across the finish line will need some assistance.
It remains prudent to monitor Belviq sales because it is essentially the biggest revenue contributor. It is also prudent because investors will want to understand the dynamics of the Eisai relationship. If Eisai were to try to sell off or walk away from Belviq rights, that issue alone could cause a few very compelling concerns to arise in the near term.
In my opinion there is opportunity in this equity for those that time trades well, and those that are looking at the potential of pipeline candidates such as APD334. Arena would be a better play if the street could get a comfort level that the company is fully funded. As of today, that comfort level does not exist. A partnership deal on any one of the 5 pipeline candidates could relieve that pressure but that is part of the risk assessment. In my opinion the street has discounted the stock as it relates to Belviq almost as much as can be done at this juncture. Sure, a dip back to the $1.30s or $1.20s is possible, but dipping below that is unlikely. Stay tuned.
Disclosure: I am/we are long ARNA, NVO.
I wrote this article myself, and it expresses my own opinions. I am not receiving compensation for it (other than from Seeking Alpha). I have no business relationship with any company whose stock is mentioned in this article.
Additional disclosure: I have no position in Orexigen or Vivus
Editor's Note: This article covers one or more stocks trading at less than $1 per share and/or with less than a $100 million market cap. Please be aware of the risks associated with these stocks.