PayPal (NASDAQ:PYPL) is one of the biggest players in the credit services industry. In the last three years, the company has expanded its payment solution capabilities immensely, offering PayPal Credit, Braintree, Venmo and Xoom products, owing to which it has successfully attracted an increasing number of merchants and consumers. Today PayPal stands out as the leading global payments platform.
PayPal's total revenues are composed of transaction revenues and revenues derived from other value-added services. The latter accounts for only~12% of PayPal's consolidated net revenue, so the overwhelming emphasis is on growing transaction revenues.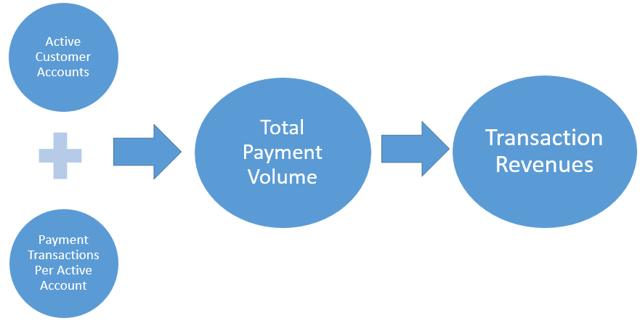 PayPal's strategy for expanding transaction revenues is simple. Based on the volume of activity processed through its payments platform, PayPal charges a net fee to its customers. So in order to maximize transaction revenues, PayPal has to boost total payment volume ("TPV"), i.e. the value of payments completed through its payment platforms. TPV obviously is driven by acquiring more customers and deepening 'customer engagement' or the number of transactions made per customer. Remarkably, PayPal has managed to do both.
PayPal ended Q1 fiscal 2016 with no less than 184 million active accounts. This figure has grown both sequentially and year-over-year every quarter since Q1 2010. Despite the vigorous customer acquisition, PayPal's payment transactions per active account have risen steadily to 28.4 million this quarter from 24.5 million in Q4 2014. This represents, on average, an astounding increase of 0.78 million per quarter. Consequently, PayPal's TPV has ballooned to over $81 billion, a growth of 45% since the first quarter of 2014 and evidenced in the third chart below: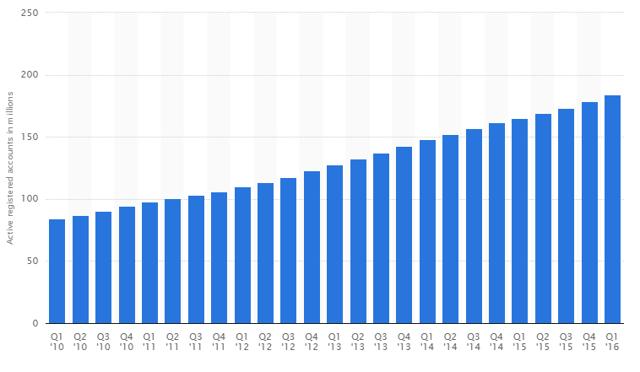 (Source: Statista)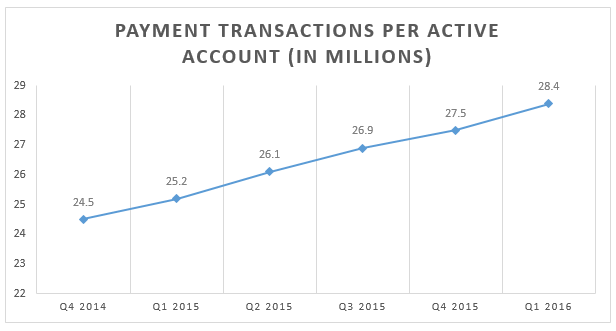 (Source: Company's Quarterly Results)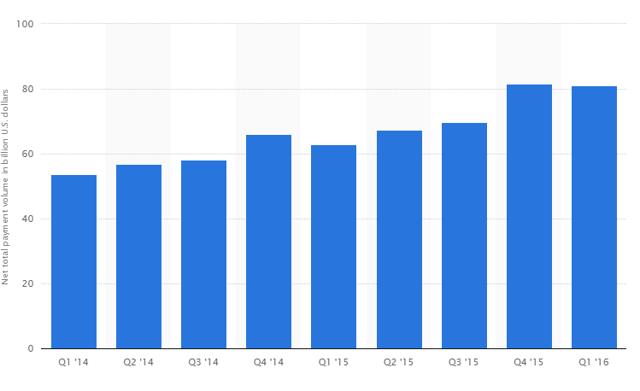 (Source: Statista)
So, qualitatively, what's driving PayPal's earnings? As far as engagement is concerned, PayPal's One Touch is proving to be a game changer. One Touch makes the checkout experience extremely convenient for merchants and consumers, by relieving them of the trouble of entering password or shipping information. Thus, PayPal has radically reduced cart abandonment with One Touch. Compared to the multi-step Visa (NYSE:V) checkout, PayPal has a ~36% higher conversion rate. This is one of the major reasons why merchants all over the world are becoming increasingly reliant on One Touch. With One Touch now available to merchants in 144 markets, PayPal expects some 2 million additional merchants to switch to this service by the end of 2016.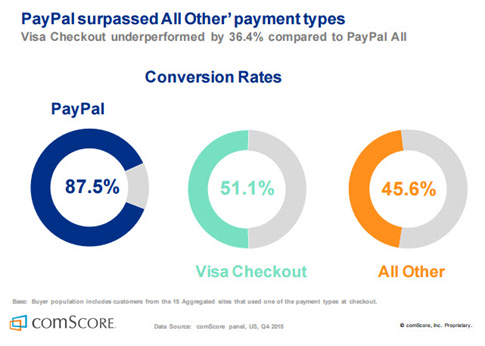 Credit is another factor that has helped PayPal reduce cart abandonment rate. PayPal's capacity to process credit transactions has been greatly enhanced, following the acquisition of Braintree. Currently credit stands at nearly 2% of TPV, which I consider very reasonable. Admittedly, credit does have a negative impact on transaction margins, but that is something that PayPal can afford. Credit remains a great way to attract consumers and what's of paramount importance is that credit consumers generally spend more than regular consumers. An increase in the number of consumers, furthermore, draws more merchants; hence PayPal's investments in credit products are fully justified.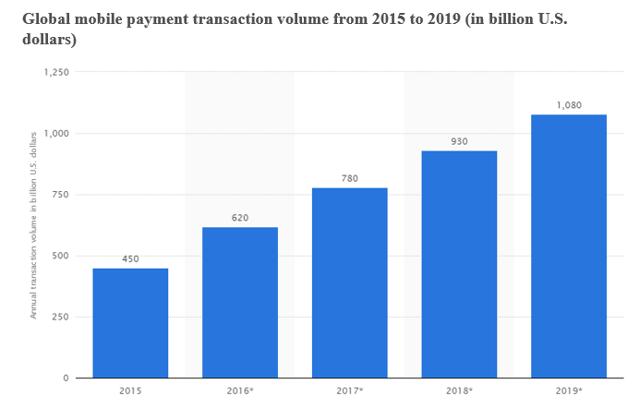 (Source: Statista)
Looking ahead, I believe PayPal's ability to strengthen its position in the digital payment space will be the key to its growth prospects in the long run. Mobile Payments sector is growing rapidly and by 2019, global mobile payment transaction volume is forecasted to climb to $1.08 trillion. This certainly is a great opportunity for PayPal, but make no mistake - competition in the mobile payments arena is stiffening by the day. Both Apple (NASDAQ:AAPL) and Alphabet (NASDAQ:GOOG) (NASDAQ:GOOGL) are making great strides by investing in innovative in-store solutions. Apple is striving to make Apple Pay as ubiquitous as possible, while Google's Android Pay is aggressively adding users in the U.S. In spite of the intensifying competition, PayPal's first-mover advantage and initiatives to drive mobile payment transactions make me fairly confident about the company's prospects.
The chart below shows that mobile payments are quickly becoming a very important component of PayPal's TPV, an indication of the fact that PayPal is effectively capitalizing on the trend toward paying on mobile. This year, to keep up with competition, PayPal overhauled its mobile app to add a number of customer-centric features like allowing users to add credit cards issued from countries other than the U.S. The shrewdest move, though, was the addition of in-store features like 'order ahead.' These efforts demonstrate that PayPal wants more of its TPV to come from mobile and this, in my view, is exactly what will happen. In one year, I won't be surprised to see one-third of PayPal's TPV being driven by mobile.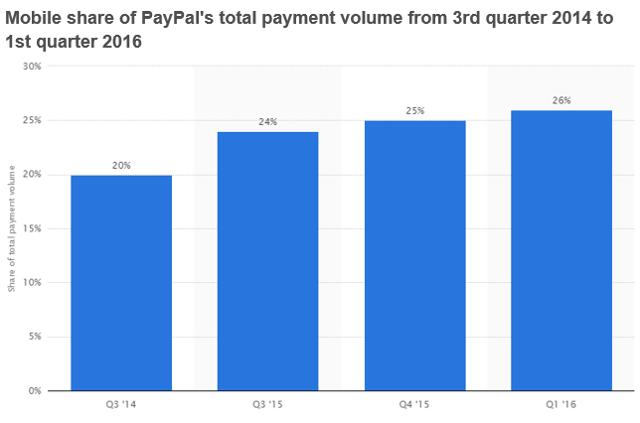 (Source: Statista)
Conclusion
All in all, PayPal is nicely poised to deal with future challenges in an ever-evolving digital payment space. This is a company that must not be ignored or underestimated with numerous competitive strengths and a healthy balance sheet. Sporting a TTM P/E multiple of 36x but a forward P/E of 22x, PayPal is trading at a premium to investment alternatives within the industry but the company's high growth prospects make its valuation palatable and justified.
Disclosure: I am/we are long PYPL.
I wrote this article myself, and it expresses my own opinions. I am not receiving compensation for it (other than from Seeking Alpha). I have no business relationship with any company whose stock is mentioned in this article.