Goldcorp (NYSE:GG) recently announced that it had agreed to acquire Kaminak Gold (OTCPK:KMKGF) in an all-share deal for a total consideration of approximately C$520 million. The consideration received by Kaminak shareholders represents a 40% premium over the 20-day volume-weighted average share price of Kaminak from all trading on Canadian exchanges for the period ending May 11, 2016 and a premium of 33% over Kaminak's closing share price on the TSX Venture Exchange on May 11, 2016, the day before the acquisition.
There are plenty of articles detailing the deal and analyzing why the deal is or is not good for Goldcorp (fellow seeking author Itinerant doesn't want anything to do with what Goldcorp is drinking), but we wanted to focus more on the parameters of the deal and how it may pertain or value future acquisition targets.
A few quick things to note on this deal are:
Goldcorp is doing it with no cash and all shares
Kaminak is in a safe jurisdiction (Canada)
Kaminak's Coffee deposit is a planned open-pit mine
The project has a published Feasibility Study
The project hits the 5 million ounce target
With the recent rise in the price of gold and the significant rise in almost every gold miners' share price, this deal suggests that shares are the preferable way to finance deals. Why the all share deal as Goldcorp has the cash to close this deal? It may be that the financing environment is still tough, or more likely, Goldcorp is taking advantage of the significant rise in its share price to "cash out" and turn shares into future projects. This is could be good or bad for investors - it all depends on if acquirers make good deals. Either way, we expect other miners to take advantage of their higher share prices to do similar all-share deals.
Secondly, Kaminak's Coffee gold project is located in one of the safest jurisdictions for miners - Canada. This seems to suggest to us that even though the less safe jurisdictions may offer much more attractive deposits and have more potential, this deal reinforces that there simply is no appetite for these other geographies just yet.
Thirdly, this acquisition is of a planned open-pit mine with further potential for an underground mine. While we wouldn't count out underground mines as acquisition targets for majors (Tahoe Resources is doing quite well with its massive Escobal silver mine), if investors are seeking acquisition targets for the majors they will need to focus on the open-pit type mines.
Fourthly, the project has a published feasibility study (FS) which it issued only a few months ago in January 2016. Again, another very important thing to look for in a potential acquisition target as it shows that a project has been significantly de-risked, and ever since the fiasco with Rubicon Minerals, we think these feasibility studies carry even more weight in the industry than they did a few years ago. Unfortunately by the time a feasibility study is issued, much of the big gains have already been priced into a stock, so in our view the key is too look for the good preliminary economic assessments (PEA's) and then look for the potential of an acquisition after a positive FS is released. Based on this Kaminak deal, it may not take long for that to happen as Goldcorp didn't even wait six months after the feasibility study was issued before pouncing.
Fifthly, while the Coffee deposit only has a little under 2 million ounces of produced gold as documented in their FS, their resource statement clearly shows Indicated and Inferred resources of slightly over 5 million ounces, with the vast majority oxide ounces.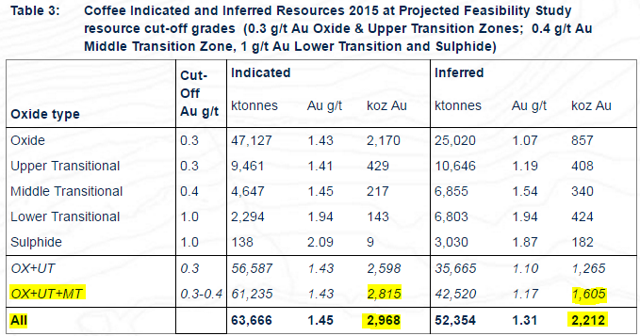 Source: Kaminak Gold Resource Statement
This five million ounce target is one that we think is very important as we pointed it out in a previous piece detailing what Goldcorp's new CEO looks for in a gold deposit, as he stated that Goldcorp has a minimum of five million ounces it looks for in its greenfield acquisition targets. Interestingly enough, Goldcorp emphasized this in its acquisition press release:
"Coffee currently has total indicated gold mineral resources1 of 3.0 million ounces (63.7Mt at 1.45g/t) inclusive of total probable gold mineral reserves1 of 2.2 million ounces (46.4Mt at 1.45g/t), and total inferred gold mineral resources1 of 2.2 million ounces (52.4Mt at 1.31g/t)."
They didn't need to place this statement in the first paragraph after the deal's details, but we think they did it purposefully to hit that five million ounce target rule.
Some Acquisition Statistics
In the table below we have outlined some of what we think are relevant acquisition statistics on this transaction: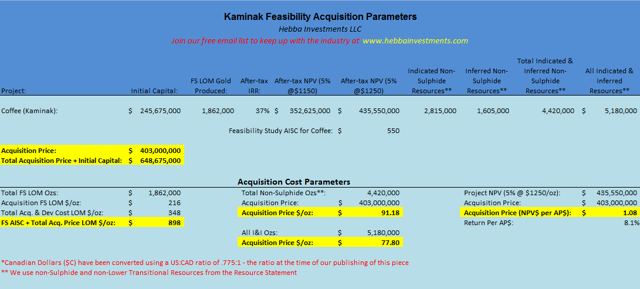 We want to remind investors that even though we're not critiquing Goldcorp on this transaction, an initial look at the total acquisition price plus per LOM ounce shows that Goldcorp acquired the FS LOM ounces at a price of $898 (Initial capital plus AISC), which in our view isn't particularly bad so we may have to disagree with some other commentators on the price being too high.
Additionally, if we look at the total deal price per Non-Sulphide and Non-Lower Transitional resource ounce (the much more complex and less profitable ounces), we see that Goldcorp paid approximately $91.18 per ounce. If we include all the ounces (Sulphide and Lower Transitional) then we get a price of $77.80 per in-ground I&I resource ounce. Finally, if we look at the acquisition per NPV dollar we see a price of about $1.08 of NPV per acquisition price dollar, which strikes us as the only indicator that seems a bit high.
Takeaways for Investors
Again we are not focusing on whether or not this is a good deal for Goldcorp as the more important takeaways are to get the price that Goldcorp paid. This will allow us to screen other miners that are in a similar position as Kaminak (see the five points discussed earlier) and come up with some appropriate valuation for their own projects. We also stress to investors that these deal numbers are also important to understand as other gold majors looking to acquire deposits will probably be using these acquisition parameters to value their acquisition targets - Goldcorp is still very relevant in this industry.
It is time for investors to screen their own positions in post-feasibility study explorers/developers based on these most recent deal numbers and see if they are worth owning or worth buying more shares. We think there are more deals ahead as gold miner share prices still offer a lot of potential deal-financing firepower.
Disclosure: I/we have no positions in any stocks mentioned, and no plans to initiate any positions within the next 72 hours.
I wrote this article myself, and it expresses my own opinions. I am not receiving compensation for it (other than from Seeking Alpha). I have no business relationship with any company whose stock is mentioned in this article.
Editor's Note: This article discusses one or more securities that do not trade on a major U.S. exchange. Please be aware of the risks associated with these stocks.