Last week, the Texas Energy Council convened its annual conference in Dallas. A terrific cast of energy experts - from the analysts' side, E&P firms, midstream firms, majors and oilfield services firm Halliburton - presented their observations and outlooks. Last year at this time, WTI crude oil spot prices were about $60.[i] Mexico's energy reforms were of high interest. This year, the mood was sanguine in spite of oil in the $45 price point and natural gas under $2, maybe because the eye of the storm appears to have passed.
Production possibilities
Jumping into the future, some thoughtful analysis about pricing scenarios and resulting production responses follow. This chart of pricing scenarios is not a forecast, but price points from which a trajectory is extrapolated: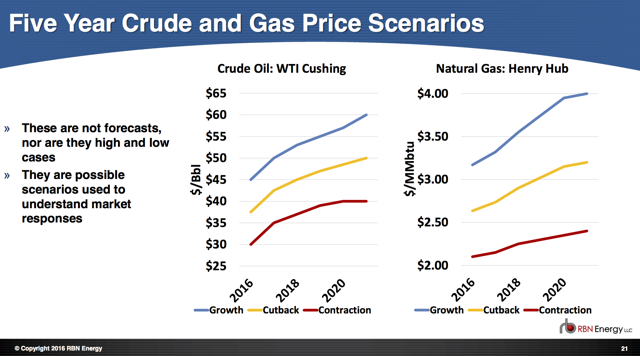 And given these scenarios of growth, cutback and contraction at the above-mentioned pricing scenarios, the following forecasts to the production response were developed. The contraction scenario is becoming less likely, given that the most harsh price trajectory of $30 to less than $40 across five years, appears in the rear-view mirror.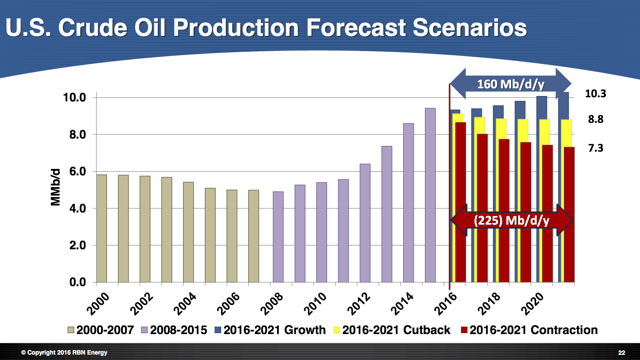 According to the analyst Scott Potter presenting the RBN Energy work, they believe that a range of "base" U.S. production now exists, as opposed to the peak oil case of continual decline. This "base oil theory" projects oil production moving up and down cyclically, in response to price and production responses, moving in a range of less than 8 million b/d up to 10 million-plus, potentially through the next two decades in five-year intervals. Obviously we are in a down-trending cycle.
Given the state of the market, from 2014 to 2016 among 30 peer groups, capital spending has declined by about two-thirds, and production has declined slightly.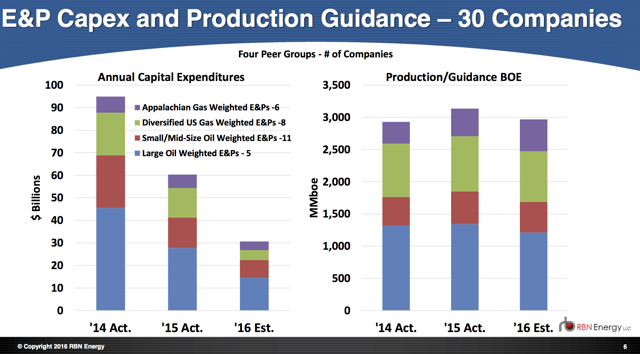 The other important story, which explains why production declines have lagged the price response as in the past, is due to the manufacturing prowess of the industry. With respect to U.S. crude oil production and part of the production stickiness issue, improved efficiency and advances in drilling, completions and the "manufacturing" process are primary reasons, which collectively individual E&P firms have reported on. For example, according to RBN Energy's calculations, the following gains in oil and gas production per rig have been accomplished in these respective basins:
• Eagle Ford: From 214 Bbl/d in 2011 to 829 for 2016, a 289% increase;
• Bakken: From 222 Bbl/d in 2011 to 746 in 2016, a 237% increase;
• Niobrara: From 107 Bbl/d in 2011 to 840 in 2016, a 578% increase; and
• Marcellus/Utica: From 1.4 MMcf/d in 2011 to 7.7 in 2016, a 521% increase.
Select midstream notes
To keep pace with the increased amounts of U.S. oil and gas production, midstream firms have invested many billions to transport and process the hydrocarbon streams. One midstream executive noted that there was too much capacity built out. This is partly why MLPs have been revalued over the last few quarters. In spite of the capacity additions and some volume reductions by producers, even at a 50% utilization rate, adequate returns on capital can happen, noted one panel participant.
There is also the Fed effect of low-interest rate money flooding the space, coupled with the idea that growth in the midstream space was in a perpetual upward motion. In an interview a couple of months back, a midstream executive also echoed the sentiment that the industry downturn was right-sizing things. More disciplined capital will help with the industry's rebalancing.
Exports and exporting capacity was a panel theme. The chart below depicts an interesting history of U.S. crude flows to the Gulf, which also coincides with U.S. refined products exports. Note the following capacities related to pipelines and their owners and the capacity increases in time:
• BridgeTex owned by Magellan Midstream Partners (NYSE:MMP) and Plains All American Pipeline (NYSE:PAA);
• Longhorn owned by Magellan Midstream Partners;
• Kinder Morgan C&C (NYSE:KMI);
• Enterprise EagleFord Rancho (NYSE:EPD);
• Seaway Twin, Enterprise and Enbridge (NYSEARCA:EMB); and
• TransCanada Cushing Marketlink (NYSE:TRP).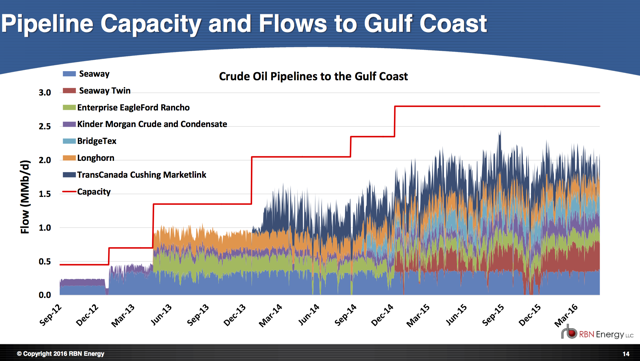 Additionally, the Northeast is taking the lion's share of new pipeline capacity related to demand for natural gas. Of 30 projects in the Northeast, 24 will provide ~18 Bcf/d of takeaway capacity, the RBN presentation noted. Energy Transfer (NYSE:ETP) has a number of projects in the area as highlighted in a past analyst day article. The enhanced footprint in geography and natural gas was a rationale for the merger deal with Williams (NYSE:WMB) and the limited partner Williams Partners (NYSE:WPZ). Producers in the region have been disadvantaged from a lack of takeaway capacity. In the meantime, the Gulf Coast will benefit from a pricing perspective. A number of industry veterans have noted the enhanced basis expectations for natural gas in Texas in the future, for which Mexican imports play a part.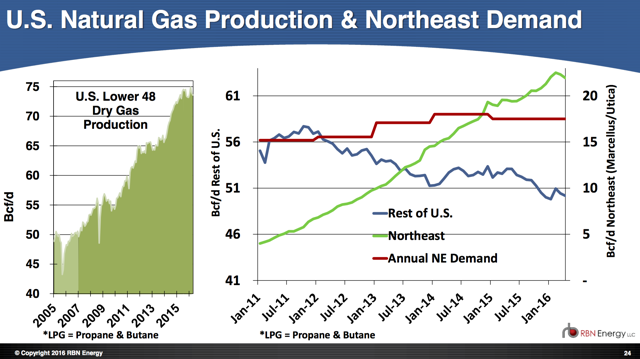 In conclusion, a few reinforcing ideas and scenarios speak to the staying power of U.S. oil and gas production, which was previously declining and imports rising. The U.S.'s infrastructure is a source of competitive advantage, which will become more evident in the future as natural gas liquids' trends reveal in the next installment. A number of factors come together to further inform what U.S. export opportunities emerge.
(Thank you RBN Energy for the use of the slides from the Texas Energy Council conference).
---
[i] (See Mexico-focused article from TEC 2015)
Disclosure: I/we have no positions in any stocks mentioned, and no plans to initiate any positions within the next 72 hours.
I wrote this article myself, and it expresses my own opinions. I am not receiving compensation for it (other than from Seeking Alpha). I have no business relationship with any company whose stock is mentioned in this article.