On Monday, Apple (NASDAQ:AAPL) rose more than $3 after it was revealed that Berkshire Hathaway (NYSE:BRK.A) (NYSE:BRK.B) filings showed a nearly 10 million share stake in the technology giant. While this news grabbed all of the headlines and likely gave investors some relief after the stock's recent fall (seen below), the big news story of the week for Apple likely has nothing to do with Warren Buffett.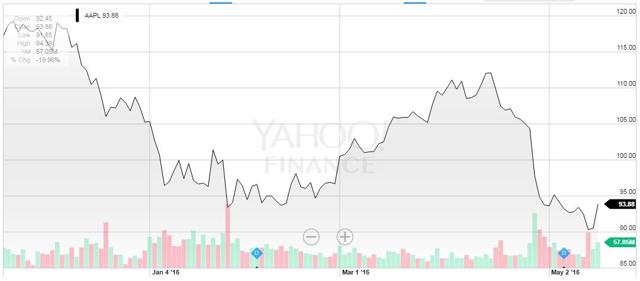 First of all, as fellow SA contributor Paulo Santos points out, it likely wasn't Warren Buffett that made the investment decision in Apple. With Buffett not a big fan of technology stocks, it was probably one of his top lieutenants who control part of the Oracle's portfolio. If it was Warren that truly made the decision, I would have expected to see an interview with Becky Quick on CNBC. That didn't happen, so I'm thinking Paulo is on the right track.
While it helped with short-term investor sentiment, an investment from Berkshire Hathaway really doesn't change the long-term story for Apple. A few investors might follow BH into Apple, but are they going to go out and upgrade their iPhones as well? I understand why the BH/Apple news got so much attention, but there is much more important news for the technology giant that didn't get a ton of coverage.
After finishing his trip to China, Apple CEO Tim Cook is reportedly going to visit India, where he plans to announce the opening of three Apple stores as well as a startup incubator to introduce ideas for iOS applications. The company currently sells its product via third party distributors in the country, so this will be its first retail presence. As stated on the most recent conference call, iPhone sales in India were up 56% in Q2 over the prior year period. This is some of what management detailed about India's potential on the call:
The second one is building the channel out. Unlike the U.S., as an example, where the carriers in the U.S. sell the vast majority of phones that are sold in the United States, in India the carriers in general sell virtually no phones. And so it's out in retail, and retail is many, many different small shops.

But I view India as where China was maybe seven to ten years ago from that point of view, and I think there's a really great opportunity there.
Greater China accounted for more than $30 billion of Apple's revenues during the first half of fiscal 2016. If India can get there during the next decade, it would be a huge success for Apple on the top and bottom lines. Apple reportedly is in 8th place in terms of smartphone market share in the country, and has just 29% of the market for smartphones priced at over 300 US dollars. There is a lot of room for iPhone growth in the country, although retail stores will help expand the overall ecosystem as well.
So while the big news surrounding Apple on Monday was regarding the share purchase by Berkshire Hathaway, investors need to digest the more important long-term news. A visit by CEO Tim Cook to India will look to pave the way for the opening of retail stores, helping India to become one of Apple's most important markets during the next couple of years. Shares of the technology giant have fallen on concerns of slowing revenue and earnings growth, so unless Berkshire Hathaway plans on buying a ton of iPhones and other Apple products, investors should focus on news out of India.
Disclosure: I/we have no positions in any stocks mentioned, and no plans to initiate any positions within the next 72 hours.
I wrote this article myself, and it expresses my own opinions. I am not receiving compensation for it (other than from Seeking Alpha). I have no business relationship with any company whose stock is mentioned in this article.
Additional disclosure: Investors are always reminded that before making any investment, you should do your own proper due diligence on any name directly or indirectly mentioned in this article. Investors should also consider seeking advice from a broker or financial adviser before making any investment decisions. Any material in this article should be considered general information, and not relied on as a formal investment recommendation.