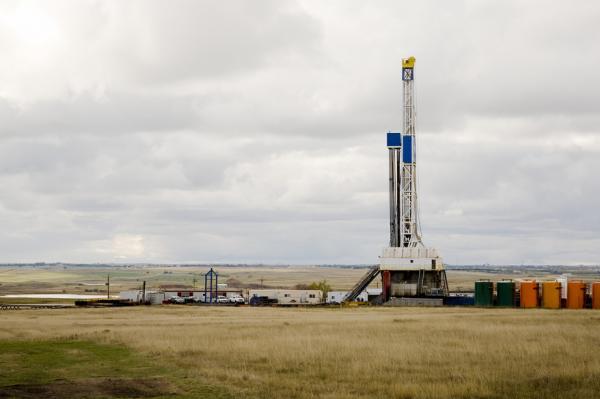 Source: UPI.
The most recent report from the North Dakota Department of Mineral Resources revealed the drop in oil production for the state has improved significantly from December 2015 and January 2016, when it was plunging by about 30,000 barrels per day for each month. As of March, it slowed down by 9,846 barrels a day, a decline of about 1 percent.
The director of the North Dakota Department of Mineral Resources, Lynn Helms, recently said production in the state was expected to come in under 1.1 barrels per day. The final count was 1,109,246 barrels per day during March.
Since the record of 1.2 million barrels per day was set in December 2014, production has dropped by close to 10 percent as of March 2016. That's actually better than a lot of analysts were expecting. Much of this is the result of improved technology and methods which has increased the amount of oil produced from most wells.
Concerns over DUC, inactive wells and rig counts
The number of drilled but uncompleted wells ("DUC") and inactive wells continue to climb in North Dakota, with DUC wells a positive over the long term, but inactive wells a negative in the short term.
The number of DUC wells in March for North Dakota climbed to 920, an increase of 13 from February. That points to ongoing investment, with the caveat of waiting for the price of oil to move up before completing them. Waiting for a return on investment is the primary concern there.
As for inactive wells, they increased another 84 in March from February, ending the month at 1,523. This of course has the most impact on production levels in the short term, although the weaker wells are those being taken out of commission, which is why with the added productivity at the remaining wells are proving to be more resilient over the last couple of months. How long that can offset the decline in wells is what will determine the production level in North Dakota for the remainder of the year.
It has been 11 years since the rig count in North Dakota was as low as the 27 in operation last week. In May 2012 it was at 218, the highest level in the history of the state. While pointing to a vast improvement in efficiencies, the upside is limited when having that few rigs.
Even though DUC and inactive wells can be brought into or back to production fairly quickly, there will be some lag time if the price of oil remains steady or climbs a little more for the rest of the year. That means North Dakota production will remain under stress for some time even if the price of oil improves.
What to look for to identify a probable increase in production
When asked about expectations concerning when production in the state will increase, Helms said he sees the price of oil needing to remain over $40 per barrel for about 3 months. At that point he expects production to climb once again. The $40 per barrel refers to West Texas Intermediate ("WTI"), the benchmark used for oil prices in the United States, not Brent.
With WTI remaining above the $40 mark for a month now, it suggests another 60 days or so before North Dakota oil producers start ramping up production once again. If volatility in oil prices return, that outlook would quickly change.
Under that scenario it probably wouldn't be until the fourth quarter before production reverses direction, and the first quarter of 2017 before it starts showing in the numbers. If it takes a little longer to complete DUC wells, a meaningful impact on the market may not take place until the second quarter of 2017. I think the inactive wells will be brought into production sooner. That said, since the inactive wells aren't going to be the better producers, they will have less impact on supply than DUC wells.
Production outlook for remainder of 2016
It's hard to make projections for shale production because the industry has made so many improvements it continues to surprise to the upside even though rig counts have plunged and thousands of DUC wells across the U.S. wait to be completed.
For North Dakota, the current outlook is for oil production to test the 1 million barrel per day mark by the end of 2016. With between 6 and 7 months remaining in the year, that means at current levels, production would drop by a little over 14,000 barrels per day to fall to that projected level. The good news is that is an improvement over the December 2015/January 2016 decline. The bad news is even if some companies boost production, it isn't going to stop the drop in supply. This assumes it does drop to 1 million barrels per day, or a little lower, by the end of December.
Some of this will be determined by the confidence of producers in the state. It's possible they may jump back into the market if the price of oil surprises to the upside over the next month, which could keep the amount of output above the psychological 1 million per day mark. If it exceeds that be a significant amount, it'll mean overall U.S. production would exceed expectations, which would put some pressure on the price of oil, even as some OPEC members are raising production levels.
What also remains to be seen is if producers can continue to improve productivity from existing wells as they did the last couple of months. It wouldn't stop the drop in output, but it would slow it down for the rest of the year. It appears the production estimates assume it won't fall by the amount it did at the end of 2015 and early 2016.
Conclusion
I don't look at DUC wells as a negative catalyst or something to be concerned about, as it points to companies being positive about the future of oil, and the eventuality of a sustainable increase in the price of oil.
The question ahead is whether or not the increase in OPEC production will surpass the pace of demand and drop in overall U.S. production. Many at this time assume that is how it will play out, but I believe it's far too early to draw that conclusion and make investing decisions based upon that assumption.
North Dakota's role in all of this in the short term will be producers' response to their belief as to whether or not the price of oil can remain above $40 per barrel for a prolonged period of time. If confidence builds and the price climbs faster and further than expected, it will be a relatively short two months when an increase in production would start. Again, if it looks very positive, I could see some companies starting a little earlier if they're convinced the rally has legs.
If that is how it plays out, we'll also see the same thing happening with other shale-producing states, which brings back the concern of increased supply exceeding the pace of demand.
What's dangerous to me is the market has already drawn conclusions that a rebalancing will take place by the end of the year, even though there are a lot of negative catalysts that could interfere with that thesis. North Dakota is one example of how shale producers continue to surprise on the supply side.
Disclosure: I/we have no positions in any stocks mentioned, and no plans to initiate any positions within the next 72 hours.
I wrote this article myself, and it expresses my own opinions. I am not receiving compensation for it (other than from Seeking Alpha). I have no business relationship with any company whose stock is mentioned in this article.