The price of oil bottomed in February, with WTI (light sweet crude) futures falling to just over $26 per barrel. The WTI June Futures contract closed out the week of May 9th at $46.21. While oil has consistently rallied since its winter low, bearish voices still haven't completely disappeared. They warn investors about "enormous" crude stockpiles (old news), new supply from Iran coming to the market (old news), OPEC's refusal to cut (old news), the IMF's downgrade of its global growth forecast (mostly irrelevant news) as reasons why oil might sell off. Markets don't trade on old news, however, they trade on the situation six months to a year in the future.
Supply is also not the sole determinant of price, although the bearish case for oil revolves almost solely around this variable. Demand is just as important and that side of the equation gets too little attention. While many news reports in 2015 had statements about how demand for oil was weak, there is no supporting evidence for this claim. Global demand for oil has risen every year since 1859 (when the first oil well was drilled in the United States) almost without exception. The rise in oil demand has been substantial, unyielding, and unstoppable. Demand can even rise during recessions and depressions because of price declines. It can also quickly overwhelm any supply glut.
When I began my series of books on hard asset investing in 2009, the global demand for oil was 84.1 million barrels per day (bpd) according to the EIA. Their estimate for global demand for 2016 is 95.24 million bpd. This is an increase of 11.1 million bpd in just seven years or 1.6 million bpd per year. The biggest increase took place between 2009 and 2010 encouraged by low oil prices with WTI crude bottoming around $33 per barrel during the Credit Crisis (the reaction of oil demand to price changes is fairly inelastic, but lower prices increase demand more than higher prices dampen it). The EIA further projects global oil demand in 2017 will increase by another 1.54 million bpd to 96.78 million bpd.
As an example of how predictable global oil demand is, see the chart below. Projections made in 2012 were for global demand to be just above 95 million bdp in 2016. Currently, it looks like the final number will be extremely close. It can also be seen the oil demand fell in 2009, one of only three years in the last 157 when this occurred. While oil demand is pretty predictable, oil supply is not.
Global Demand for Oil is Very Predictable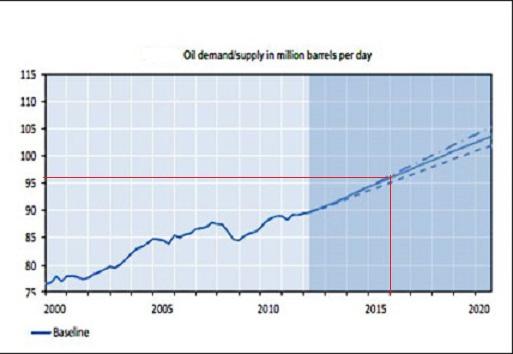 Given the world's unquenchable desire for more oil, the lifting of sanctions at the beginning of this year in Iran because of the nuclear accord is likely only to be a momentary blip in the marketplace. By early May, Iran had ramped up production enough to add 700,000 barrels per day to global output. This is already higher than their production before sanctions were imposed in 2012. It should be noted that this amount is less than half the annual average annual increase in global oil demand in the last several years. The market will quickly absorb it.
The Saudis also claim they could increase oil production by another million bdp. Could they? In the short term, almost certainly (most things are possible in the short term). In the long term, probably not. The Saudis have already increased oil output by 2 million bpd since 2009 by starting or ramping up output in marginal fields, such as Manifa, Shaybah and Kurais (for more about this see here). This is more expensive oil, and producing greater amounts of it is not likely to help the country's ballooning budget deficit and falling credit rating (Moody's just downgraded the kingdom's debt). If the Saudis could increase oil output from cheaper sources, they would have done so in the last several years, but they haven't.
Lower oil prices have caused across the board increases in production from OPEC countries and output is likely at a ceiling. It will require substantial investment going forward even to be maintained, but cheap oil has meant big cuts or postponements in production and exploration projects - capex (capital expenditures) were already lower by $200 billion by early 2016.
At the same time, production in the United States started falling year over year in December 2015 and greater drops will take place because a large number of rigs have been closed down. The increase in U.S. oil output in the last ten years came almost exclusively from fracking. This can only continue if more and more wells are drilled (output for the average fracking well tends to peak in the first year), but bank credit that paid for this expansion has been cut off, and should remain constrained for the next few years.
Recent History of U.S. Oil Production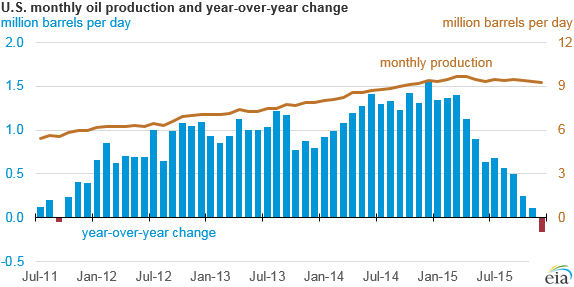 Global oil production seems to be pushing up against a ceiling. Further increases are going to be difficult going forward. Demand, however, will continue its long-term growth pattern from the last 150+ years. Shortages will inevitably arise, and probably much sooner than the "experts" predict. This scenario has all the requirements for a long-term price rally in energy stocks. Investors can participate in the rally by buying ETFs: USO, OIL, DBO, or USL or large cap integrated oil companies, such as: Exxon Mobil (NYSE:XOM), Imperial Oil (NYSEMKT:IMO), PetroChina (NYSE:PTR), Royal Dutch Shell (NYSE:RDS.A), Sasol (NYSE:SSL), Statoil (NYSE:STO), Suncor (NYSE:SU) and TotalFinaElf (NYSE:TOT).
Disclosure: I/we have no positions in any stocks mentioned, and no plans to initiate any positions within the next 72 hours.
I wrote this article myself, and it expresses my own opinions. I am not receiving compensation for it (other than from Seeking Alpha). I have no business relationship with any company whose stock is mentioned in this article.