Closed-end funds (CEFs) are desirable for both income investors and the shorter-term trader. They may not be the most liquid or followed instruments in the world of stocks, but this in itself means traders who do their homework and have some expertise in the field can find opportunities on a fairly regular basis. While the herd are all trying the same AAPL trade (and usually losing), I trade where the herd are completely absent. And long may that continue.
The opportunity
CEFs in the Master Limited Partnership, or MLP, sector are highly correlated to oil, for obvious reasons. The sell off at the beginning of 2016 was a great opportunity to buy these funds and have a diversified, leveraged exposure to any Oil recovery.
While Oil made its initial recovery from the Feb '16 lows, some CEFs outperformed the NAV of their holdings and started to trade at large premiums. I published an article at the end of March when some funds such as CEN reached extreme levels, trading at 25% premium to NAV. During April premiums did in fact revert back to mean while the majority of NAVs stayed steady.
But some funds have corrected too far and are now at significant discounts to average levels. As long as Oil holds up and doesn't crash again, these funds could be a decent buy.
Neuberger Berman MLP Income Fund (NML)
NML has total net assets of $796, utilizing 33.9% leverage. The top ten holdings do not usually concern us too much as MLPs are a play on Oil and Natural Gas. We could spend weeks analyzing each constituent holding and all our research would be in vain if Oil were to fall 20%. Additionally, CEFs are actively managed, so the top holdings we see now (that may even be a month old) may be getting sold. I prefer to treat the sector as a whole and play any inefficiencies between the individual funds. If you do want to research NML's specific holdings they can be found on its website. A general view is sufficient for the idea in this article: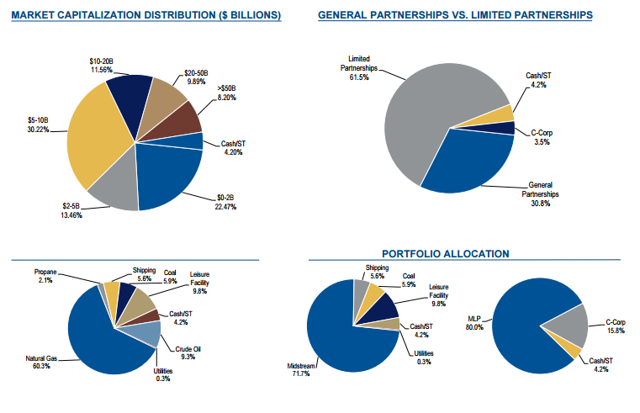 Image source: nb.com.
NML pays a monthly dividend and this was cut from $0.105 to $0.055 in April '16, a -47.6% haircut for holders. Still, at current prices of $7.5, $0.055 annualized is $0.66 or 8.8%. The cut in dividend adds an extra dimension to the trade. The investor has to decide if he wants value or phantom income. Every dividend paid is immediately compensated for by a reduction in share price. At the end of the day, how real is it?
In CEFs, dividend yield does not drive the share price. NML is trading right back at its January and March highs. If a stock announced a 47% dividend cut it would be dumped by institutions to a much greater extent. It is the NAV of holdings that really matter, and they have gradually increased with the rise in Oil. Certainly, the premium / discount appears to have taken a hit on the announcement of the dividend cut, but things are not always so clear. The premium was around +10% before the cut and is now -10%. However, other funds have had a swing of around 20% from high to low. As we stated in the opening paragraphs, some premiums were extreme and they have generally come back to average levels. Does this create opportunity? To make an informed decision we must look at some data.
The data
Premium/discount: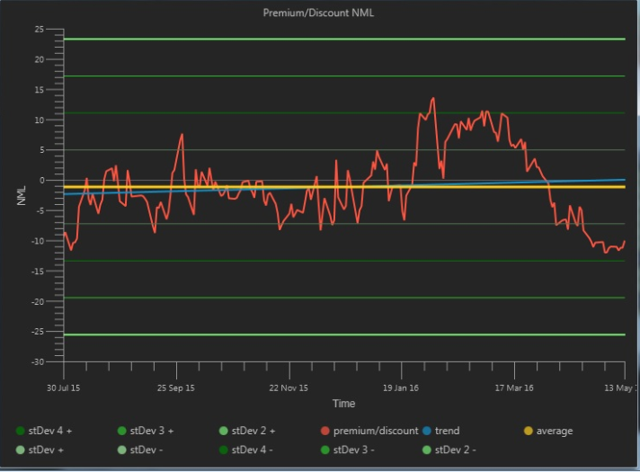 Image source: Author's own.
NML's average premium/discount to NAV is around -1%. At current -10% you can expect a 9% return to average. Dividends (or the lack of them) won't change the statistics. This is the distribution of the premium/discount for the last 220 days: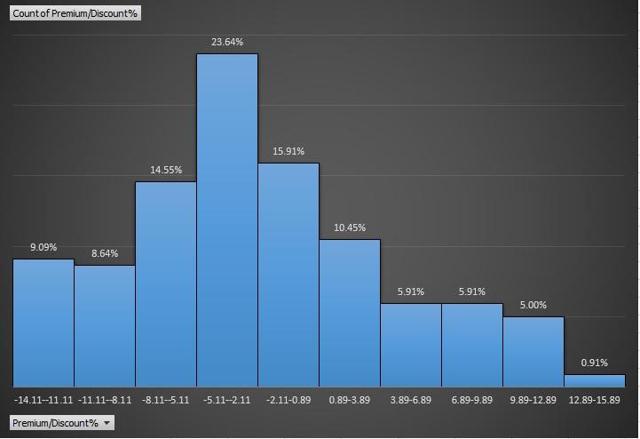 Back to the 5-2% range means NML will outperform its top 10 holdings with at least 5 %. Even though further calculations are needed we can keep it as simple as that.
Regression Model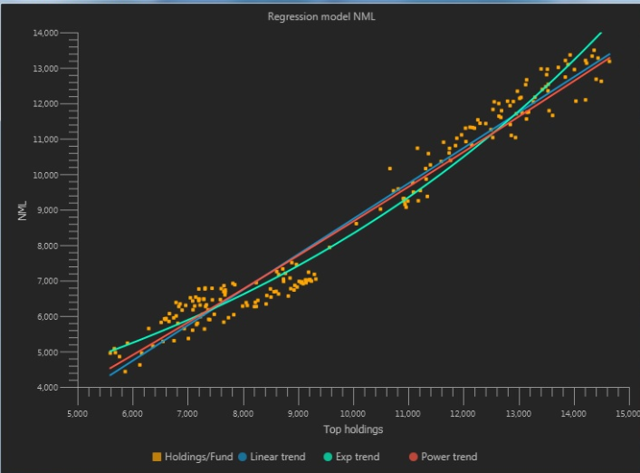 Image source: Author's own.
A regression model shows illustrates how strong the relation between NML and its top 10 holdings is. I have found that a simple linear regression model is the best thing in this market. Sound and easy to implement logic. Keep in mind that the average investor is no genius.
NML Long vs. Top 10 Short Comparison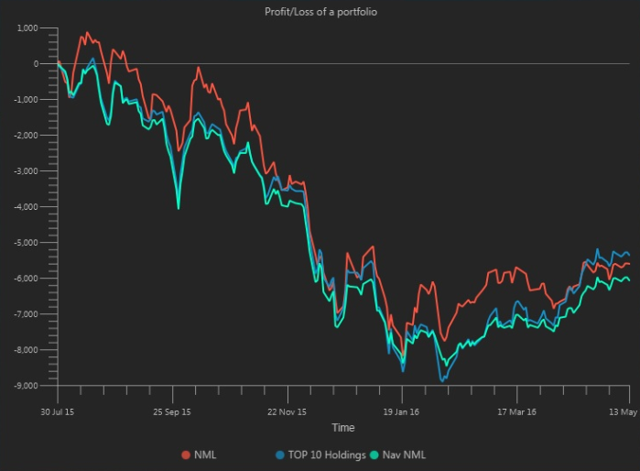 Image source: Author's own.
The above chart shows how the 3 portfolios (constructed that the slope is 1) move together.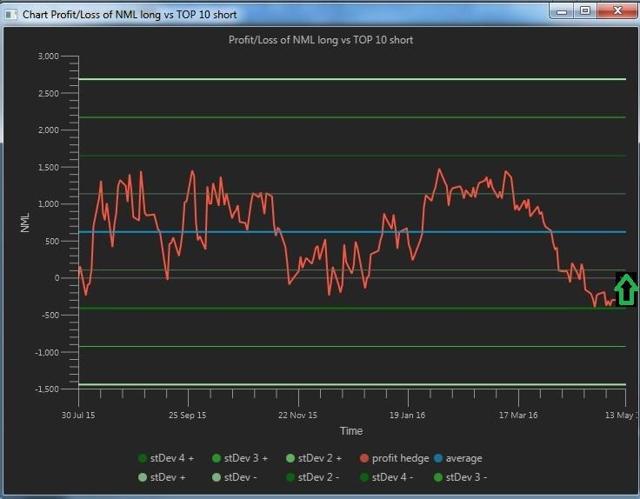 This is the result of taking 936 shares NML long vs its top 10 holdings short for the last 200 days. When this chart is a mirror image of the premium discount chart, I am quite confident in the model. A return to average can be implemented by this strategy.
Conclusions
NML is a good investment only if you are bullish on the MLP sector. It gives you a little more room to breathe trading at close to record discount levels. NML cutting its dividend makes no difference to its constituents parts. There is a negativity attached to the stock, and many holders will be annoyed at the decision. They may have sold in disgust. This kind of irrational selling provides opportunity and I am a buyer here. If you want phantom current income and return of your own capital, then look at dividend yields, but if you want value, look at the net asset value. It is as simple as that.
Disclosure: I/we have no positions in any stocks mentioned, but may initiate a long position in NML over the next 72 hours.
I wrote this article myself, and it expresses my own opinions. I am not receiving compensation for it (other than from Seeking Alpha). I have no business relationship with any company whose stock is mentioned in this article.