Infrastructure stocks are among the safest investments in the market today. Their low-risk, long-life assets are vital to the world's economies. The investment thesis for Enbridge Income Fund (OTC:EBGUF) is simple, solid and straightforward, as is the company's business strategy, which can be stated in under 40 words: to maximize the efficiency, profitability and safe operations of its energy infrastructure assets; pursue organic growth and expansion opportunities; and acquire complementary new assets whose business model and risk/return profile aligns with EIF's existing assets.
Enbridge Income Fund (EIF) owns a diverse portfolio of high-quality, low-risk energy infrastructure assets. It benefits from the financial flexibility, the strong sponsorship of energy services stalwart Enbridge Inc. (NYSE:ENB), and the access to capital markets to effectively execute its growth strategy. The combined companies' modus operandi has proven successful over the years. It provides long-term stability and confidence that the partnership will continue to deliver reliable returns to investors.
Asset drop-downs from Enbridge Inc. have been occurring on a consistent basis. As a result, EIF generated a 24.5% total shareholder return over the five-year period leading up to the time oil price collapse in 2014.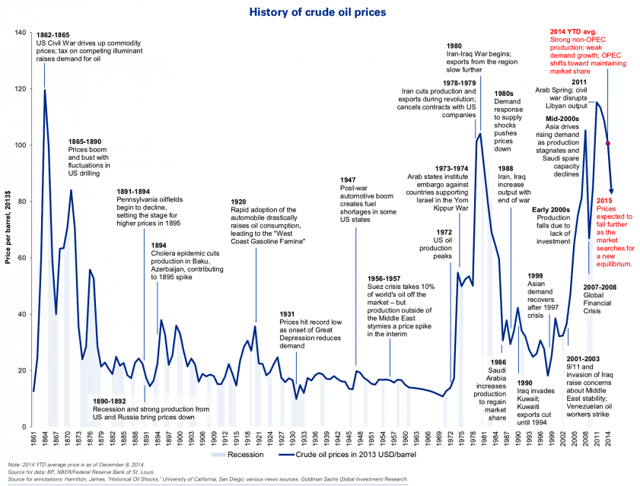 (Source: Business Insider)
Enbridge Income Fund's common stock is listed solely on the TSX - one reason the stock tends to fly under the radar of many investors - and trades under the symbol ENF. The authorized capital of Enbridge Income Fund consists of common shares, preferred shares and one special voting share, which is owned by Enbridge Inc. and which gives the energy services company the right to elect one director to the Board of Directors for so long as it owns or controls, directly or indirectly, between 15% and 39% of the issued and outstanding common shares. As of May 1, 2016, there were 122.9 million common shares and the one special voting share of EIF issued and outstanding.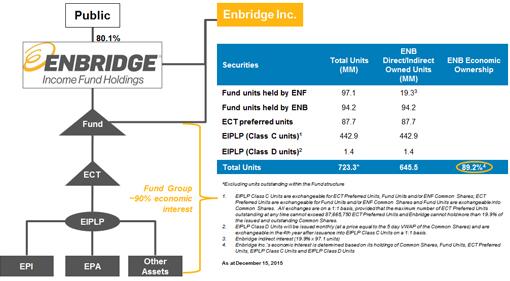 (Source: EIF website)
EIF's somewhat labyrinthine ownership and special rights structure is another factor that has deterred some investors from owning its shares; however, I consider the strong sponsorship and partnership with Enbridge Inc. to be a major differentiating competitive advantage for EIF. I believe the company, at its current valuation, represents an attractive investment opportunity for investors seeking a stable business with an experienced, high-quality management team to deliver steady growth through prudent organic expansions and acquisitions.
The company's diversified, low-risk, regulated energy infrastructure assets include the premier Canadian liquids pipelines franchise and one of the largest contract crude oil terminals in North America. The assets are underpinned by strong commercial arrangements with creditworthy counterparties - including regulated tolling structures or long-term take-or-pay contracts - which reduces volume risk and commodity price exposure and protects predictable cash flows from changes in commodity prices, interest rates and foreign exchange rates. Any residual risk is proactively managed. The result is stable and predictable cash flows that the company passes on to investors.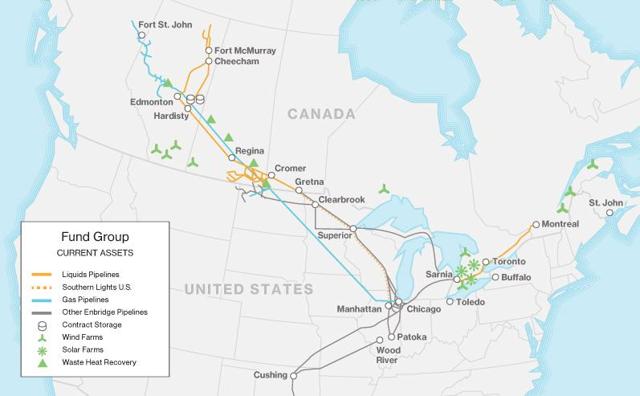 Enbridge Income Fund owns a diversified portfolio of high-quality, low-risk energy infrastructure assets in three business lines: "green power" generation; liquids transportation and storage; and natural gas transmission. It is a premier energy infrastructure investment for investors looking for predictable and growing cash flow from high-quality assets and a reliable, low-risk business model.
(Source: EIF website)
The assets include liquids transportation and storage businesses, as well as "green power" generation operations. They are strategically positioned between established and growing producing basins and markets looking for secure supply, and deliver essential energy to these key markets efficiently and cost-effectively. They include:
The 1,500-mile Canadian segment of the Mainline liquids pipeline system, which is the largest pipeline for oil transportation into the United States. Demand for capacity on the Mainline system continues to grow. In January 2016, a record 2.6 million barrels per day were shipped, and demand is expected to continue to exceed available capacity.
The Regional Oil Sands System in Alberta and regional pipelines in the Saskatchewan Bakken region.
The Canadian segment of the fully contracted Southern Lights diluent pipeline and interests in the U.S. segment of the Southern Lights Pipeline. The Southern Lights assets include a regulation that provides a guaranteed 10% return on equity.
A 50% interest in the recently recontracted 2,300-mile Alliance System, which cost-effectively transports close to 1.6 billion cubic feet per day of liquids-rich natural gas from Western Canada and the Bakken region to delivery points in key markets of the U.S., and is fully contracted to 100% of target capacity under a new service and toll model with an average contract length of five years.
A network of other crude oil gathering pipelines and storage facilities in Alberta, Saskatchewan, Manitoba, Ontario and Quebec and merchant crude oil storage terminals and caverns at Hardisty, Alberta.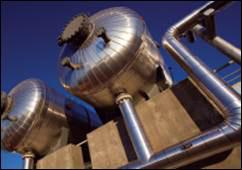 EIF has a 50% interest in NRGreen Power, which operates five non-regulated waste heat recovery facilities with an aggregate capacity of 33 MW, which are located at compressor stations along the Alliance Pipeline. (Source: EIF website)
A growing portfolio of renewable and alternative power generation assets that deliver more than 1,400 MW of renewable power generation capacity (solar, wind and waste heat recovery facilities). This portfolio of green power generation assets is well-diversified geographically and supported by long-term, fixed-price power purchase agreements that provide an additional source of reliable cash flow.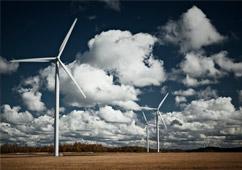 EIF's Ontario Wind Facility is the second-largest operational wind farm in Canada. The facility is located near Lake Huron in Bruce County, Ontario. (Source: EIF website)
Countries throughout the world increasingly recognize the importance of renewable energy - wind, solar, hydroelectric, geothermal and biomass - in combating climate change and contributing to the health of their citizens and their economies. Based on data compiled by the International Panel on Climate Change, life-cycle global warming emissions associated with renewable energy emissions are minimal. EIF has a strong portfolio of renewable energy assets today and is focused on growing this asset base.
Enbridge Income Fund provides shareholders predictable, high cash payouts and investment returns. In addition, EIF benefits from strong sponsorship and ownership by Enbridge Inc., one of North America's leading energy delivery companies. Enbridge Inc.'s strategy is to lever EIF as a strategic vehicle for periodic dropdowns of the parent company's assets at reasonable valuations.
In 2014, Enbridge Inc. dropped down C$1.8 billion in assets to EIF, including the Southern Lights Pipeline and the Alliance pipeline, both of which are low-risk, high-cash flow assets secured by long-term contracts. Subsequently, in December 2014, Enbridge Inc. announced its new "financial optimization strategy," of which its central component was a huge C$30 billion drop-down of assets to EIF.
These assets included the Canadian Mainline Pipeline, the Alberta Regional pipelines and renewable energy projects, together with $15 billion of commercially secured growth projects. In return, Enbridge Inc. received $18.7 billion of equity from EIF for the drop-down assets, giving Enbridge a 90% interest in EIF.
The steady stream of drop-downs has created a low-risk, high-payout, high-yield dividend income champion, and they will continue to drive growing cash flow and value accretion.
Enbridge Income Fund's stock has been in a downturn since it hit its all-time high of C$44.93 on February 11, 2015. The energy sector as a whole has been under assault as OPEC countries, led by Saudi Arabia, have been putting the squeeze on non-OPEC producers. Tired of losing market share, they decided to bleed the competition by keeping the taps open and driving down oil prices to put the knife to the throats of high-cost producers which they want to force to the sidelines.
The pressure on EIF's stock is not an internal issue, it is a situation that is punishing service providers in the energy complex, who have suffered along with the producers. With producers shutting in wells that are no longer economically viable, it threatens to constrict the volume traveling through ENF's pipeline systems.
The drop in the stock price has created a buying opportunity for patient, income-seeking investors with a long investment horizon. Despite the recent pressure on the stock, Enbridge Income Fund is built to deliver predictable, consistent performance. Its low-risk business model - which is underpinned by solid business fundamentals and long-term commercial agreements with strong creditworthy parties and minimal exposure to commodity prices or interest and foreign exchange rates - has produced a consistent track record of results for shareholders over the years.
For investors seeking safety, a high yield and growing distribution, Enbridge Income Fund is an attractive way to gain exposure to the majority of the Enbridge assets.
EIF has S&P and DBRS investment grade credit ratings of BBB+ and BBB (High), with "Stable" and "Positive" outlooks, respectively. The company maintains a strong balance sheet with a conservative capitalization profile. It does not have any outstanding long-term debt on its balance sheet, and working capital requirements are not expected to be significant in 2016.
Its total return to shareholders, which includes a 6.5% yield with 10% expected annual dividend growth, is likely to exceed that of other midstream companies.
High-Yield, Strong-Growth Dividend
EIF is a dividend champion with a long history of raising its dividend. The company's distribution policy targets a distribution level that is sustainable on a long-term basis, while retaining sufficient liquidity for capital expenditures. It has delivered a compound average annual dividend per share growth of more than 7% over the last 10 years. And its business model suggests this is not about to end anytime soon.
In just over a year, the company has increased its dividend three times, in conjunction with asset acquisitions from its sponsor and parent, Enbridge Inc. - by 12% in November 2014, by 10% in September 2015 and again by 10% in January 2016 to C$1.87 per common share on an annual basis. This puts it on pace for fiscal 2016 to mark the sixth consecutive year in which it has raised its annual dividend payment.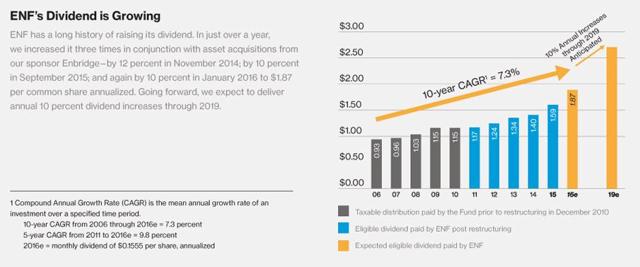 (Source: EIF website)
EIF's extensive, diversified portfolio of assets and its $13 billion suite of commercially secured growth projects currently under development will continue to deliver strong and predictable cash flow growth through the rest of the decade and create a platform for further dividend growth for years to come. The company has stated that, on the strength of its low-risk business model, it expects to raise its dividend 10% annually through 2019.
New investors in Enbridge Income Fund should note that its dividend is considered a dividend paid by a Canadian corporation, which is an "eligible dividend" under the enhanced dividend tax credit rules contained in the Income Tax Act of Canada. Under these rules, dividends issued by Canadian companies to resident Canadian shareholders get preferential tax treatment - Canadian-domiciled shareholders pay the government less on them than on other income.
EIF also offers a dividend reinvestment and share purchase plan that allows participants to reinvest their dividends in common shares of the company at a 2% discount to market price, and to make additional optional cash payments to purchase common shares at the market price, free of brokerage or other charges. The DRIP participation rate for the dividend paid on April 15, 2016 was about 25%.
Strong First-Quarter 2016 Results
Enbridge Income Fund's better-than-expected Q1 FY16 results puts it on a solid footing for 2016. As a result of the transformative drop-down of assets transferred from Enbridge Inc. to ENF in September 2015, first-quarter 2016 results were substantially higher than those in the same period last year and exceeded analysts' consensus expectations, which had already been revised upwards as a result of the drop-down transaction.
EIF's first-quarter earnings, which were bolstered significantly by the drop-down from Enbridge, increased by 22.7% over the comparable period in 2015 to C$52 million, or C$0.54 per common share. Adjusted earnings before interest and income taxes (adjusted EBIT) were $553 million for the first quarter of 2016.
Adjusted cash flow from operations (ACFFO) for the first quarter was C$515 million, an increase of C$419 million over the comparative period of 2015, reflecting the significantly larger asset base and the strong performance from the Canadian Mainline system. EIF continued to deliver record volume throughput on its Canadian Mainline in the first quarter.
ACFFO/share of C$0.71 was higher than analysts' estimates of C$0.61 and well ahead of C$0.55 in Q1 FY15. The variance was due to lower-than-expected capital expenditures and interest expense, which was partially offset by lower-than-forecast Green Power contribution because of weaker wind and solar conditions at some of the facilities.
In January, ENF increased its monthly dividend by 10% to C$0.156 per share per month, or C$1.87 per share on an annualized basis, effective from the dividend payable in January 2016. The company is projecting ACFFO for 2016 of C$1.75-2.05 billion, which will comfortably support the 10% dividend increase. Management reiterated future annual dividend growth of 10% through 2019, underpinned by contractually secured liquids pipeline growth projects.
Conclusion
Enbridge Income Fund's strong first-quarter financial performance underscores the company's strong foundation, with its low-risk business model and predictable cash flows. The current portfolio of assets, augmented by commercially secured projects coming into service over the next number of years, should continue to drive strong cash flow, dividend growth and overall shareholder returns.
Do you have other attractively valued, large-cap, dividend-growth companies that interest you? If so, please let me know in the "Comments" section beneath this article and I will do my best to research and write about them.

My investment horizon is long-term. In fact, my ideal holding period is forever. I strive to provide an in-depth, long-term focused analysis of the companies I research. If you found this article helpful, please click the "Follow" link at the top of this page to receive an email notification when I publish a new article.
Disclosure: I am/we are long EBGUF.
I wrote this article myself, and it expresses my own opinions. I am not receiving compensation for it (other than from Seeking Alpha). I have no business relationship with any company whose stock is mentioned in this article.