As part of Linn Energy's (NASDAQ:LINE)(NASDAQ:LNCO) bankruptcy filing, Berry Petroleum is expected to end up as a stand-alone company again. In this article, I will look at the potential value of Berry similar to how I looked at the value of a post-restructuring Linn Energy. There is more uncertainty about Berry since the amount of first-lien debt it will have post-restructuring hasn't been resolved yet.
Assumptions
I have made a few assumptions to help with the calculations. One assumption is that Berry won't separate from Linn until the end of the year. Until then, Berry's revenues and expenses will be funded via Linn. As well, I will assume that Berry will emerge from restructuring with around $650 million in debt. The unsecured notes will be converted into equity, while the $250 million in restricted cash goes towards paying down the credit facility. This will reduce the credit facility borrowings to $623 million, which I've bumped up to $650 million to cover various restructuring costs.
If we assume that Berry ends up with a roughly similar debt structure to Linn, it will have a $400 million term loan at LIBOR + 750 basis points and a $550 million borrowing base for its revolving credit facility at LIBOR + 350 basis points. Initially, Berry will borrow $250 million under its credit facility. This will rise to approximately $340 million at the end of 2017 due to $90 million in expected cash burn at strip prices.
New Break-even Point
Berry's break-even point based on 2018 production projections is estimated at roughly $68 WTI oil and $3.50 Henry Hub natural gas. I've used a $9.50 oil differential and a $0.15 natural gas differential, which is similar to the differentials that Linn included in its SEC filing.
I've included Linn's projections below.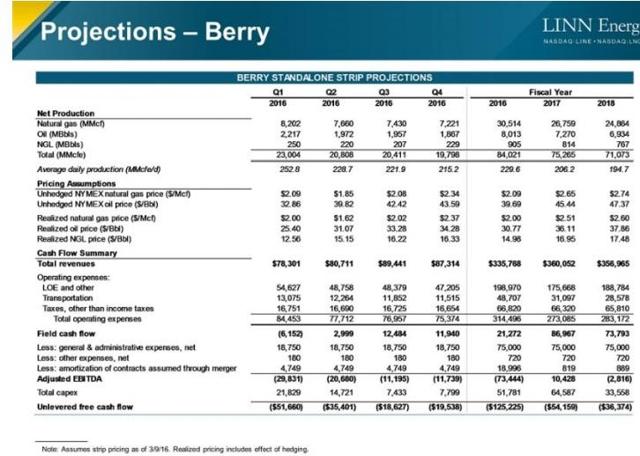 I've also included $10 million in net other revenue not included in the SEC filing. This consists of net electricity, marketing and other revenue.
This $10 million number may be a bit conservative as the combined category amounted to net revenues of $16 million in 2015, $18 million in 2014 and $13 million in 2013.
Berry's total revenues are estimated at $518 million with $68 oil and $3.50 natural gas.
| | | | |
| --- | --- | --- | --- |
| | Units | $/Mcf or Bbl | $ Million |
| Natural Gas (MMcf) | 24,864 | $3.35 | $83 |
| Oil (MBbls) | 6,934 | $58.50 | $406 |
| NGLs (MBbls) | 767 | $25.00 | $19 |
| Other Revenue | | | $10 |
| Total Revenue | | | $518 |
The capital expenditures needed to maintain Berry's production are uncertain since the amounts budgeted for 2016 to 2018 lead to major production declines. I am estimating maintenance capital expenditures at $100 million per year. I've also adjusted taxes to account for the higher revenues in this break-even scenario compared to Linn's projections. Taxes are particularly high for Berry due to the cost of California carbon allowances ($20.6 million in 2015), which is needed due to the greenhouse gas emissions created by the steam recovery methods used at some of the California properties. Thus when combined with low oil prices, the effective tax rate (not including income taxes) is over 15%.
| | |
| --- | --- |
| | $ Million |
| LOE And Other | $189 |
| Transportation | $29 |
| Taxes, Other Than Income Taxes | $78 |
| Net G&A | $75 |
| Capital Expenditures | $100 |
| Cash Interest | $48 |
| Total Expenditures | $519 |
Valuing Berry
At $60 oil and $3.25 natural gas, Berry would generate around $90 million EBITDA, which would result in a debt to EBITDA multiple of 8.2x using the $740 million debt total that I calculated above. This high level of debt would leave Berry's equity having little value.
However, Berry's reserves are estimated to have a PV-10 of $995 million at SEC pricing. Many companies are trading at a premium to the value of their reserves at SEC pricing, in which case Berry could be worth around $1.2 billion, which would leave $460 million in value outside of its first-lien debt.
Berry's unsecured bonds are currently trading at 21 to 22 cents on the dollar, which represents a value in between those two calculations. Berry's properties appear to allow for solid equity value, but the cost structure of the company may significantly diminish that.
I am avoiding Berry's unsecured bonds right now due to the uncertainty about how its first-lien debt is going to be dealt with and about how its cost structure will be improved. For Berry to be a viable company (aiming for a break-even of under $60 oil), it probably needs to get some additional investment that helps reduce its first-lien debt by a few hundred million. As well, it needs to figure out a way to reduce its costs by a significant amount. For example, its G&A is projected at $75 million per year, but with the lower expected production levels G&A should be cut down to $50 million or less. Lease operating expenses also need to be brought down below projections.
Conclusion
The projections for Berry that Linn Energy included in its filing point to a company that has marginal prospects in a potentially $50 to $60 oil world. It has a cost structure that would break even at around $68 oil and would be very highly leveraged with $60 oil. It appears that Berry's properties have a decent amount of value compared to its first-lien debt, but it is also hampered by an uncompetitive cost structure.
The results of the restructuring will need to result in interest costs and Berry's G&A costs coming down considerably from current projected levels. As well, the lease operating costs need to be reduced on a per BOE basis as they are currently projected to increase from $14.21 per BOE in 2016 to $15.94 per BOE in 2018. If that can be accomplished, Berry's unsecured bonds are a good value currently. Otherwise, Berry has a good chance of being on a path to financial difficulties again in the next few years.
Author's note: If you found this article informative, please scroll to the top and click on "follow" to see my newest articles as they are published.
Disclosure: I/we have no positions in any stocks mentioned, and no plans to initiate any positions within the next 72 hours.
I wrote this article myself, and it expresses my own opinions. I am not receiving compensation for it (other than from Seeking Alpha). I have no business relationship with any company whose stock is mentioned in this article.
Editor's Note: This article covers one or more stocks trading at less than $1 per share and/or with less than a $100 million market cap. Please be aware of the risks associated with these stocks.