On May 8th, I wrote about how surprised I was that Saudi Arabia was moving at warp speed to implement its transformation plan, Vision 2030, which it had just unveiled on April 25th. Moody's rating review of their credit makes it clearer. The review was initiated on March 4th, and Crown Prince Muhammad Bin Salman Bin Abdulaziz Al-Saud (MbS), Chairman of the Council of Economic and Development Affairs, was in a race against the clock.
So he cut-and-pasted "the desperate plan of a regime in crisis" from a McKinsey study, Saudi Arabia Without Oil: The Investment and Productivity Transformation, which had been written for KSA in December 2015. It provides the recipe for countries in an economic crisis, austerity and privatization. It added three "pillars" that can be exploited and developed at break-neck pace: converting Saudi Arabia's oil reserves into a $2 trillion, diversified sovereign fund, tripling its tourism business in a few years, and developing the country into a hub of world trade.
Moody's concluded their review on May 14th, less than three weeks after seeing the plan. It concluded that while the attainment of the goals of the plan "is too uncertain" now, "in Moody's view such developments could, over time, support improvements in the Kingdom's credit profile that are consistent with a higher rating."
The Vision 2030 plan was instrumental in securing a "stable outlook." I found the Moody's research report surprisingly lacking in critical thinking. For one thing, it did not even mention the centerpiece of the plan, the IPO and subsequent sales of Aramco shares. For another, it characterized Vision 2030 as a " comprehensive and ambitious reform plan which aims to reduce the economic and fiscal dependency on oil," though it noted "the plan faces a number of challenges."

Sovereign Bond Ratings Methodology
Moody's published its updated rating methodology for explaining its approach to assigning credit ratings to sovereigns globally in December 2015. Their assessment of sovereign credit risk continues to be based on the interplay of four key factors: economic strength, institutional strength, fiscal strength, and susceptibility to event risk.
Economic Strength
It states that the intrinsic strength of the economy - focusing on growth potential, diversification, competitiveness, national income, and scale - is important in determining a country's resilience or shock-absorption capacity. A lack of economic strength has been a decisive factor in past sovereign defaults. It noted that in a large number of cases, there was an erosion of external competitiveness by a major terms-of-trade shock (e.g., the fall in oil prices). It specifically underscored that large, diversified economies are much more resilient to such external shocks than smaller, non-diversified countries.
Institutional Strength
This factor measures how conducive it is to supporting its ability (i.e., capacity of the government to conduct sound economic policies that foster economic growth and prosperity) and willingness to repay its debt. It notes that about 30% of past sovereign defaults have been directly related to institutional and political weaknesses, ranging from political instability, to weak budget management and governance problems, or to political unwillingness to repay debts.
Fiscal Strength
This factor captures the overall health of government finances. The starting point is to assess relative debt burdens (debt/GDP, debt/revenues) and debt affordability (interest payments relative to revenue and GDP). From there, Moody's takes into account the structure of government debt.
It notes that more than a third of sovereign defaults have occurred as a result of persistent external and fiscal imbalances which have, over time, built up an unsustainably high debt burden.
Susceptibility to Event Risk
This factor is aimed at assessing the government's ability to withstand shocks from a medium-term perspective, and denotes the risk that sudden, extreme events may severely strain public finances, thus sharply increasing the sovereign's probability of default. Moody's analysis of past sovereign defaults highlights the importance of shocks such as banking crises and foreign-exchange crises.
Rationale for the Downgrade to A1
In Moody's view, lower oil prices have led to a material deterioration in Saudi Arabia's credit profile. "A combination of lower growth, higher debt levels and smaller domestic and external buffers leave the Kingdom less well positioned to weather future shocks."
Moody's noted that the Kingdom's GDP had dropped by 13.3% in 2015 and is expected to fall another 5% in 2016. According to Moody's estimates, the general government fiscal balance recorded a deficit of 14.9% of GDP in 2015, following a deficit of 2.3% in 2014, and the rating agency expects a similarly-sized deficit this year.
Moody's writes that it expects the fiscal balance will improve gradually over the coming four years, expecting an average deficit of 9.5% of GDP between 2016 and 2020. This would require cumulative financing of SAR1.2 trillion ($324 billion or almost 50% of estimated nominal GDP in 2015). But it notes that it is not yet clear how this cumulative financing need will be met: while Saudi Arabia's low levels of government debt at 5.8% of GDP in 2015 provide fiscal space, no medium-term funding strategy has yet been announced.
It concludes that Saudi Arabia's buffers will continue to erode. Following a peak of $731 billion in August 2014, foreign exchange reserves have dropped by almost $155 billion to $576 billion as of March. Moody's projects further balance-of-payments deficits, and expects foreign exchange reserves to decline further until 2019, reaching around $460 billion.
The only way the hemorrhage rate can be slowed short term is by much higher prices. Even with belt-tightening, the kingdom's fiscal break-even for 2016 is $66.70 a barrel, down from $94.80 in 2015, according to the International Monetary Fund.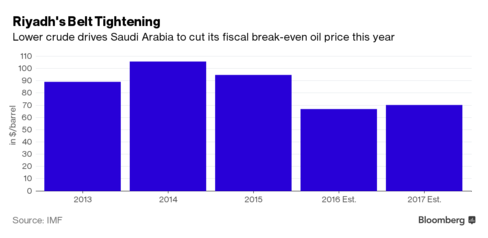 The government forecasts the deficit will narrow to 326.2 billion riyals ($87 billion) in 2016. I deduced that their expected average oil sales price for 2016 is there about $42 per barrel. This far in 2016, the average OPEC Basket Price is just under $33 per barrel. That means that oil prices would have to average over $49/b for the remaining months in 2016 to lock in a budget deficit of $87 billion.
Rationale for the Stable Outlook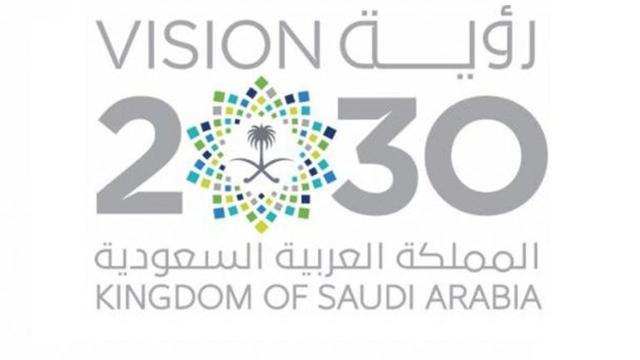 In the absence of further fiscal and economic reform, the pressures on the government's balance sheet would continue to rise. But this is not currently Moody's expected outcome thanks to a comprehensive and ambitious reform plan, called The National Vision 2030, which aims to reduce the economic and fiscal dependency on oil.
In Moody's opinion, the plan faces a number of challenges. Institutional changes are needed to stimulate the desired private-sector growth, increased labor force participation by Saudi nationals, higher levels of educational attainment and increased private investment in both large corporate and SME sectors. The fiscal reforms needed to broaden the Kingdom's revenue base raise significant social stability considerations.
But Moody's concludes that such developments could, over time, support improvements in the Kingdom's credit profile that are consistent with a higher rating. No mention of the Aramco IPO, monetizing Saudi's oil reserves, creating a $2 trillion fund, increasing the pilgrimage business, or becoming a gateway of world trade.
Conclusions
Moody's concludes that upside and downside risks are balanced. However, based on oil futures prices, Saudi Arabia faces large fiscal deficits over the next five years.
I am highly skeptical that it can monetize its oil reserves to any large degree due to the enormous political risk from within and without. I wonder if Moody's left out the plan's centerpiece for that same reason.
Disclosure: I/we have no positions in any stocks mentioned, and no plans to initiate any positions within the next 72 hours.
I wrote this article myself, and it expresses my own opinions. I am not receiving compensation for it (other than from Seeking Alpha). I have no business relationship with any company whose stock is mentioned in this article.