Last November, Four Corners Property Trust (NYSE:FCPT) completed its spin-off from Darden Restaurants (NYSE:DRI) with a portfolio of 424 restaurants, including 418 corporately-leased sites and 6 franchised. Under the terms of the spin-off, DRI distributed all of the outstanding FCPT shares pro rata to DRI shareholders of record. DRI shareholders retained their DRI shares and received 1 share of FCPT for every 3 DRI shares held, with cash paid in lieu of fractional FCPT shares.

In my initial research paper (November 2015), I explained that I expected FCPT "to trade at a discount for quite some time" and I had no "intention to purchase shares unless there was a huge discount". I concluded the article by suggesting that "I see no alpha with Four Corners".
I'll be the first to admit, I was wrong! As you can see below, FCPT shares have taken off, returning almost 60% in less than a year.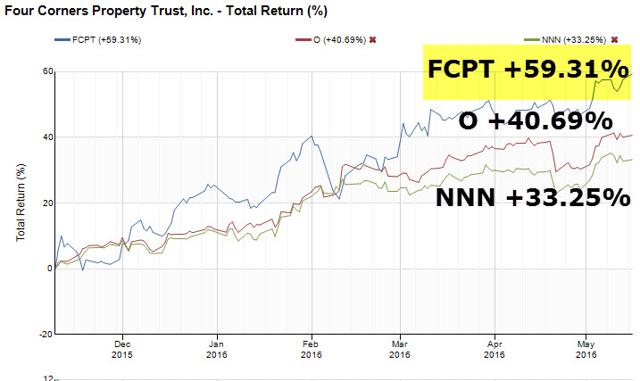 How could I be so wrong? Or better stated, how could Mr. Market be so right? What are the drivers that have made this highly concentrated restaurant REIT so attractive? As the title to my article suggests, investors are standing in line to cash these Olive Garden-backed dividends.
Four Corners' Recipe For Success
The REIT vehicle was not the right strategy for McDonald's (NYSE:MCD), but in hindsight, we can see that Darden made the right to decision to unlock value within the balance sheet by spinning 424 restaurants into FCPT.
By spinning off the real estate into a REIT, Darden was able to monetize its legacy real estate portfolio in a tax-free vehicle (instead of taking the company private). Essentially, DRI opted to alter its capital structure in a way that took advantage of the REIT laws and allow FCPT to lease back its real estate to DRI.
Many corporations which own real estate and the operating businesses - like restaurants, casinos, and retailers - have been the most popular among the more recent REIT spins.
DRI is not the only company that was able to spin off real estate into a REIT vehicle. Other REITs, like Seritage Growth Properties (NYSE: SRG) - a landlord to Sears (NASDAQ:SHLD) and K-Mart - Gaming and Leisure Properties, Inc. (NASDAQ: GLPI) - a landlord to casinos - and Communications Sales & Leasing (NASDAQ: CSAL) - a landlord to Windstream Holdings (NASDAQ:WIN) - have all used the REIT spin vehicle to create new REITs.
Also, MGM Resorts International (NYSE: MGM) opted to form a "captive REIT" entity by transferring ten casinos to the new REIT, MGM Growth Properties (NYSE:MGP) - MGM owns 70 percent, and public investors own 30 percent.
In an article last December, I explained that "a Congressional tax bill proposed a ban on certain tax-free REIT spin-offs" that put the brakes on REIT spin-offs. This new bill now forces companies that want to spin-off their real estate into a REIT to be taxed - the distribution of either the real estate or operating assets would no longer be tax-free. In other words, DRI and FCPT were barely able to take advantage of the spin, just as the window was closing.
As you can see below, the FCPT portfolio now includes 418 properties in 44 states. The tenant/operators include Olive Garden, LongHorn Steakhouse, Bahama Breeze, Seasons 52, and Wildfish Seafood.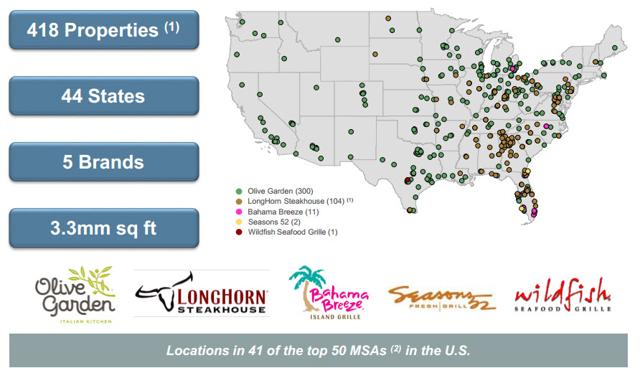 As you can see below, a majority of the REIT's revenue is generated by Olive Garden properties (74.3%) and LongHorn properties (19.9%).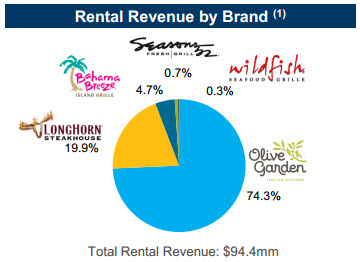 DRI performed an extensive asset selection process to determine which properties were ultimately transferred to FCPT, and as illustrated below, the REIT management team was able to filter out the best overall properties.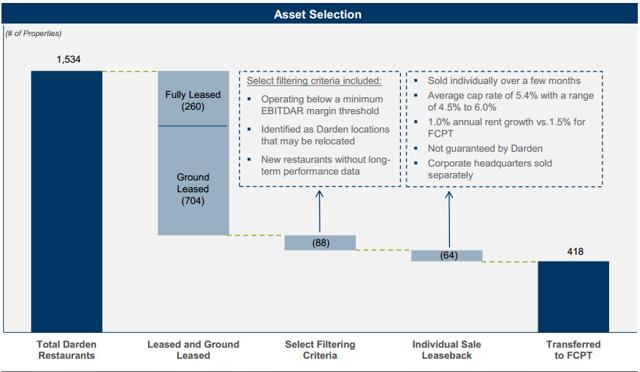 Unlike the Red Lobster sites that were previously acquired by VEREIT (NYSE:VER), FCPT was able to spin the highest-quality properties into the new REIT. Also, unlike Seritage, which is another highly concentrated REIT, FCPT is not seeking to unlock value as a result of store closures (like Sears and SER). In other words, the value proposition for FCPT is to own shares in a REIT that generates stable and predictable dividends. Here's a snapshot of the company's average rent per square foot by brand: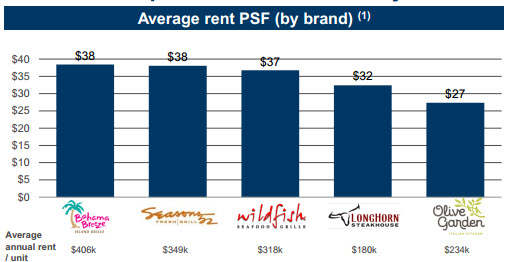 Also, FCPT has a well-balanced geographic model, with the largest concentration in Florida (13.6%), Texas (11.2%), and Georgia (8.4%).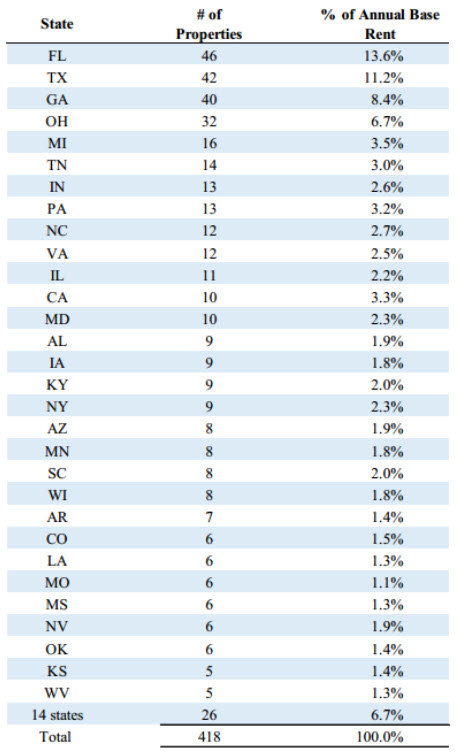 What Could I Have Missed?
As I ponder Mr. Market's attraction to FCPT, it has become apparent that the catalyst for the price appreciation has more to do with Darden than FCPT. Many analysts and investors (like me) are not aware of how ubiquitous the Olive Garden brand really is.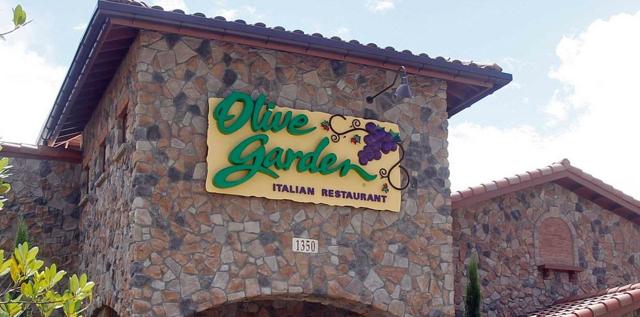 According to Morgan Stanley, within the last 6 months, 18% of the US adult population has been to an Olive Garden store. There are around 844 Olive Garden locations, and FCPT owns 300 of them (around 40%). In DRI's filings the company states that Olive Garden generates $3.8 billion in annual sales, and that the average Olive Garden generated store-level sales of $4.4 million.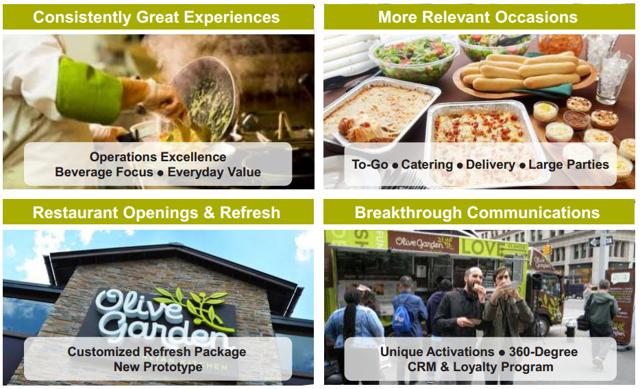 FCPT's second-largest tenant, LongHorn Steakhouse, also generates strong sales from its 479 units (of which FCPT owns 104). LongHorn's annual sales are around $1.8 billion, which translates to around $3.3 million per unit.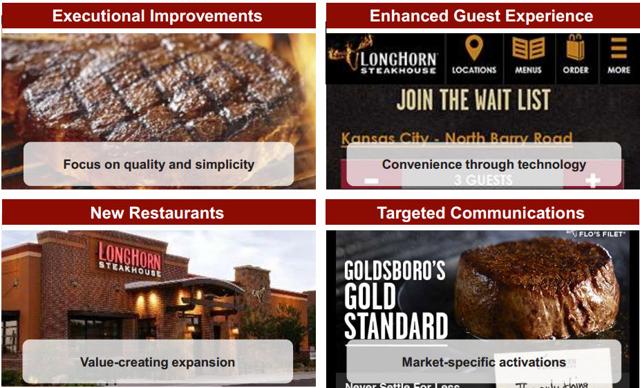 DRI has been upgraded by all three rating agencies recently, and is now rated BBB flat, BBB flat, and Ba3.
Perhaps I also missed the fact that no one has shown a graph of the YTW on Darden's long-term unsecured bonds. They are ~100 bps tighter YTD. Not exactly the same, but it speaks to the credit improvement of the tenant.
Darden 6.80% due 10/15/2037
Rated: Baa3/BBB
$300 million deal
Issued: 10/16/2007
Issued at +200 bps to 30-year T Bond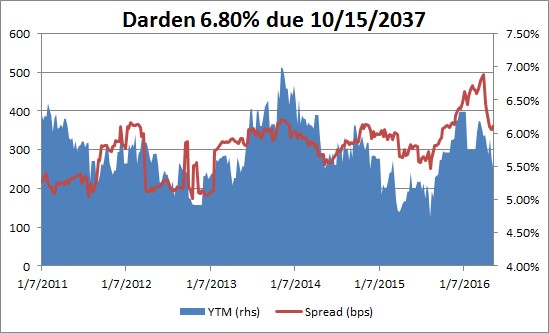 While this bond trades infrequently (the last trade was on 5/9/16, according to TRACE), spreads have tightened (the risk premium between the yield on the bond and a treasury of the same maturity) by nearly 1% this year, which means the issuer is being viewed as "less risky" than it had been.
Note: These bonds have coupon steps, which mean the rate (coupon) on the bond increases if the notes get downgraded. As per the prospectus:
The interest rate payable on a series of notes will be subject to adjustment from time to time if any of Moody's Investors Service, Inc. (Moody's), Standard & Poor's Ratings Services, a division of The McGraw-Hill Companies, Inc. (S&P), or Fitch Ratings (Fitch) downgrades (or subsequently upgrades) the debt rating assigned to such series of notes. If the rating on a series of notes from any one of Moody's, S&P or Fitch is decreased to a rating set forth in the immediately following table, the per annum interest rate on such series of notes will increase from that set forth on the cover page of this prospectus supplement by the percentage set forth opposite that rating.

One final thought - Darden's reinvestment in the portfolio. Darden provides aggregate capex numbers. Cross multiplication gets you roughly $1 per FCPT share in maintenance and remodel capex paid for by the tenant. The implication of this dynamic over FCP's lease term is substantial.
In short, either I underestimated the strength of Darden as a tenant, or Mr. Market has overestimated the strength of the Darden brand. There is little doubt that Darden has made great strides with its balance sheet and the overall improvement in its financial performance.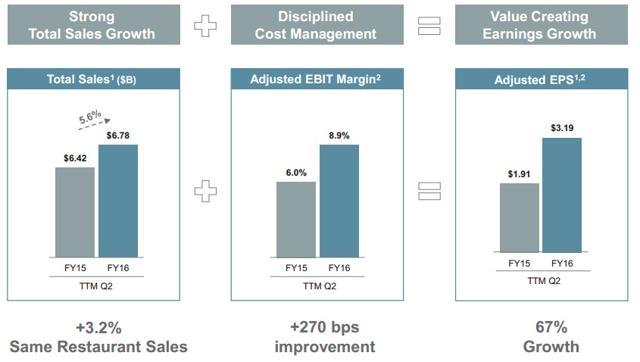 Chew On These Stats
As evidenced by the chart below, FCPT is comprised of high-quality restaurant properties that demonstrate strong operating performance. The REIT's EBITDAR coverage is 4.2x.

FCPT's average unit volume is $4.397 million, and the industry average (major casual dining) is $3.009 million.

Also, its properties have proven to be resilient and have performed well through various market cycles:

As noted above, FCPT hand-picked its portfolio, and as you can see below, the facilities are well located with superior demographics - two important indicators of asset quality.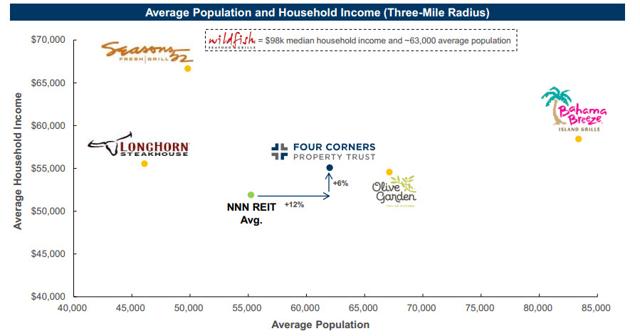 As I said, Darden's financials have improved substantially, as evidenced by the snapshot below:

Are The Leases Risky?
As I alluded above, Darden is responsible for maintenance and remodel capex, and FCPT has absolutely no liability related to taxes, insurance, or ongoing maintenance. In other words, the leases are absolute Triple Net, with all expenses passed through to the tenant: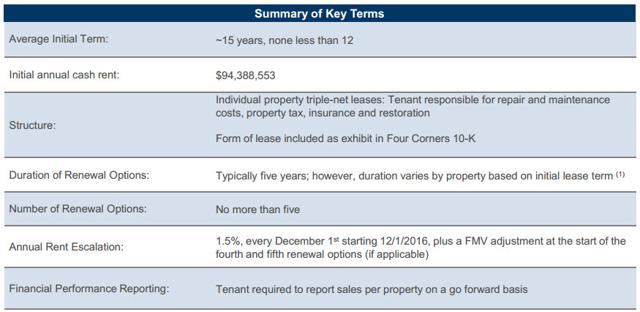 There are no lease maturities until 2027, and the weighted average lease term for the portfolio is just under 15 years.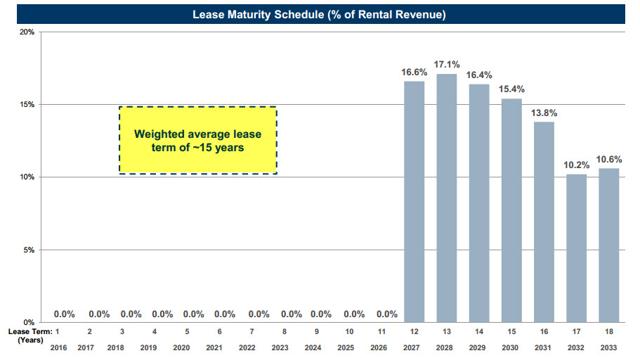 Here's how the lease terms compare with those of the peer group: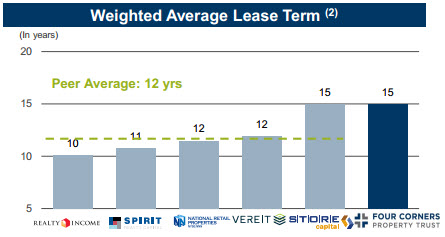 Also, like most Net Lease REITs, FCPT is able to harvest organic cash flow growth from its portfolio of Triple Net leases. These individual leases allow for maximum flexibility in resetting rent levels and laddering expiration dates. The Darden leases (with FCPT) have built-in 1.5% rent escalators and fair market value adjustments that provide organic growth.
Most importantly, FCPT's portfolio (tenants) is currently 100% investment-grade rated. While there's an argument that one should not have all of their eggs in one basket (more on that below), the one big egg in the FCPT basket is as solid as a rock.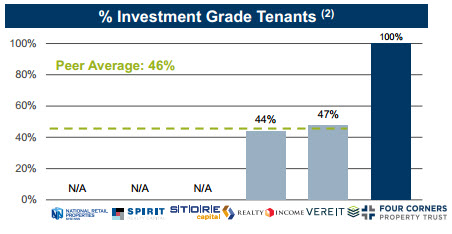 What About the Balance Sheet?
So far, FCPT has not closed on any acquisitions, but on the recent earnings call, management said they have "been very active in building a pipeline and screening deals". The CEO, William H. Lenehan, explained:
We have a number of properties under a letter of intent to purchase and still more under negotiation. We will announce acquisitions, even individual property purchases, soon after they close.
To fund new investments, FCPT will likely draw on its $350 million revolver that has 100% capacity.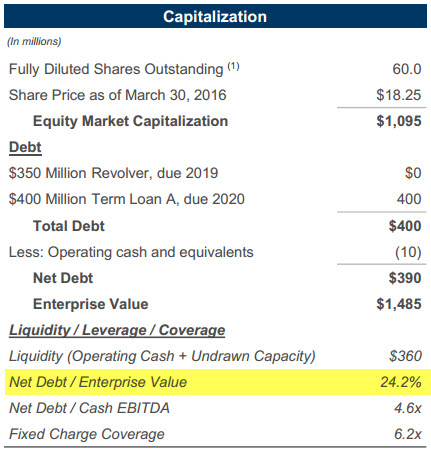 FCPT has low leverage, and the company plans to maintain a ratio of less than 6x debt to EBITDA. The company's coverage ratios remain strong, with net debt-to-cash EBITDA of 4.9x (quarter-end).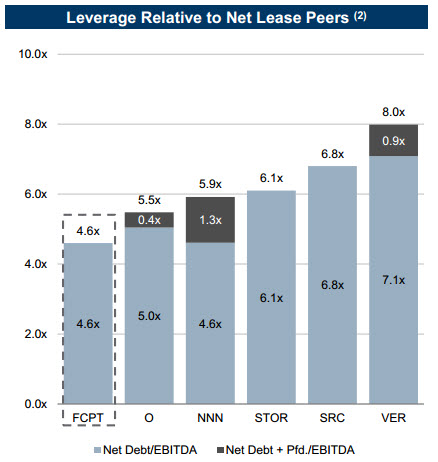 It's plain to see that FCPT is looking to diversify its portfolio. When one analyst asked FCPT's management team (in the latest earnings call) about future acquisitions, the CEO replied:
Without getting too specific on our current pipeline for competitive reasons, I don't view a transaction closed until it's closed. We are looking at one acquisition where a franchisee is selling its business in real estate to another franchisee and we are stepping in conterminously with the closing of the business sale that was off market transaction.

We are seeing some individual properties that have been marketed where trade buyers have fallen out of contract and we are coming in at pricing that isn't as attractive to the seller but which has the higher level certainty of close, and these are primarily QSR, nationally known QSR brands...

I'm not going to get into the size of the pipeline but I would say that our pricing is in the mid sixes to low sevens and that's our cash divided by the purchase price and as far as brands these are nationally known brands that have decade long histories.
How Does This REIT Stack Up?
On the recent earning call, FCPT reconfirmed guidance of $1.18 in AFFO per share, consistent with prior 8-K filings. Here's a snapshot. I have also included consensus forecasts (Source: F.A.S.T. Graphs):

FCPT pays a quarterly dividend of $.2425 per share that translates to $.97 per year annualized. The AFFO payout ratio is 82%, which I consider conservative based upon the absolute NNN leases (no capex or maintenance) and longer-duration lease contracts.

Here's how FCPT's dividend yield compares with that of the peer group:

As I ponder the peers (above), I think it's important to drill down to the closest peers - that enjoy similar portfolio characteristics. For example, I wrote an article yesterday on Hannon Armstrong (NYSE:HASI), a REIT differentiated by its high-quality (98% investment-grade rated) portfolio.
Another close peer is EPR Properties (NYSE:EPR). I also wrote on this company yesterday, and the common dominator as it relates to FCPT is that EPR has considerable exposure to one tenant (NYSE:AMC) as well as the theatre category.
In other words, I believe FCPT should trade in line with HASI and EPR, and the blended yield for these two REITs is currently 5.65%, while FCPT is yielding 5.10%. Now, let's consider the P/FFO multiple:

On this metric, I consider FCPT soundly valued; however, I think it's important to acknowledge that the REIT has attractive leverage. When you combine the high-quality sources of income and low leverage, you can understand why Mr. Market has become attracted to the strong aroma of dividend safety.
Investors Are Standing In Line To Cash These Olive Garden-Backed Dividends
Perhaps I'm overly defensive, or maybe I'm just more risk-averse because of past failures as an investor. A quick story:
Around 15 years ago, I was building stores for a chain called Econo Lube n' Tune. I had around four locations under construction, and I was building the stores and leasing them back to Econo Lube. One day, I decided to drive over to a store that I had recently competed construction. As I drove into the parking lot, I noticed that people were moving fixtures out of the store instead of moving them into the premises.
I walked over to the workers and asked what was going on. I was told that Econo Lube had filed for bankruptcy, and that the company was closing all of the locations (that I had leased to them). I had over $2 million invested in these sites, and it took me over 2 years to unwind the mess, in which I lost around $500,000.
The moral of the story: Econo Lube was not investment0grade rated; however, the setback for the company was related to a "60 Minutes" story that triggered an erosion in brand equity and, eventually, bankruptcy. It was unexpected, and because of the concentration risk, I was forced to take losses, including distractions that cost me even more money.
As far as FCPT, the sustainability of the earnings stream is highly dependent on operations, consumer demand, and a variety of things. While I know it's not likely that Darden's business will cease operating, one must also consider the potential of catastrophic risks (i.e., food poisoning) that could impact the business. In other words, it really boils down to lack of diversification, and while Mr. Market is not considering that (risk), I am.
The Bottom Line
I'm recommending a pullback. Mr. Market seems to be eating at Olive Garden quite a bit, and although Darden's performance of late is tempting, I'm going to take a more cautionary approach. Keep in mind, I am warming up to the value proposition, and as soon as I see Mr. Market snoozing, I may begin to nibble on some shares.
How much of a discount? My fair value target is $17.17 - that translates into a dividend yield of 5.65%.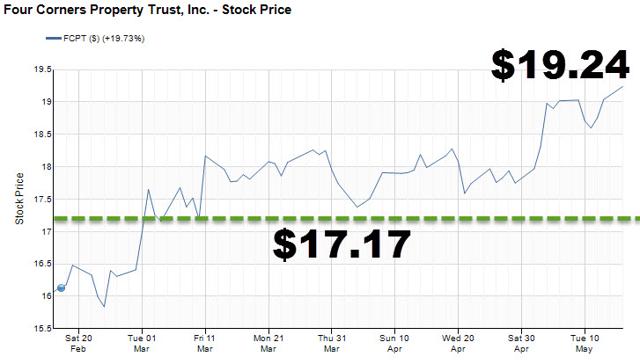 One final thought: I find it interesting that the variance with Realty Income's (NYSE:O) dividend yield and FCPT's dividend yield is ~150 bps. In other words, the market is providing the spectrum of diversification - from most diversified to least diversified (in terms of tenant risk).
Arguably, I would not recommend investing new dollars in O (based on valuation), and that means a prudent investor should not attempt to mitigate valuation risk by investing in an alternative with concentration risk. In other words, consider all of the risks and then determine the best course of action based upon your own risk tolerance limitations.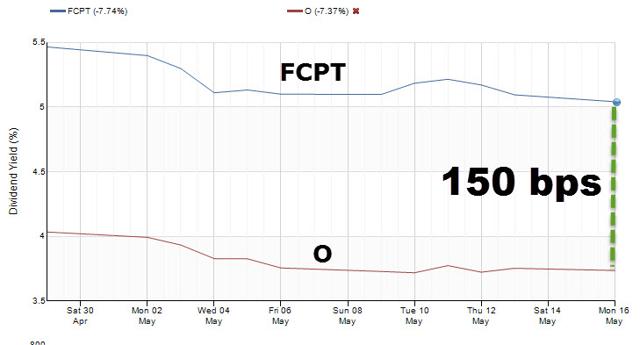 Coming Soon: The All-new iREIT Investor. Follow me on Seeking Alpha by clicking HERE.
Recent Peer articles: VEREIT, Realty Income, Lexington Realty, STORE Capital, Monmouth, EPR Properties, and Hannon Armstrong.
Author's Note: I'm a Wall Street writer, and that means that I am not always right with my predictions or recommendations. That also applies to my grammar. Please excuse any typos, and I assure you that I will do my best to correct any errors if they are overlooked.
Finally, this article is free, and my sole purpose for writing it is to assist with my research (I am the editor of a newsletter, Forbes Real Estate Investor) while also providing a forum for second-level thinking. If you have not followed me, please take five seconds and click my name above (top of the page).
The only guarantee that I will give you is that I will uncover each and every rock I can, in an effort to find satisfactory investments that "upon thorough analysis promises safety of principal and satisfactory return. Operations not meeting these requirements are speculative." (Ben Graham).
REITs mentioned: Spirit Realty Capital (NYSE:SRC), Lexington Realty Trust (NYSE:LXP), W. P. Carey (NYSE:WPC), National Retail Properties (NYSE:NNN), Agree Realty Corp. (NYSE:ADC), Gramercy Property Trust (NYSE:GPT), STORE Capital (NYSE:STOR), Global Net Lease, Inc. (NYSE:GNL), Monmouth Real Estate Corporation (NYSE:MNR), One Liberty Properties (NYSE:OLP), and Gladstone Commercial Corporation (NASDAQ:GOOD).
Sources: SNL Financial, F.A.S.T. Graphs, and FCPT Supplemental.
Disclosure: I am/we are long O, DLR, VTR, HTA , STAG, GPT, ROIC, HCN, OHI, LXP, KIM, WPC, DOC, EXR, MYCC, TCO, SKT, UBA, STWD, CONE, BRX, CLDT, HST, APTS, FPI, CORR, NHI, CCP, CTRE, WPG, KRG, SNR, LADR, HCP, PEB, BXMT, IRM.
I wrote this article myself, and it expresses my own opinions. I am not receiving compensation for it (other than from Seeking Alpha). I have no business relationship with any company whose stock is mentioned in this article.