Newmont Mining (NYSE:NEM) rallied almost 4% (5-16-2016) today to reach $35.41 a share. The stock now has almost doubled since the start of the year and the stock has also outperformed the general mining index (NYSEARCA:GDX) by almost 13% in this time period. Straight away this rings a bell as Newmont is a large-cap and shouldn't really be outperforming mid-caps and small-caps by such a large percentage. I believe the stock is a short at these levels even though I won't be taking it on for our elevation portfolio. Why? Well, even though I believe gold may have or is in the process of forming an intermediate top, the difficulty I have with shorting is when to cover, especially in a bull market which precious metals are in at present.

Gold is on its 3rd daily cycle since it bottomed in December and we are due an intermediate cycle top any day now. If we switch the chart to Newmont, we can see the 5-day RSI indicator is at oversold levels and stock is stretched miles above its 200-day moving average. In fact, the last time this stock was stretched so far away from its 200-day moving average was in 2009 and as the chart illustrates, the stock took no time at all to return to its averages. The same will happen this time round. The more Newmont rallies, the more the stock will eventually snap back to its 200-day average (rubber band theory) which will destroy portfolios that are too overweight this stock (unless the respective investors are true long-term investors).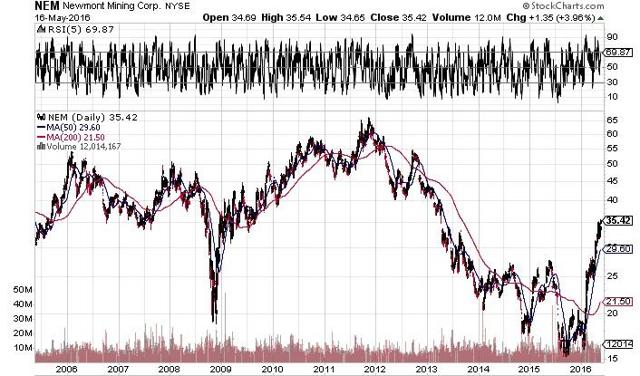 The time to short is when you feel fearful, and Newmont's recent rally definitely would have instilled some fear into investors interested in shorting. However if we look at Newmont's sentiment chart, we can see that current sentiment levels are over 70 which is approaching bullish optimism. No, since January 2012 sentiment has never been higher, but this really makes sense as precious metals have been in a bear market since 2011.
However, what is important at the moment is that gold is in its timing ban to print an intermediate top any day now. Gold's current daily cycle is over 35 days old and daily cycles in this asset class usually last around this time. This is where sentiment readings really become useful. If Newmont is currently printing a reading of 70 and gold is in line to move down into an intermediate cycle low, I just can't see any legs in this Newmont rally. In fact, the recent move up could just be as powerful in the opposite direction when it is ready to move back down.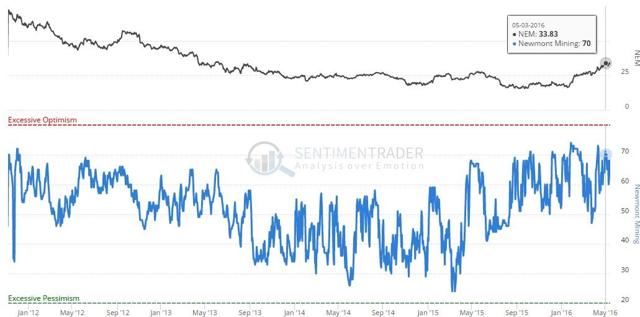 Source : Sentimentrader.com
On the fundamental side, astute investors will also be pondering whether the recent rally in the share price of Newmont can be sustained, if miners continue to rally meaningfully from present levels. Why? Well, Newmont may have a strong production profile up to the end of 2017 but I don't see much production growth beyond that point. The Conga expansion still looks off the cards and Yanacocha is coming to the end of its tether. Development projects such as Merian and Long Canyon will help, but with these you are always looking at timing issues and cost restraints - issues that you don't need in a roaring bull market. I believe this gold bull probably won't top for another 3 to 4 years and it will be the miners with thriving cheap production which should outperform all others.
To sum up, I'm going to be adding a few good dividend and growth stocks to the Elevation Portfolio over the next several weeks, when I see value. It's imperative that they are not correlated and all don't have similar valuations in order to ensure that income is brought in every month; that, over time, will increase our share count. You can follow along by pressing the "Follow" button above.
Disclosure: I/we have no positions in any stocks mentioned, and no plans to initiate any positions within the next 72 hours.
I wrote this article myself, and it expresses my own opinions. I am not receiving compensation for it (other than from Seeking Alpha). I have no business relationship with any company whose stock is mentioned in this article.