Where We Stand
After being hammered in the second half of 2015, Glencore (OTCPK:GLCNF) (OTCPK:GLNCY) is delivering a very strong rebound this year, both in debt and equity.
Debt
Looking, for example, at the 4.125% Glencore Funding LLC 2023 issue in USD, the price gains (excluding interests) reached 42% from a low of 66% in January to a high of 94% in April.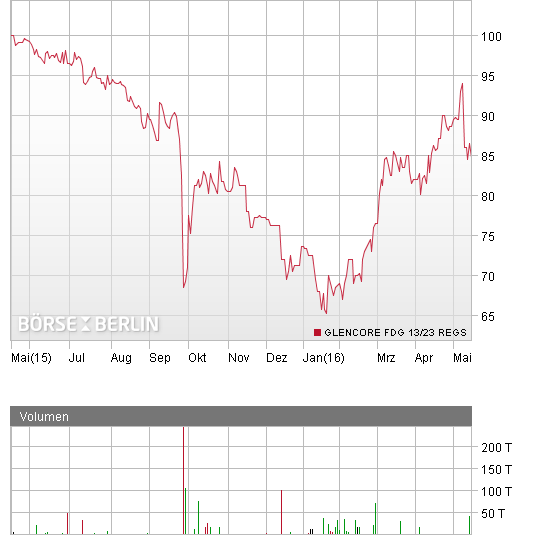 Source: Boerse Berlin
Currently yielding around 6%, this seven-year issue is still attractive given the company's efforts to cut debt (as we'll see later in the article), a modest recovery in the commodity market (namely copper and zinc), and Glencore's ability to keep its investment-grade status.
Depending on the duration of the issue you look at, you will see that different maturities also recovered sharply from their lows and most of them (from three-year maturity onwards) still offer interesting returns and have room for further price appreciation.
Equity
The equity rally was even more impressive with the stock more than doubling in price from its lows in January, below 1.1 to its recent highs of 2.4.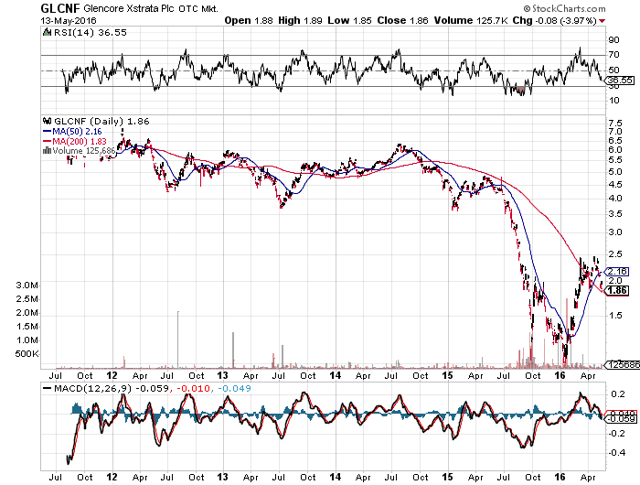 Source: StockCharts
Currently trading at the 1.80 to 1.90 support, this could be an interesting entry point in Glencore. Even if a breakdown below this level could be a short-term bearish signal, I find it more likely the stock will hold this ground as it did in April.
Debt Cutting Remains The Main Priority
Investors, rating agencies and the management team all remain focused on the debt reduction plans, and that is one of the main reasons why I still favour debt over equity.
Here's a quick snapshot of the main debt metrics at the end of 2015: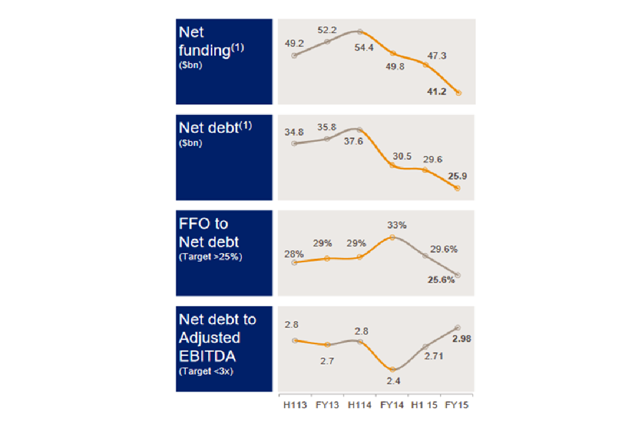 Source: Glencore Earnings Presentation 2015 (1 March 2016)
As you can see, Glencore acted quickly and decisively. Not only did it cut net debt over the 18 months starting in June 2014 by $11.7 billion (a 31% reduction) as it boosted liquidity, finishing 2015 with $15.2 billion of committed available liquidity (enough to cover bonds maturing over the next three years), but also with such a comfortable liquidity position, it comes with no surprise that the company was able to repurchase $564 million of bonds and redeem $350 million of perpetual bonds by the end of last year, profiting this way from the low prices of its debt in secondary markets. With its current liquidity position and given current bond prices, I still see this as an opportunity for Glencore to keep repurchasing some of its bonds at much lower prices.
Deterioration in the net debt to EBITDA ratio was inevitable given the lower denominator, but note that this and the other metrics remain within the financial covenants.
Over the first part of 2016, Glencore carried on with its efforts to cut debt with two major announcements.
February 17 was a turning point for both equity and bonds when Glencore closed an $8.45 billion unsecured credit line without involving any covenants yielding 100 basis points above the US dollar LIBOR. This was the first big sign of confidence in the company given by a banking syndicate.
On April 6, it announced the sale of 40% of its agriculture business to Canada Pension Plan for $2.5 billion payable in cash. It is true that a $6.25 billion valuation is somehow disappointing for the unit that some analysts predicted to be worth $10 billion, but it is nonetheless a relevant cash inflow (good for bondholders even if not as much for stockholders). Today, market rumors suggest that Glencore could sell an additional 9.9% stake in its agriculture unit to investors from Qatar, Saudi Arabia or Canada.
Glencore's actions show strong commitment towards its debt reduction plan, and it has fulfilled all milestones so far. Investors' growing confidence translated in the bond and equity price recovery was also demonstrated through a new bond issue in CHF on April 26.
In Summary
Despite their strong rally year to date, with the recent pullback, Glencore bonds still look attractive and have room for further appreciation. For example, the 2023 issue mentioned above was trading at par 12 months ago, and given Glencore's actions and track record, I expect them to come back to 100% by year end. That would be an 18% capital gain (excluding interests) from current levels. Note that even at par, this issue yields 4.125% per year (the coupon).
Even though the equity may offer considerably higher returns (be careful with the high volatility) over the next 6 to 12 months, I think bonds are still a better deal on a risk/return basis at least for as long as the company's efforts remain towards its debt reduction plan.
Disclosure: I am/we are long GLENCORE BONDS IN EUR.
I wrote this article myself, and it expresses my own opinions. I am not receiving compensation for it (other than from Seeking Alpha). I have no business relationship with any company whose stock is mentioned in this article.
Editor's Note: This article discusses one or more securities that do not trade on a major U.S. exchange. Please be aware of the risks associated with these stocks.