Top 10 Gold Junior Takeover Targets For the Rest of 2016
Well, it's been quite a ride for gold and gold mining stocks to start 2016. With gold prices rises, we've seen increased merger and acquisition activity in the sector, as some of the larger producers look to add to their resources and reserves and look for low-cost production potential.
For example, Goldcorp (NYSE:GG) recently bought out Kaminak Gold (OTCPK:KMKGF) for $520 million. The deal was done at a premium of 33%, with Kaminak's stock now up over 200% to start 2016. Other major deals include Tahoe Resources (NYSE:TAHO) acquisition of Lake Shore Gold (NYSEMKT:LSG) for $540 million (a premium of 15% to Lake Shore's share price), and Endeavor Mining's (OTCQX:EDVMF) combination with True Gold (OTCQX:RVREF) for $240 million (a premium of 43%).
More major gold miners are becoming buyers here. In my view, M&A activity has picked up because a lot of these gold projects - which were once uneconomical at $1,100 gold - are now quite attractive with prices north of $1,250. Major gold miners want gold projects that carry low projected cash costs and excellent exploration potential, and there appear to be more than a few options on the market.
So what does this mean for investors? Simply put, you can lock-in some pretty great returns by investing in gold juniors that are takeover targets, as long as you pick them correctly. And even if these juniors don't get bought out this year, they still have a bright future.
Here are 10 gold juniors that I feel are strong takeover targets (this is a two-part article, so please check back for the rest of the list). I expect these picks to outperform both the gold miners index (NYSEARCA:GDX) and the junior gold miners index (GDJX) going forward. Readers should also check out my top 10 overall gold stocks for 2016.
CLICK HERE for Part II of this article.
#10 Pretium Resources (NYSE:PVG)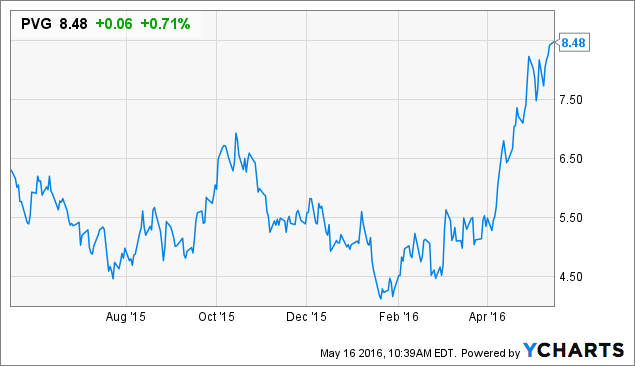 Pretium owns one of the most attractive gold development projects on the planet (if not the most attractive), as its Canadian Brucejack deposit carries a massive, high-grade reserve base of 6.9 million gold ounces at 15.7 grams per ton gold.
Recent infill drilling at Brucejack was highly successful, encountering some ridiculously high-grade gold, with one drill hole intersecting 37,117 grams per ton gold over .5 metres - the second-highest drill hole to-date at Brucejack.
What's more: this is a fully-funded and fully-permitted gold project; construction is underway and commercial production is targeted for late-2017. The economics for this mine are extremely robust: the feasibility study calls for 504,000 ounces of annual gold production with all-in sustaining costs of just $446 per ounce, meaning the mine should be profitable in any gold price environment; the project carries a net present value (after-tax) of $1.55 billion with an internal rate of return of 27.4% (at $1,100 gold and $14 silver!). Using $1,400 gold and $18 silver, the value jumps to $2.28 billion after-tax, with returns of 36.3%.
Simply put, I'm not sure Pretium will make it out of 2016 without getting bought out by a larger mining company. This company owns one of the most exciting gold development projects I've ever seen, with high production levels, low cash costs and excellent exploration upside.
#9 Roxgold (OTC:ROGFF)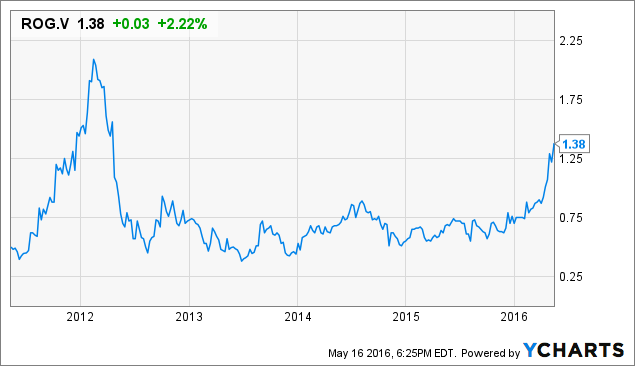 data by YCharts
(Roxgold trades on the U.S. exchange under the symbol ROGFF)
Roxgold is a stock I've been covering for quite some time. The company achieved a number of significant milestones last year that increase its chances of getting its Yaramoko project to production by the middle of this year, including landing financing and commencing construction.
For those unfamiliar with Roxgold, here's some background. The company owns a high-grade, fully-permitted Yaramoko gold project in Burkina Faso, West Africa. This project isn't huge - it carries around 1 million ounces of gold. However, the economics are very robust, as a feasibility study project all-in sustaining costs of just $590 per ounce; At $1,300 gold, the project carries a net present value (pre-tax, 5% discount) of $300 million and payback of just 1.5 years. With initial capital costs around $110 million and project annual EBITDA of $60 million (at $1,200 gold), it looks like it'll be a great investment for the company.
Roxgold has made great strides in advancing Yaramoko, with construction now 84% complete as of writing. With low projected cash costs, initial production coming shortly and excellent exploration upside at Yaramoko's 55 Zone, I think Roxgold could get bought out sometime later this year.
I think potential suitors include Randgold Resources (NASDAQ:GOLD), which operates all across Africa, and Endeavor Mining, which already owns and operates several mines in Burkina Faso.
#8 Semafo Mining (OTCPK:SEMFF)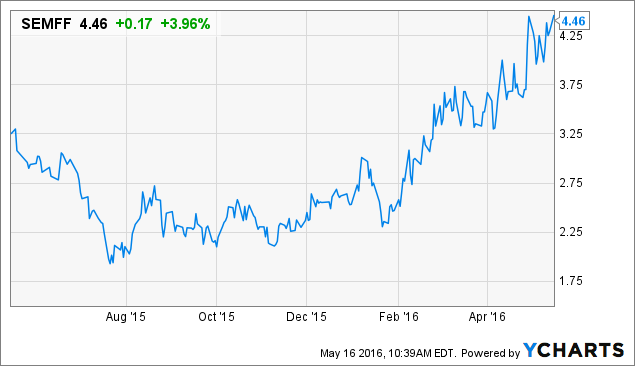 Semafo is another mining company based in West Africa. The company owns and operates the Mana Mine in Burkina Faso ands advancing the Natougou gold deposit, which production targeted in late-2018.
However, unlike a few others on this list, the company is actually producing gold - and doing so profitably. In Q1 2016, it produced 61,300 ounces of gold at all-in sustaining costs of $695 per ounce, leading to operating cash flow of $35.2 million ($.12 per share) and net income of $17.8 million ($.05 per share).
So, a potential suitor for Semafo would gain a currently producing, and profitable, gold mine in Mana (255K ounces produced last year, sub-$700 AISC), as well as the up-and-coming Natougou project.
Natougou has everything you could hope for in a gold development project; according to a feasibility study, it carries an after-tax value of $262 million and a rate of return of 48%, at $1,100 gold; at $1,200 gold, the value jumps to $334 million with a 58% return; it's expected to add 226,000 ounces of gold annually at super-low AISC of $374 over a 7-year mine life.
With strong profitability at its Mana mine and incredible upside potential at Natougou, I think Semafo is a strong takeover target here.
#7 Teranga Gold (OTC:TGCDF)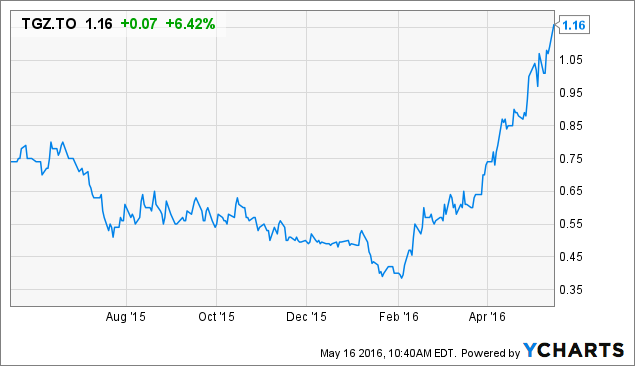 Teranga is yet another profitable African gold miner with huge upside potential. The company is focused on generating free cash flow from its Sabodala gold mine in Senegal, and so far, has done a great job at it.
In Q1 2016, Teranga reported record production of 70,727 gold ounces at low AISC of $824 per ounce. This led to a 45% increase in operating cash flow to $24.1 million and free cash flow of $9.8 million. Sabodala production is expected to stretch out until at least 2024 based on its current reserves and resource base.
Yet, shares of Teranga remain deeply undervalued compared to peers. According to the company presentation, shares carry a 2016 EV/EBITDA of just 2.3, which is much lower than peers Endeavor Mining, Primero (NYSE:PPP), Alacer Gold (OTCPK:ALIAF), B2Gold (NYSEMKT:BTG), and others. Teranga also looks undervalued based on its reserves, as it carries a $98.3 per reserve ounce valuation, higher than all but Alacer Gold.
What's more: Teranga has a real strong balance sheet, ending the first quarter with $53.5 million in cash and no long-term debt. I highly doubt Teranga will not get taken over at some point in the future.
#6 Gold Resource Corp. (NYSEMKT:GORO)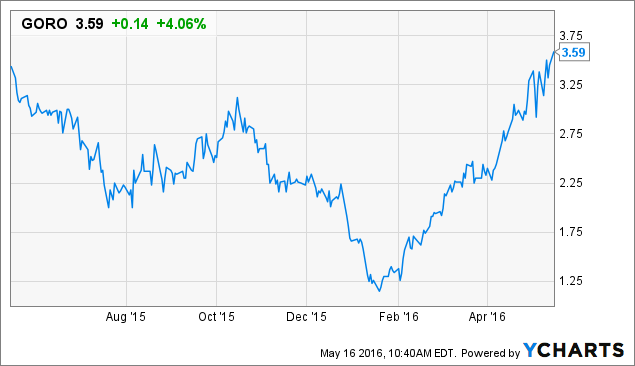 Gold Resource Corp. is a low-cost gold and silver producer with operations in Mexico and a new development project in the U.S. The company owns 100% in six potential high-grade gold and silver deposits in Mexico's southern state of Oaxaca. Its Arista mine contains a very high grade reserve base, with 258,500 gold equivalent ounces at 4.89 g/t gold equivalent.
Amazingly, Gold Resource only has 54 million shares outstanding and has not had to raise any new capital since 2010, which is very rare considering the fact most junior miners have to resort to shareholder dilution to raise capital and fund development. The company's profitable operations and low cash-costs has allowed it to pay a pretty substantial amount of dividends to shareholders over the past few years.
In fact, its 70th dividend was just declared, and the company has now returned $108 million to shareholders since production commenced in 2010. While other miners have eliminated dividends, Gold Resource continues to pay a steady amount to its shareholders.
The real reason I see Gold Resource as a takeover target is the company's exploration success over the past few years; for example, at the high-grade Switchback deposit at its Arista mine, recent drill highlights include 8.03 meters of 6.85 g/t gold and 462 g/t silver, and 10.36 meters of 4.2 g/t gold and 212 g/t silver. Other high-potential exploration properties include Las Margaritas (.30 meters of 4,010 g/t silver reported), the Alta Gracia deposit (1.665 meters of 3.15 g/t gold and 3,230 g/t silver, among many other high-grade drill intersections), and the El Rey deposit (1 meter of 132.5 g/t gold). I can see Gold Resource as a takeover target for both gold and silver mining companies given the company's duel-focus on gold and silver.
This is a two-part article, so please check back for the top 5 picks on this list.
Disclosure: I am/we are long ALIAF, GORO, LSG, KGILF, EDVMF.
I wrote this article myself, and it expresses my own opinions. I am not receiving compensation for it (other than from Seeking Alpha). I have no business relationship with any company whose stock is mentioned in this article.
Editor's Note: This article covers one or more stocks trading at less than $1 per share and/or with less than a $100 million market cap. Please be aware of the risks associated with these stocks.