Buying Transocean (NYSE:RIG) doesn't seem like rocket science at the present moment. The driving factors I have behind this buy are a positive long-term fundamental situation and an attractive risk-reward scenario. While investors wait for the broader industry to restore capex to 2015 and 2014 levels so the company itself can see financial stability, buying Transocean's stock is an excellent way to earn outperforming capital gains.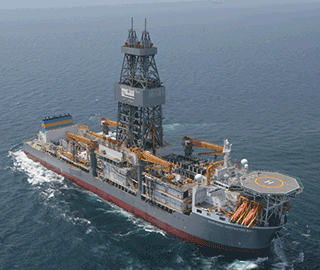 Source: Transocean
Risk/Reward Scenario Looking Bright
Take a look at the below chart. It's RIG's stock over the past year years. The aggravated push down starting in 2H 2015 has left this stock trading in the sub-$10 region. This is a level that is rarely reached by RIG. Not even in the past twenty years has RIG reached $9.60 a share. The stock's 52-week high is $20.97, which represents current upside of 54%. Naturally, getting to this level is rather difficult as Transocean's equity tends to correlate to the price of oil, as identified by a correlation coefficient of R ~= 0.6.
However, the true strength of Transocean, as a company, will not come until the industry restores capex to previous years' levels. This may not occur until after 2017. Now may just be the time to take on a five year position considering the fundamentals have been highly negative for the last 21-23 months.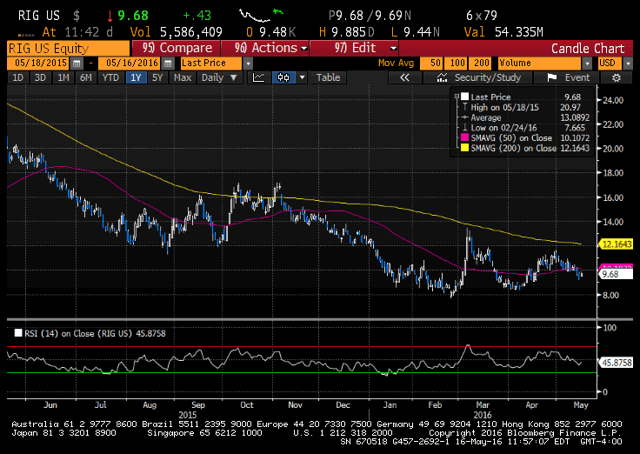 Source: Bloomberg
The interesting thing about a company like Transocean is that their success will be delayed relative to onshore drilling operators. Offshore projects, as investors have witnessed, are some of the first to be cut when capex needs to be reduced to maintain cash flow neutrality and a healthy, stable balance sheet. To quantify this, there's a large amount of negativity in the top thirty oil producers cutting capex by nearly 70%, on average, over the LTM. Yet, I think this creates an especially lucrative situation for prospective investors.
Think of the Brent crude as just one driver, albeit the primary driver, of the equity's future performance. The other drivers are contract extensions/terminations, new contracts, and the normal guidance changes as it relates to capex and a dividend, which is currently non-existent after being cut back in Q3 2015.
Operating off of this logic, it's reasonable to say that the company's equity will recover with the Brent crude's recovery and that this could happen before Transocean itself is a financially healthy and stable company. Considering that Transocean is already FCF positive, which is also the case for other offshore drillers like Seadrill (NYSE:SDRL) and Noble Energy (NYSE:NE), the strength will have to come from debt reduction and higher dayrates. When these events meaningfully occur, then shareholders will see a strong increase in their shares. The problem is that investors can't wait until a debt reduction occurs or until a higher dayrate becomes commonplace or the full effect of capital gains will be missed.
Fundamentals Paint A Delayed Picture
When I saw the Brent hit its low of $27.10 on February 11, I was excited, but I didn't pull the trigger on a long position purely because the restoration of capex across oil and gas E&Ps was not at all in the cards. Thus, in the graph below, shareholders can see the bumpy ride this stock has taken over the past few months, despite a strong rally in oil. This restoration takes time as many E&Ps have slashed their capital budgets for 2016 and 2017.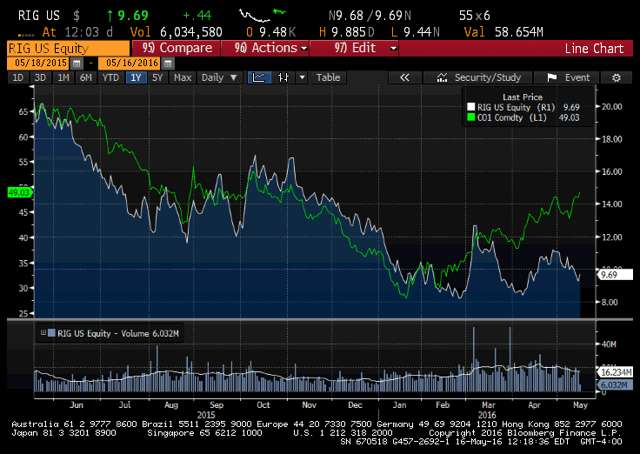 Source: Bloomberg
There's two key headwinds I see in the short-term for crude that may stall the recovery in crude are potential increases to OPEC production and a gluttonous crude stockpile that may be liquidated. These are the factors I deem most important for investors interested in Transocean to consider.
OPEC increased their production in April by 140k bopd, with Iraq and Iran, benefiting from their joint oil fields, increasing their output by 300k bopd total. Naturally, this increase was partially offset by losses in Kuwait (due to a strike last month) and Nigeria seeing military actions inhibiting output. While the latter problem should continue, which is positive for oil prices, OPEC's increasing production as a whole could be aggravated in the coming months if the new Saudi oil minister actualizes the threats made at the Doha conference. Recall that Saudis stated that they could add 1 mbopd "right away," with the potential to scale much higher over the NTM. Additionally, with Iran still scaling output to meet its target of 4 mbopd, the market has the potential to see short-term weakness, indicating a decline in the value of Transocean's shares. However, Saudi's talks are just noise and there's no real evidence to show that they are trying to scale rapidly in the coming months.
Thus, I turn to the EIA-reported crude stockpiles. Towards the end of the graph below, investors can see the spike in crude stockpiles, indicating a severe lack of demand present in the current market. These crude inventories amount to 539 mbopd. To put this amount in perspective, the current American production level is 8.8 mbopd, which means the inventory is currently about 61.25 days worth of crude. This is the highest level that the market has seen and with max capacity at 755 mbopd, the inventories have room to build, but it's alarming that this much supply is idle. Liquidations of this stockpile, as well as any real production increases from OPEC, could significantly bring down the price of oil in the short-term.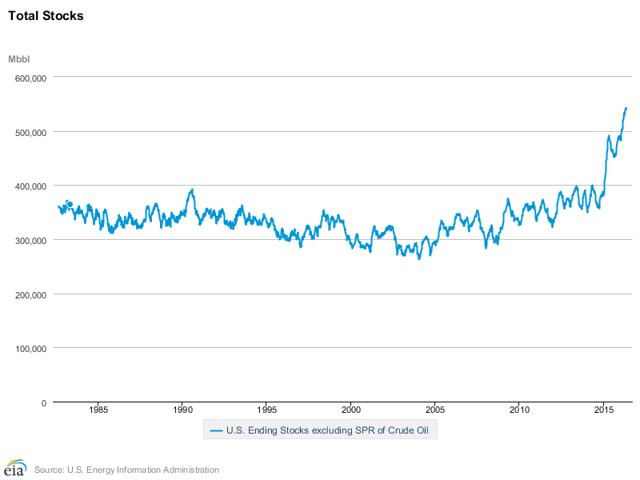 Source: EIA
Conclusion
Seeing as RIG is at a historically low level, it makes fundamental sense to initiate a position here for the long-term. The company is already cash flow positive, but a large debt burden still looms over the company while dayrates remain low. As capex slowly is replaced with a higher price of oil, Transocean will see strength, as an equity and as a company.
Disclosure: I/we have no positions in any stocks mentioned, but may initiate a long position in RIG over the next 72 hours.
I wrote this article myself, and it expresses my own opinions. I am not receiving compensation for it (other than from Seeking Alpha). I have no business relationship with any company whose stock is mentioned in this article.