ConocoPhillips' (NYSE:COP) cash flow streams took another stumble during the first quarter of this year as realized crude prices hovering just over $30/barrel barely yielded any operating cash flow at all. During the last quarter of 2015, ConocoPhillips generated $1.6 billion in operating cash flow, which fell down to $421 million last quarter. That goes up to ~$800 million when excluding changes in working capital (which totaled $385 million), and management is guiding for ConocoPhillips' working capital effects to be roughly flat this year. $1.82 billion in capital expenditures and $313 million in dividend payments outstripped Conoco's cash flow generation, prompting the company to turn to capital markets.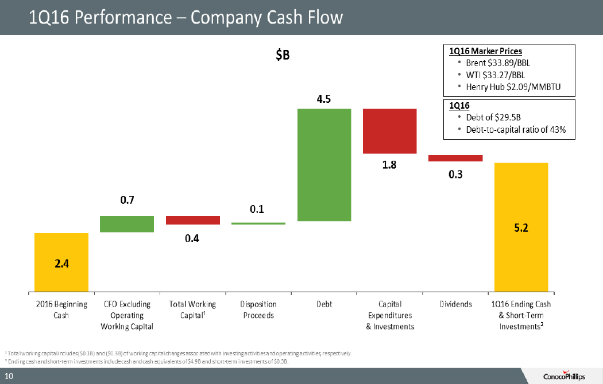 Source: ConocoPhillips Presentation
After issuing out $4.53 billion in debt in Q1, ConocoPhillips' debt load grew to $29.46 billion as its cash and short term investments exited the quarter at $5.2 billion. Management is wary of Conoco's growing debt burden and plans to direct future free cash flow generation towards bringing that back below $25 billion. It's good to see management communicating what they intend to do once energy markets recover to more economical levels;
"We remain committed to have a strong investment grade balance sheet. The recent downturn has emphasized the importance of a strong balance sheet. We've set a target to get our debt to less than $25 billion. The pace of that debt reduction will depend on prices and asset sales progress, but de-levering is a top priority as we come out of the downturn."
Asset sales will be a part of Conoco's strategy to improve its financial position, but sharp spending reductions are what really gives Conoco an edge. The super-independent's 2016 capex budget has fallen down to $5.7 billion from its previous guidance calling for $6.4 billion, which is also significantly lower than the $10.4 billion it spent on capex last year.
Management reaffirmed ConocoPhillips' commitment to reach cash flow neutrality, meaning the company will be able to fund its operating costs to keep output flat while also fully covering its dividend payouts, when realizing around $45/barrel of crude oil. Its industry shocking dividend cut of ~66% back in 2015 further freed up much needed cash flow, and if Conoco hadn't made that move, you can get an idea of how much extra damage the current environment would have done to its balance sheet.
Possible share repurchases in the future
Going forward, management is no longer focusing on total production growth. Prior to the industry's collapse, the biggest thing on major oil & gas producing companies minds was how to revive their declining production bases. ConocoPhillips stood out as it had been able to deliver modest yet consistent single-digit output growth while some of its peers output streams grew and others shrank.
Management noted that Conoco's production (emphasis added) "growth could be on an absolute or per share basis", and that "[a]s we generate cash in excess of cash flow neutrality, we have choices about how to allocate those funds. We can return cash to shareholders through share repurchases or we could fund more investments in our low cost to supply resource base."
While ConocoPhillips has a vast resource base to develop and intends on doing so, the upstream major is striving towards a better balance of growth and shareholder returns. The days of growth at any cost are over, and after Conoco completes its current major investment phase, it plans to continue scaling back.
That doesn't mean Conoco is giving up on growing its production base, but if there is a new lower crude pricing paradigm, then the company will adjust accordingly. Ramping up output at its major developments is why ConocoPhillips is able to spend less than its estimated operating cost budget of $7 billion (the cost of keeping its production base flat) but maintain a relatively flat production base this year when adjusted for asset sales.
At the Australia Pacific LNG complex, ConocoPhillips and its partners were able to ship out the facility's first LNG cargo during the beginning of this year. The first train is currently ahead of schedule, which is a strong sign of solid operation execution and a big positive. Construction on the second train is progressing smoothly and the first LNG cargo from that part of the complex is expected by Q4 2016.
"In APME (Asia Pacific, Middle East, and Other International operations), production is up 36,000 barrels of oil equivalent per day, or 10% year-over-year, primarily as a result of the ramp up at APLNG. Train one is running well and ramped up more quickly than anticipated with 11 cargoes loaded in the first quarter. And as of earlier this week, we've actually now loaded 15 cargoes at APLNG."
ConocoPhillips' APLNG ramp will provide a major growth tailwind through next year and beyond, enabling the company to push its spending lower in 2017 if need be while preserving its production base.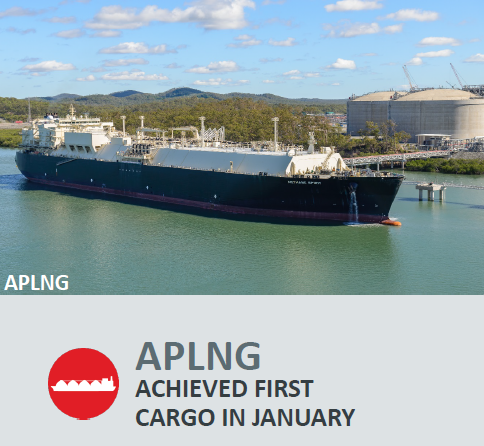 Source: ConocoPhillips Presentation
Deepwater exit speeds up
In the future, deepwater upstream operations will be more appealing as base decline rates around the world force the industry to turn to higher cost sources of crude supply. Until then, deepwater exploration efforts aren't in ConocoPhillips' best interest. Half of the company's recent capex cut came from the player abandoning plans to drill at the Horus or Socorro prospects in the Gulf of Mexico after its exploratory well in the Melmar prospect came up empty.
This is the right move as spending cuts on operations that won't yield cash flow for a long period of time (short of a divestiture or farm out) puts Conoco on a much better footing. Previously, management had noted that ConocoPhillips had a level of financial flexibility due to its deepwater exploration spending not completely rolling off until 2017. There are still a few deepwater exploration/appraisal projects in the works, including in Senegal after its FAN-1 and SNE-1 discoveries back in late-2014.
Unconventional growth story on hold
Many energy investors have been anxiously watching out for Baker Hughes' (NYSE:BHI) weekly rig count report over the past 18 months, which has seen America's oil rig count fall over the past eight weeks. At the end of last year, ConocoPhillips was running 13 rigs in the Lower 48, which now stands at three as of April 2016. The super-independent's decision clearly showcases how the growth mentality has been replaced with one trained on minimalism, even as prices have rebounded somewhat off of their early-2016 lows. It appears that ConocoPhillips' three rigs are running in the Bakken/Three-Forks and the Eagle Ford plays based on management's comments during the conference call;
"We further exercised our capital flexibility in the Lower 48 and dropped down to three operated rigs in April, and we plan stay at that level through 2016. Now that said, even with the lower rig count, we are continuing to realize strong efficiencies in the Eagle Ford and Bakken and we'll keep leveraging technology and working with our vendors to improve performance and capture deflation where possible."
The reduction in its unconventional drilling activity represented the other big portion of its budget reduction. ConocoPhillips is still improving its unconventional drilling operations and will have a better framework to operate in when prices improve, especially now that America's crude export ban has been completely lifted. However, management is clearly worried that the much lower for much longer environment won't disappear for a while still, even as the downturn is halfway through its second year.
It appears Conoco is putting off developing its Permian acreage and has no plans to drill outside of its core unconventional regions.
Final thoughts
ConocoPhillips continues to put its financial position above all else, and will be rewarded because of it. Higher realized prices, no additional net negative working capital effects and lower capex spending throughout the rest of 2016 will bridge a huge portion of the company's cash flow shortfall going forward. If prices stay where they are for a full quarter, ConocoPhillips may reach cash flow neutrality within the next quarter or two, which would act as a huge catalyst for the company. Being able to prove that ConocoPhillips can truly preserve its balance sheet in a $45-$50/barrel crude pricing environment heading into 2017 will dramatically change the market's perception of the company as it stands on the cusp of FCF generation.
Disclosure: I/we have no positions in any stocks mentioned, and no plans to initiate any positions within the next 72 hours.
I wrote this article myself, and it expresses my own opinions. I am not receiving compensation for it (other than from Seeking Alpha). I have no business relationship with any company whose stock is mentioned in this article.