Sentiment data indicates that crude oil should continue its climb. However, market conditions may bring crude's bullish run to a halt.
Media sentiment data displayed in the Thomson Reuters MarketPsych Indices (TRMI) demonstrate positive price pressure - related to sentiment - on crude oil over the past 2 months. But the bullish sentiment is not supported by bullish fundamentals.
The Thomson Reuters MarketPsych Indices is the world's most comprehensive finance-specific sentiment data. The TRMI data is produced by quantifying references to tradable assets across thousands of news and social media articles obtained in real-time. Emotions (optimism, confusion, urgency, etc.) and financial topics (price forecasts, earnings forecasts, etc.) in the media are quantified and converted into a time series. 130 countries, 32 currencies, 35 commodities, 52 equity indexes, and over 8,000 global equities are covered by the data. The TRMI data is used by large hedge funds and banks for the augmentation of trading strategies, research, risk management, and macroeconomic forecasting.
For crude oil, in particular, the PriceDirection TRMI has proven highly effective in predicting price trends. This index represents the net difference between all references to prices rising versus falling for crude oil. For commodities and currencies, where sentiment may be expressed by both longs and short, the PriceDirection index is a superior indicator of overall market sentiment. The predictive quality of market sentiment over commodity prices and other assets is explained in detail in the recent book, Trading on Sentiment: The Power of Minds Over Markets (Wiley, 2016).
The PriceDirection MACD indicates sentiment-based strength for crude. Previously, a bottoming in crude prices and a crossover of the 30-day and 200-day moving averages of PriceDirection in early February this year marked a turning point for crude. Since then, oil has slowly reclaimed some of its lost ground.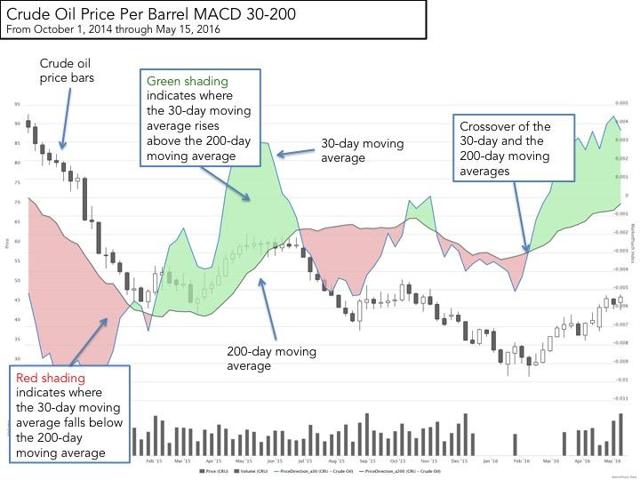 Crude futures have also followed the market's rally over the past couple months, indicating positive market projections. Additionally, the US Energy Information Administration released on May 10, 2016, projections of crude oil that predict prices to increase over the next year by around 25% nominally.
The market seems to believe that crude is on the path to recovery, but the future of crude is still very much uncertain. Fundamental conditions could bring crude's climb to an end. With the recent shortage of crude production due to the Canadian wildfires, Iran returning to the market, and a shift in Saudi Arabian political authority, supply may soon take a drastic shift upwards, and price a significant fall.
With a new prince and oil minister, Saudi Arabia's government is taking an aggressive role in planning for the future of its nation. This blueprint for the future has been laid out in a progressive new plan named Vision 2030. According to this plan, it is expected that Saudi Arabia will be ramping up oil production in order to drive prices down and competition out.
The International Atomic Energy Agency recently acknowledged Iran has halted its attempts to create nuclear weapons. Accordingly, sanctions were lifted on the middle-eastern nation and Iran began exporting crude oil. It will take some time for the nation to regain its power in OPEC, but the nation will nonetheless return to an oil production giant as it existed before the international sanctions.
In the short term, the crude market can expect an influx of supply as Canadian firms return to the market. The Canadian wildfires have halted a significant amount of production. This temporary drop in the market supply for crude brought about an increase in the price per barrel. However, once market supply shifts back upward, price will return.
Investors should, therefore, be cautious as market conditions indicate a volatile future for crude as production and supply are likely to show significant increases. However, there still exists significant opportunity for investors in the short term as these major supply increases should be relatively gradual. With positive forecasts, the crude oil market should expect to continue its rally and presents an opportunity for daring investors.
Disclosure: I/we have no positions in any stocks mentioned, and no plans to initiate any positions within the next 72 hours.
I wrote this article myself, and it expresses my own opinions. I am not receiving compensation for it (other than from Seeking Alpha). I have no business relationship with any company whose stock is mentioned in this article.