In case you missed the news, Linn Energy (LINE), once the largest upstream MLP by production volume, filed for chapter 11 bankruptcy. This came as little surprise to anyone, as the company announced its aim to restructure its assets in court months ago. The big question is who else in the upstream MLP space will eventually have to follow suit.
Vanguard Natural Resources (NYSE:VNR), another big name in this space, recently gave its first quarter 2016 earnings results. Vanguard has continued to take action to avoid a credit event from happening, and like many in this space, Vanguard has substantial commodity hedge protection.
This quarter Vanguard took a few very important steps toward protecting its balance sheet. This article goes over Vanguard's latest earnings results, some of the most important recent developments, and what investors might expect going forward.
Quarter comparisons
It's difficult to get a good comparison to Vanguard's results on a year-on-year basis, because back then Vanguard was a rather different company. Year-ago results do not include the LRE and Eagle Rock acquisitions. Therefore, the better option here is to compare to the previous quarter results.
In that light things look quite a bit different. Production decreased 8% versus the previous quarter, mostly due to a much-reduced capital expenditure budget. Distributable cash flow dropped another 36%, both from lower production and from lower realized prices. (The first quarter saw record low price realizations in the first quarter.) It's a good thing Vanguard no longer pays a distribution of any kind.
Cleaning house
Vanguard also made some fairly big moves this quarter, all of which will go a long way to clean the balance sheet. First, Vanguard finally sold off its horizontal shale assets in the SCOOP-STACK field in southern Oklahoma. Those assets went for about $200 million. This is a big deal because this horizontal acreage isn't really suitable for upstream MLPs. It requires too much capex, and decline rates are high. Furthermore, production from the SCOOP-STACK acreage was entirely unhedged, and so Vanguard indirectly increased its proportion of production hedged. Vanguard will take the proceeds and apply it directly to its revolving credit balance. More on that later.
Also, Vanguard swapped $168 million of senior notes at 7.875% in a second lien position, in favor of $76 million of first lien notes at 7%, due in 2023. In doing this, Vanguard saved itself $8 million in annual interest expense and $92 million in debt.
Ongoing concerns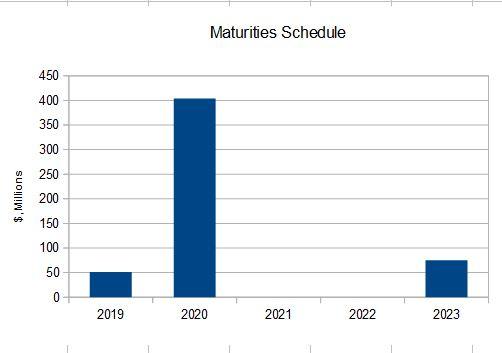 Does not include revolving credit line.
Vanguard has a revolving line of credit with a balance sheet of $1.69 billion and a maximum line of $1.78 billion. Management expects the lending syndicate to reduce that line soon, and that move will likely bring the line of credit below the actual balance.
As per the credit agreement, Vanguard will have six months by which to remedy the situation. Management intends on applying the $200 million SCOOP-STACK, and paying the entirety of its next two quarters of DCF to that revolver.
Assuming Vanguard's quarterly DCF remains constant at $42 million, then Vanguard should reduce its credit line balance to about $1.4 billion over the next two quarters. That would require a 22%$ or greater reduction of the credit line for there to be a major problem. If the experience of other upstream MLPs is any guide, then I expect a decrease in the line of credit of about 10-15%. To sum up, I believe Vanguard will get through the rest of the year without any trouble.
Is Vanguard a buy?
I believe Vanguard will go on to survive 2016 and will be well-equipped to continue through 2017. However, if crude is at $30 by the same time next year, then we could face the same ugly impasse yet again. Vanguard needs a significant recovery in crude oil and natural gas. While crude oil prices have improved over the last months, I would not yet hold my breath waiting for crude to get over $60 or even $50.
Because Vanguard is the upstream MLP most weighted to dry gas, investors in Vanguard must also pay close attention to the price of natural gas. In my opinion, upside in natural gas is quite limited, just because supply remains so abundant. I tend to like crude oil better at this time, because oil has greater 'snap back' potential.
For this reason I remain cool towards Vanguard, but even if Vanguard were weighted heavily toward oil, I would still stay away from upstream MLPs, with few, if any, exceptions. Low crude oil prices for multiple years, or half a decade, could put the entire upstream MLP business model out of commission.
If you're interested in Vanguard Natural Resources, follow me on Seeking Alpha. I regularly write about this partnership, and will continue to provide update articles when they are both material and relevant.
Disclosure: I/we have no positions in any stocks mentioned, and no plans to initiate any positions within the next 72 hours.
I wrote this article myself, and it expresses my own opinions. I am not receiving compensation for it (other than from Seeking Alpha). I have no business relationship with any company whose stock is mentioned in this article.