Something happened Friday that did not get very wide attention, but I believe it is highly relevant for the present global economic environment. Two-year Treasury yields traded down to 0.7419% while 10-year Treasury note yields traded down to 1.6984%. The 10-year note stopped trading for the week at 1.7001%, while the 2-year note ended the week at 0.7459%. Based on those closing values, one of the most popular measures of the slope of the Treasury yield curve - the difference between 10- and 2-year yields - ended the week slightly above 95 basis points (0.9542%).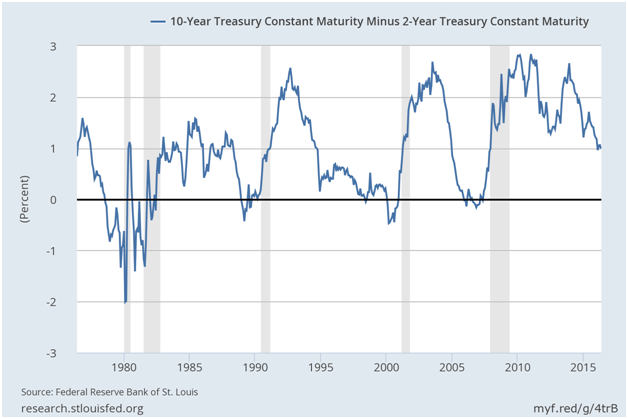 Graphs are for illustrative and discussion purposes only. Please read important disclosures at the end of this commentary.
This 95 basis point level may be a fresh multi-year low, or it may be just a tick above the previous multi-year low on March 8, 2016, but that would be splitting hairs. The main point is that the U.S. yield curve is massively flattening during a supposed Fed rate hiking cycle which has been put on hold after a 25 basis point rate hike in December, 2015. A flattening yield curve typically means a slower economy, or the expectation of a slower economy, so if there is no inflation out there, one has to wonder if the Fed will raise rates this year at all.
It is true that we have had boom times at flatter levels of the Treasury yield curve, like in the mid-1990s when the yield curve stayed at more depressed levels before it inverted during the onset of the 2000-2001 recession. In fact, an inverted yield curve preceded each of the past five recessions. Typically, these inverted yield curves - when the 2-year Treasuries yield more than 10-year Treasuries - don't happen all that often and they signify that the Federal Reserve is running a restrictive monetary policy.
Because of the tendency of yield curves to invert before recessions and because that tends to coincide with Fed tightening cycles, some investors have claimed that the Fed has caused every recession since it was created as an institution in 1913. I am not sure I agree with that view as there were recessions in the U.S. before there was a Federal Reserve and there will be many more in the future as economic growth tends to be cyclical. The Federal Reserve, though, has always tried to play a countercyclical role, slowing the economy from overheating (by hiking rates) or keeping the economy from sinking further (by cutting rates or using QE). The question investors need to ask themselves in this brave new world of quantitative easing and negative interest rates (in Europe and Japan) is: Does monetary policy have its limits?
It sure feels like we are bumping against the limits of modern-day monetary policy. Global government debt with negative yields has now topped $9 trillion, while an aggregate index of the main global government bond markets comprised by Bank of America just hit an all-time low in yield last week. (See May 11, 2016 Bloomberg article: "Investors Fleeing $9 Trillion of Negative Yields Fuel Bond Binge.")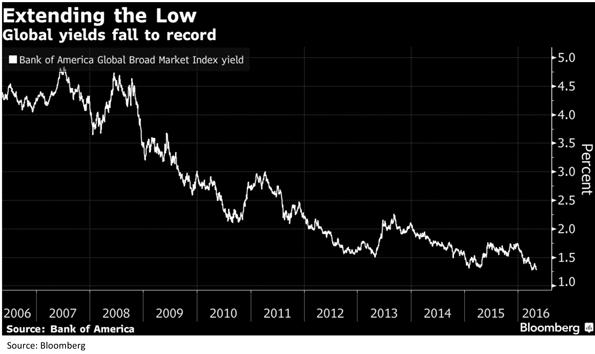 Graphs are for illustrative and discussion purposes only. Please read important disclosures at the end of this commentary.
The present global deflationary environment is not a time for more Fed rate tightenings. Still, for the time being, those giant egos that sit on the FOMC have yet to admit their mistake and conduct what they surely view to be an embarrassing monetary policy U-turn and give up on their well-telegraphed but hopelessly-misguided rate hiking "cycle." I described this situation in the Treasury market at the end of last year in my December 29, 2015 MarketWatch article, "Will 2016 bring new Treasury-yield lows?" Keep in mind that the consensus estimates at the time were calling for four Fed rate hikes in 2016. So far there have been none, and the Fed should give up on this hiking cycle so it won't compound its December mistake.
At a 10-year Treasury note yield of 1.70%, we are not all that far from the 2016 low in yields at 1.57% or the all-time low of 1.39% from 2012. I believe that the odds of making an all-time low in Treasury yields in 2016 remain very high and they become overwhelming for 2017. In fact, before this bull market in Treasury bonds is over, I think the 10-year note yield will fall below 1%, but this is most likely a target for 2017 and most likely after the Chinese currency devaluation - which is coming, in my opinion.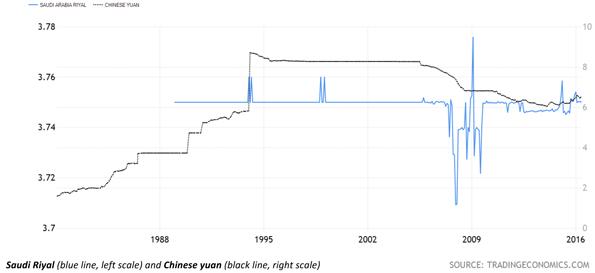 Graphs are for illustrative and discussion purposes only. Please read important disclosures at the end of this commentary.
The coming Chinese currency devaluation will serve as a major global deflationary force, not to mention a likely Saudi riyal devaluation coming as well, since I expect the seasonal oil price rebound to unwind later this year, pushing crude oil prices down to $20 per barrel.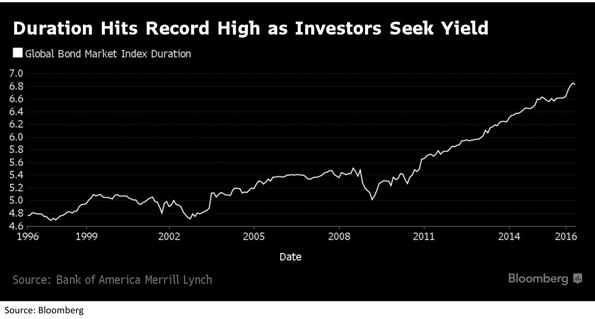 Graphs are for illustrative and discussion purposes only. Please read important disclosures at the end of this commentary.
In the present environment, I think Treasury bonds will continue to appreciate, but are they safe? Duration risk is at an all-time high due to the all-time low in yield for the Bank of America Global Bond Market Index. That means that in order to get a positive yield investors have to go further and further out and buy longer-dated bonds. This causes small swings in interest rates to result in much larger price swings for those government bonds that have reached record duration risk.
In this environment, why would advisors tell retired investors they should have more bond investments as they get older? This suggests to me that the old way of allocating assets between stocks and bonds is out the window. It seems to me that conservative dividend strategies and global dividend growth strategies will continue to do very well in the present global interest-rate environment. Investors should be focusing more on dividend strategies and less on bonds, since there is simply very little yield left in fixed income.
Emerging Markets' May Take out Recent Lows
The big rebound in emerging markets in Q1 is raising questions about whether investors will "miss the bottom." After all, if one bought in the spring of 2009, the MSCI Emerging Markets Index (in black) was very rewarding to those that had the guts to take a position.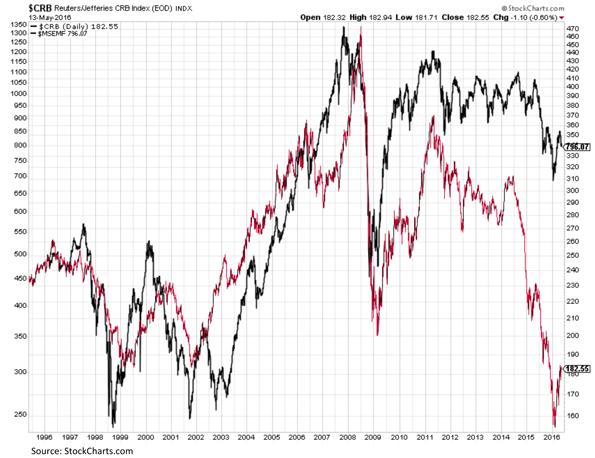 Graphs are for illustrative and discussion purposes only. Please read important disclosures at the end of this commentary.
I think the rebound of the MSCI Emerging Markets Index was due to the rebound of the CRB Commodity Index as those two indexes have always been heavily correlated. Rapid economic growth in emerging markets tends to coincide with strong demand for commodity prices. This is fine from a cyclical standpoint, but I happen to think that the rebound in commodities is seasonal in nature, primarily due to oil, and that it will completely unwind come this fall. If my view on commodities is correct, the MSCI Emerging Markets index is likely to take out its 2016 low.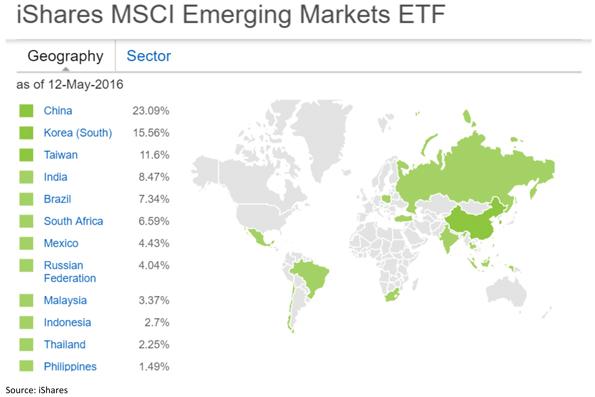 Graphs are for illustrative and discussion purposes only. Please read important disclosures at the end of this commentary.
I have always thought that the term "emerging markets" is a bit of a misnomer. If one looks at the weights of the MSCI Emerging Markets Index, one can see that it is dominated by manufacturing export-driven markets in Asia, along with other markets driven by commodity prices. I believe a potential hard landing in China is driving this decline in commodity prices, and since this hard landing has not officially arrived, commodity prices have not bottomed. Neither has the MSCI Emerging Markets Index.
Disclosure: *Navellier may hold securities in one or more investment strategies offered to its clients.
Disclaimer: Please click here for important disclosures located in the "About" section of the Navellier & Associates profile that accompany this article.