The U.S. Dollar Index has a year-to-date performance of -4.1% and lost 8% from this year's high to the low on the 3rd of May. I believe a strong dollar will revive. The Yen and the Euro will once again continue to lose value. Their recent surge was a false one which was based on fears about financial instability and a return to the home currency in Japan.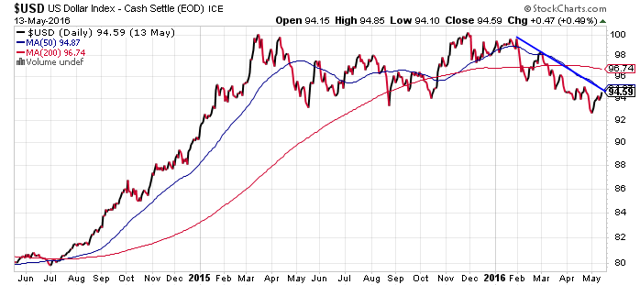 The depreciation of the dollar between February and May was driven by disappointing economic data and the resulting less-than-expected rate hike expectations. Economic data somewhat improved in April. Recent payroll numbers, on the other hand, decreased rate hike expectations once again. The current implied probability for a rate hike in June is 4% or 20% for July. The market already doesn't expect a lot from the fed for 2016 - any rate hike signal in the coming months would be a surprise.
However, it is very dangerous to expect that the Japanese or European central bank will run a policy that is tighter than that of the fed. It is looser than it was once expected - but sooner or later, the fed will have to take action. And the Bank of Japan already signaled to devalue its currency in order to keep up a competitive economy. The ECB and the BoJ will continue with loose monetary policy much longer than it will be the case for the U.S.
We can already observe an increase in inflation in the U.S., where inflation expectations are much higher than in Europe or Japan. As long as yields in the U.S. remain higher than in most other developed countries (which doesn't have to be a lot with zero interest rates in Europe and Japan), the dollar will continue to attract investments.

Disclosure: I/we have no positions in any stocks mentioned, and no plans to initiate any positions within the next 72 hours.
I wrote this article myself, and it expresses my own opinions. I am not receiving compensation for it (other than from Seeking Alpha). I have no business relationship with any company whose stock is mentioned in this article.