At the WWE (NYSE:WWE) shareholder meeting in April 2016, the company laid out four goals for 2016.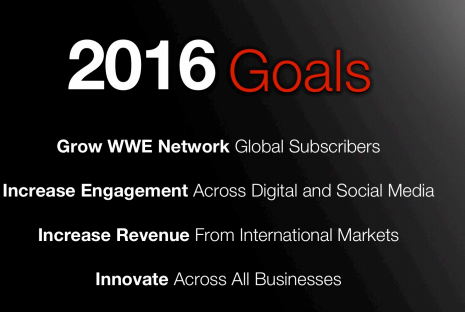 Source: WWE Shareholder Meeting Presentation, April 2016
Growing global subscribers for the WWE Network and increasing revenue from international markets are two initiatives that are joined at the hip.
A key part of WWE's narrative around the WWE Network is that there is a "large addressable market" of "159 million worldwide households which have an affinity for the WWE." (See the latest WWE Investors Presentation for more information.) If WWE insists it can just capture even 1-2% of its audience, at steady state, that would be 3 million to 4 million paid subscribers annually.
It has even broken down these affinity numbers by country for the largest subscriber candidates.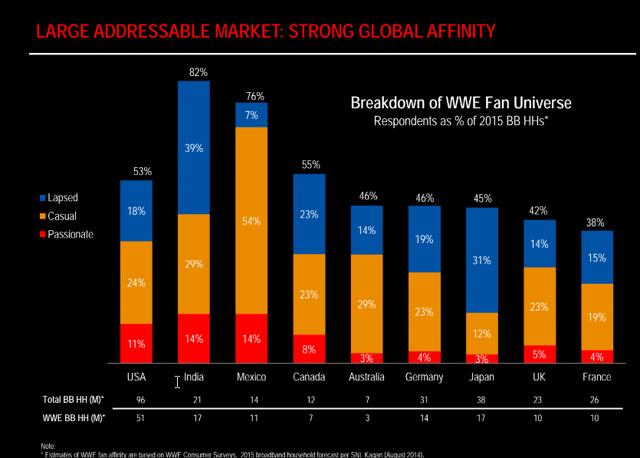 WWE's own estimates put Japan as tied for the second largest number of WWE Broadband Households (17.5 million) behind only the United States (50.9 million) and ahead of markets such as India (17.2 million), Germany (14.3 million), Mexico (10.5 million), France (9.9 million), the United Kingdom (9.7 million), Canada (6.5 million) and Australia (3.2 million).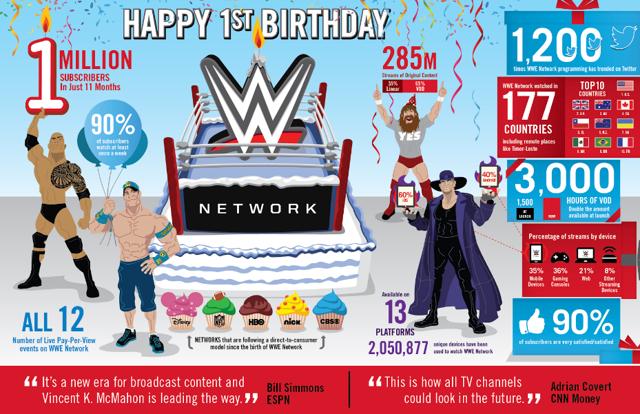 In February 2015, WWE issued a colorful infographic listing its top-ten markets for the WWE Network as:
United States
United Kingdom
Australia
Canada
Chile
New Zealand
Ukraine
Mexico
Brazil
France
It's worth noting that the second largest base of subscribers for the WWE Network was in the United Kingdom. Despite the large numbers of alleged passionate and casual fans in France (6.0 million) and Mexico (9.5 million), smaller countries such as Canada (3.7 million) and Australia (2.2 million) ranked much higher.
Note: At the time this infographic was released, the WWE Network had not officially launched in Japan or Germany (January 2016) or India (November 2015). As of March 31, 2015, there were 196,000 international subscribers to the WWE Network.
There appears to be higher adoption rate among smaller English-speaking countries such as Canada and Australia when compared to more-populated countries such as France & Mexico.
It was a surprise that less strategic countries like Chile, New Zealand and Ukraine would rank higher than WWE international investment target country of Brazil. However, with the lion's share of WWE Network subscriptions are in the United States, United Kingdom, Australia and Canada, the difference between the remaining bottom-ranked countries would be in the thousands.
More recently, WWE Chief Strategy & Financial Officer George Barrios was asked for more details on the split of international WWE Network subscriptions during the WWE Q4 2015 conference call held on February 11, 2016:
Brad Safalow (PAA Research)

Okay, and then just on the international sub side for the Network, obviously you had some significant launches, can you at least speak to what are the top five countries in terms of subscribers? I think I have a sense for it but I just would be curious if you could provide that detail.

George Barrios

Yes. For us the U.K. was a terrific market, if you remember last January when we launched in U.K. that drove a good increase. Got good sub levels in Canada. Outside of that I'll say that we have got in the Top 10 a nice mix of countries for us.
It's clear that the largest two international markets for WWE Network appear to remain the United Kingdom and Canada.
What does the UK teach us about WWE Network price points?
The United Kingdom is an interesting model for WWE because the January 2015 launch was an integral part of WWE surpassing the one million users mark. The UK launch had been riddled by last minute delays for months. Also, the WWE Network in the United Kingdom is actually priced at a premium to the other global over-the-top networks. The WWE Network costs £9.99 per month in the UK and €12.99 per month in Ireland, which is about 45% more expensive than the $9.99 price point used elsewhere.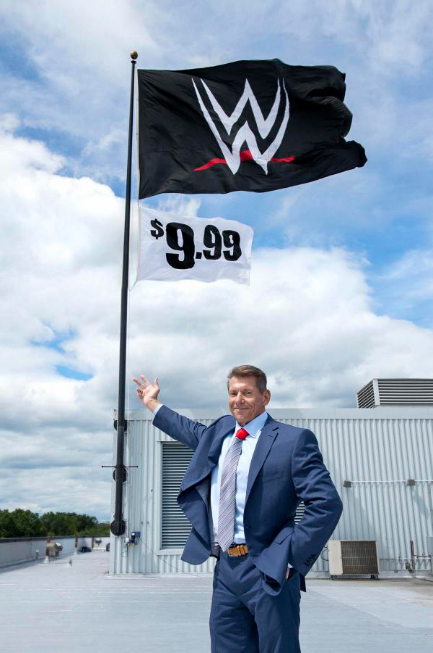 Source:@VinceMcMahon (8/15/14)
The relative success in the UK raises the question whether a higher price point may have been a better idea for the niche appeal of the WWE Network. Indeed, the original business outlook materials in 2013 suggested that the over-the-top service which would come to be known as the WWE Network would be priced "at a proposed price between $12.99 and $14.99."
At the Bernstein Future of Media conference in June 2015, George Barrios was asked why the company chose $9.99 as its price point.
George Barrios

The price point - a lot of boring analytic work went into before launch, testing different product descriptions in the marketplace. So, research. A lot of conjoint analysis to understand at the elasticity at different price points - so on and so forth. There was a lot of science to come up with a range and the $9.99 was within the range. And then the art was we thought the sub-$10 price point was a just powerful marketing message - a tremendous amount of value. But, to kind of get the range, it the traditional in-market research and the ability to do conjoin analysis and try to get understanding elasticity. And when I talk about conjoined I was talking about price but also what the offering was - there was different offering tested not just the one in the market now."
Essentially, the $9.99 price point was a mix of its in-market research and marketing gusto. It's been quietly forgotten, but originally WWE only intended to allow access to the WWE Network if it could guarantee that it would recoup at least $60 annual revenue from each subscriber.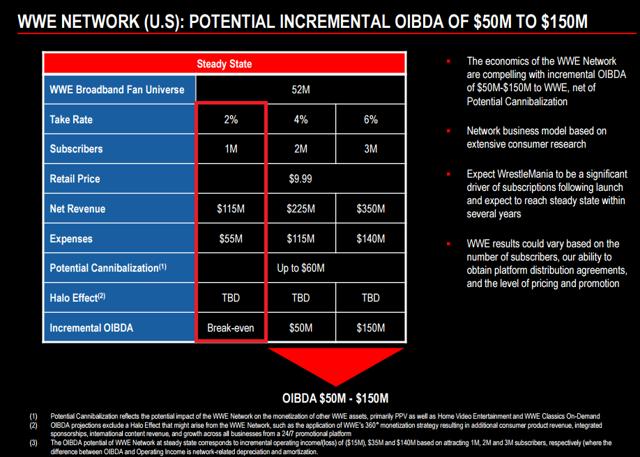 Source: WWE Network Overview (1/4/14)
When the WWE Network was originally launched, the $9.99 price point was only for consumers that signed up for a six-month commitment. There was briefly a $19.99 no-commitment tier launched in August 2014, which was quickly abandoned by October 2014 when WWE officially made the $9.99 tier a no-commitment tier. The absolute lowest-end scenario that WWE originally presented at the January 2014 conference was for one million domestic annual subscribers (which was eventually achieved over fiscal year 2015).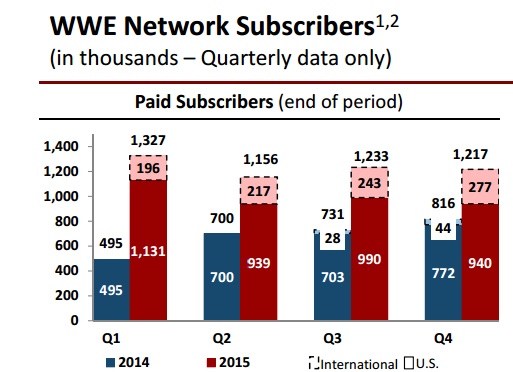 Source: WWE Key Performance Indicators (2/11/16) (page 2)
What does Canada teach us about television rights partners?
Compared to the United States, the WWE Network in Canada was rolled out using a very different approach. In July 2014, WWE and Rogers Communications (NYSE:RCI) announced a decade long broadcasting and multimedia agreement which lasts until 2024. This included offering the WWE Network as a "premium linear channel." Rogers held the exclusive rights for Canada and continued to negotiate with other distribution partners to expand access to the Canadian version of the WWE Network.
There have been other international marketplaces where WWE has adopted similar tactics to the Canadian marketplace. We've seen this in the Middle East with OSN (February 2015) and with Astro in Malaysia (July 2015). In India, WWE launched an over-the-top WWE Network in November 2015, but live pay-per-view events are unavailable until 24 hours after their air. This PPV black-out term (which last until end of 2016) appears to be a concession related to the lucrative Indian television rights deal with Ten Sports deal that WWE announced in September 2014. Similarly, the last-minute delays in launching the WWE Network in the United Kingdom in fall of 2014 appeared to be related to tensions with BSkyB - WWE's UK Television Partner.
While the company portrays the WWE Network as its key growth initiative moving forward, the largest single segment of its revenue is still domestic and international guaranteed Television Rights contracts ($231 million in 2015). The company is always walking a fine line of biting the hand that feeds them when it's pushing its relentlessly over-the-top service on television and belittling the high prices of traditional pay-per-views.
Of course, these agreements are always subject to counterparty risks such as blatant nonpayment. This was the case with WWE's television partner in Thailand, CTH, who signed an important television deal in January 2014. In the run-up to the new domestic WWE television rights deal, the enormous increases in international deals such as Thailand were seen a positive harbinger for WWE's next announcement being double or triple its previous NBCUniversal deal. In the end, WWE announced a new domestic deal with NBCU which disappointed both the market and WWE. Even worse, WWE ended up in US court suing CTH for $23 million for contract breach and non-payment. Thailand (and the Philippines - another country where WWE sued its TV rights distributor, Solar, over non-payment in 2013) were originally left out of the global WWE Network roll-out in August 2014. Finally, WWE Network was made available as a OTT service in March 2016 in both countries.
India
In the latest WWE Investor Presentation, WWE lists seven Emerging Markets as part of its "Investment Priorities in 2016."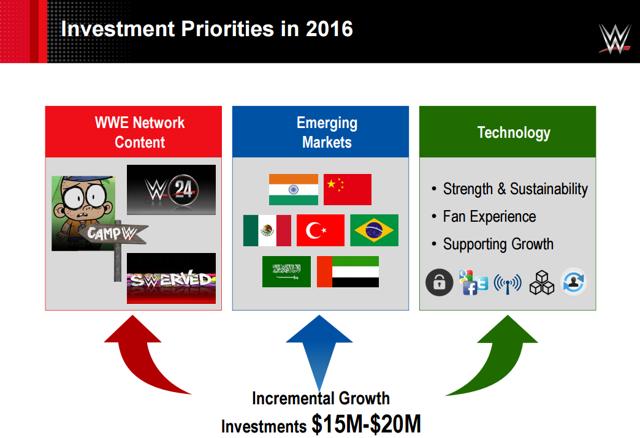 Source: WWE Investor Presentation, page 24
Essentially, that breaks into three geographic areas:
a. India & China
b. Mexico & Brazil
c. Turkey, Saudi Arabia & UAE
India has been a favorite discussion point for George Barrios since he was appointed Chief Strategy Officer in December 2013 (he joined the company as CFO in 2008).
The first priority for India was as a driver for growing WWE's international television rights (Ten Sports in a five-year deal announced in September 2014 has become the 3rd largest international TV rights deal for WWE behind UK & Canada). WWE was also excited about launching India's potential as a new toy market.
India remains on WWE's mind as a growth opportunity for quite some time.
In September 2012, WWE called out Brazil, Russia, India and China (the so-called BRIC countries) as markets with large global opportunity for its business.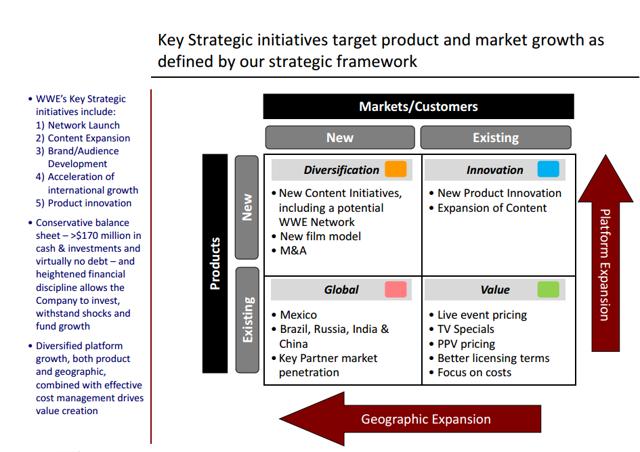 Source: September 2012 WWE Investor Presentation, page 12
In the January 2015 Investor Presentation, WWE grouped international markets into high-medium-low growth potential categories as such:

Source: WWE January 2015 Investors Presentation
Hardly a media, Internet or telecom conference goes by without George Barrios presenting his "India is the future" elevator pitch. We heard about at UBS, Cowan & Company, BOA/ML and Needham & Company.

Source: WWE Investor presentation March 2015
Indeed, WWE has even begun recruiting high-profile Indian athletes in 2015 by signing Lovepreet Sangha and Satender Ved Pal. Both men wrestled on the recent two-day tour of India in January 2016 (the company's first tour in India since 2002.)
With all of this hype, it's understandable that analysts would want to ask about the WWE Network growth in India after the service finally launched in November 2015.
Laura Martin (Needham & Company)

And then from you, George I was interested in India. You guys launched on November 3rd and I was just wondering, what the actual sub number was in India? What impact did it have?

George Barrios

We're not going to talk about specific sub levels but as we mentioned before, we view India over the long term. Today on OTT service at 9.99, the pay-per-views are not staying dated in India because of our current partner deal that we have there. So for us launching a network in India is more about the long term.
Instead, Barrios made it clear that India is about the "long term" and that blacking out the live airing of the PPV content does seriously hamper the appeal of WWE Network service. It could also be argued that the $9.99 price and imperfect Broadband access may be significant growth impediments. YouTube in 2014 made moves to allow for offline viewing of content recognizing that mobile content is very important but broadband access is limited.
WWE did speak excitedly about India during its 2016 Business Partner Summit. Gerrit Meier, WWE President of International plugged that the company had new local language in Hindi on Zee TV.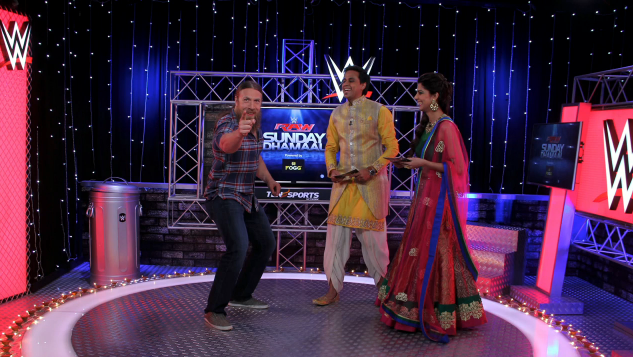 WWE opened a Mumbai office in May 2011 and expanded it in December 2012. In January 2016, WWE named Joji George as the new vice president and general manager for WWE India.
It's clear that demographic and economic conditions in India means that WWE will have to continue to prioritize the country in its speeches. Still, it may be quite some time before WWE India will generate significant revenue growth from anything besides its massive international television rights contract.
WWE International Revenue

Source: WWE Annual Reports (2010-2015)
When you examine the breakout of WWE revenue by geography, it's clear how distortive 2015 can be.
In 2015, the new international and domestic television rights deals took effect which greatly increased net revenue. In addition, 2015 was the first full year that the WWE Network was available in most of Europe (most of Europe was August 2014, UK was January 2015, Italy came online in July 2015, Germany/Austria/Switzerland in January 2016).
It's interesting to see that revenue from Europe (outside of the United Kingdom) and Latin America has actually been contracting considerably over the past five years. Honestly, a detailed look at WWE strategy in established markets such as Mexico & Japan and new markets like China, Turkey and Brazil will need to wait for another article.
It remains to be seen whether WWE will start providing greater insight and granularity on international WWE performance. It would be very interesting to see the Indian subcontinent separated from the rest of the geography. Or seeing actual metrics about these key emerging markets broken out versus the existing bases of business. In years past, WWE would break out international and domestic television rights into separate buckets. That practice stopped in 2015. Considering WWE's recent moves to end monthly KPIs and reduce the visibility into each business segment, I have my doubts whether investors are going to get clear numbers from the WWE on how the company is operating in specific marketplaces.
As discussed in Q1 results, we know that a significant majority of the social media and online free video views are coming from international markets while the significant majority of the WWE Network subscribers are still domestic. It's important that WWE not only continues to use social media to engage international fans, but the company also needs to really figure out how it can monetize these people beyond the occasional live event and the regular television rights fees.
Chris Harrington is an analyst who regularly covers WWE Business at SeekingAlpha. You can follow him on Twitter at @mookieghana or visit his blog at wrestlenomics.com
Disclosure: I/we have no positions in any stocks mentioned, and no plans to initiate any positions within the next 72 hours.
I wrote this article myself, and it expresses my own opinions. I am not receiving compensation for it (other than from Seeking Alpha). I have no business relationship with any company whose stock is mentioned in this article.