On Thursday, April 12, VimpelCom (NASDAQ: VIP) announced financial results for Q1 2016. As for me, these are ambiguous statements: on the one hand, the net profit, which is attributable to shareholders, increased by 3%, but on the other hand, the revenue reduced by 12.5%. As for EBITDA, it has not met the analysts' expectations and reduced by 19% compared to the same period in 2015, EBITDA margin decreased by 1.4% to 39.5%.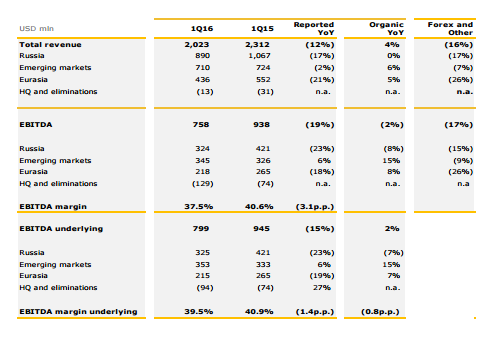 (Source: vimpelcom.com)
I guess VimpelCom is more sensitive to competition compared with other players on the Russian telecommunications market. The remaining operators are trying to resist the rivalry increasing costs for promotion and reducing tariffs, and, in this case, VimpelCom is vulnerable, therefore, revenue per subscriber reached its lowest point. If this continues, we should expect some reduction in its subscriber base.
It is important to note that VimpelCom expects a change in its ownership structure. This is connected with the corruption scandal in Uzbekistan, due to which Telenor wants to sell its share of stocks. Telenor announced its intention to sell its share of VimpelCom Ltd. last October. Currently, the Norwegian operator has hired the investment bank JPMorgan Chase Co. for the sale of a 33% stake in VimpelCom, totaling $2.6 billion. Telenor is conducting negotiations with potential buyers, among which, in particular, there are Russian investors.

(Source: vimpelcom.com)
It should be mentioned that Eurocommission may prohibit mergers of Wind Telecomunicazioni and Three Italy. Wind Telecomunicazioni is an asset of VimpelCom; Three Italy is owned by a Hong Kong company, Hutchison. Now Wind and Three are the third and fourth largest operators in Italy, but after the merger they can become the largest operator in the country.
This merger will help VimpelCom increase its revenue and presence on the European telecom market, but there are possible objections from the side of the regulator that might increase the risk of blocking the deal. The European Commission is protecting national operators, so the regulator has put forward some conditions under which the deal will take place. I think, even if the companies accept the terms of the regulator (i.e. partial sales of their frequencies or towers), VimpelCom and Hutchison will not receive significant revenue growth.

(Source: broadband4europe.com)
Conclusion
Financial results of the company in Q1 2016 were much lower than expected. This justifies the fact that currently VimpelCom is not ready for intense competition. Also, the corruption scandal in Uzbekistan did not go unnoticed. It worsened the company's reputation on the European market, and as a result, the main shareholder announced its desire to get rid of VimpelCom assets. In addition, the revenue per subscriber significantly decreased, and at the moment, I do not see any signs to improve the situation.
In conclusion, I want to say that now there is a good opportunity to make money on the shorting of VimpelCom.
Disclosure: I/we have no positions in any stocks mentioned, and no plans to initiate any positions within the next 72 hours.
I wrote this article myself, and it expresses my own opinions. I am not receiving compensation for it (other than from Seeking Alpha). I have no business relationship with any company whose stock is mentioned in this article.