On June 23, British citizens will vote in a referendum to decide whether or not the United Kingdom will remain a member of the European Union (EU). The odds of Britain leaving the EU (the so-called Brexit) are low but significant enough that political and economic uncertainty is pressuring the UK bond, currency and equity markets.
Several of Wellington Management's global industry analysts have noted that companies in the UK housing and industrial sectors have already seen a decline in new orders that can be attributed to the Brexit ambiguity. With markets already reflecting some Brexit risk, however, there could be upside if the vote goes to remain in the union.
In my view, a vote to exit would have profound negative impacts on the UK and the rest of the EU. In this month's commentary, I address the main issues driving the referendum, as well as the potential impacts of both the "Leave" and "Remain" outcomes for the UK and the eurozone.
The main issues: British sovereignty and immigration
Domestic dissatisfaction with Britain's continued EU membership has been simmering for a while, as many UK citizens perceive they are getting a raw deal by paying more into the EU budget than the benefits they receive in return in terms of trade, jobs and investment. More recently, immigration has dominated the debate. Britain has long wanted more control over its borders, so the recent influx of immigrants entering the UK from the EU and terrorist attacks in Paris and Brussels have stirred anti-immigrant fears.
Despite negative attitudes toward the EU, many British voters are also realistic about the potential costs of leaving, including a sharp slowdown in trade with the EU -- by far the UK's largest trading partner. As Figure 1 shows, betting markets in the UK are currently predicting an approximately 30% chance of a Leave vote, but this could rise as the vote approaches or if the Brexit camp galvanizes emotion around anti-establishment themes, as in the United States, where anger toward the status quo and anti-immigrant sentiment has helped outsider candidate Donald Trump become a serious presidential contender.
FIGURE 1
Betting odds give the edge to Remain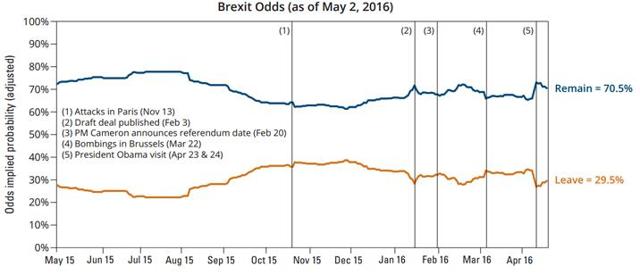 Sources: Ladbrokes, Paddy Power, SkyBet, Coral, Betfair Exchange, Matchbook, Wellington Management
Voter turnout is also likely to be a key driver of the outcome. Older Britons, a majority of whom support Brexit, have historically turned out to vote in the highest numbers. In contrast, younger British citizens are less likely to vote, yet polls have shown that a majority of this cohort favors remaining in the EU.
What is the potential impact of a Leave vote?
If Britain votes to Leave, it could take many years before the complexities of negotiating new agreements with the EU are resolved. While rules exist in the EU charter for the departure of a member country, they have yet to be tested. For example, around 50 free-trade deals between the UK and the EU would have to be renegotiated, and some estimates suggest that these negotiations alone would last five to eight years.
Uncertainty regarding the status of existing trade agreements and confusion over which regulations businesses should adhere to could drive lower trade flows and substantial economic weakness. Nearly half of UK exports go to EU countries, while the UK is the destination for only about 10% of the EU's exports (Figure 2). Wellington Management's UK economist believes that a Leave vote would knock four percentage points off of British gross domestic product (GDP)1 and result in a recession.
FIGURE 2
UK depends more on EU exports than the other way around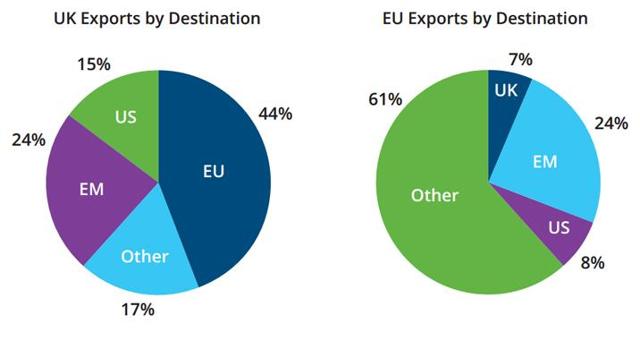 Sources: Haver, IMF, Wellington Management
Many businesses would also face confusion about the citizenship status of EU workers in the UK and vice versa, and how existing sector-specific EU regulations would be replaced. Businesses domiciled in the UK are likely to be disrupted. Financial services, for example, are a major net export for the UK that could be at risk of relocating if their current rights to do business with the EU no longer apply.
Our analysts also see some areas that could benefit from Brexit, including Ireland's commercial property sector. If UK businesses decide they need to relocate, Dublin, the only English-speaking capital city in the EU, would be an attractive destination. I have a positive view of the Irish economy overall and believe a fiscally induced economic boom over the next few years is possible.
In the near term, UK equities would likely underperform, yields on government and corporate bonds would rise, and the British pound would fall, tightening financial conditions. Overall, I would expect a sharp decline in foreign direct investment, business investment and industrial production. The UK's large current account deficit (7% of GDP) would also become a more influential factor on a Leave outcome, pressuring the currency downward and yields upward to attract foreign investors.
Longer term, because a Leave vote would weaken growth, the Bank of England (BOE) would likely respond with interest-rate cuts and government-bond purchases. Inflation could rise as the result of a weaker currency, but the BOE would likely view this as temporary. Monetary easing would eventually support growth and tamp down uncertainty; however the myriad political and practical issues to resolve would be daunting and would crimp growth for the foreseeable future.
Less contemplated by the markets is the negative impact a Leave vote would have on Europe. As discussed earlier, the direct trade impact on the economy is relatively minor, as the EU's trade with the UK represents only 7% of total EU exports. A more far-reaching implication of the Brexit is political contagion, as further country exits would lead to substantial uncertainty and market volatility, likely hurting European growth and resulting in higher risk premia for European assets, especially on those most exposed to the UK.
Uncertainty regarding European cohesion would also likely cause the euro to decline relative to the US dollar though not against the British pound. If the EU were to part ways with its fastest-growing major economy, other countries could consider leaving the EU as well even if the EU were to exact punitive terms for a new relationship with the UK. A wave of skepticism and even antipathy toward the EU --deepened by the recent immigration crisis -- has lifted the popularity of non-centrist parties across the continent. Spain, Italy, France, Austria, Hungary and Poland have all seen increased support for anti-immigrant parties demanding more border restrictions and greatly reduced cooperation with the EU. A re-opening of another Scottish referendum to leave the UK may be part of the aftermath of Brexit.
What is the potential impact of a Remain vote?
A vote to Remain would remove a significant concern for markets, boosting the UK currency and risk assets and keeping yields low. Our analysts see areas of the UK equity market that have already discounted a vote to Leave and could rebound sharply on a Remain outcome. These include some retail companies, airlines, and travel-related companies with high UK exposure. UK banks, which have underperformed US and European banks, would also likely rebound strongly in this scenario. Without having to worry about new regulations and reduced trade, companies within the UK and those that do business there would be more likely to invest in and expand their operations. A Remain vote could also help mitigate the fear of additional countries exiting the EU.
Investment Implications:
Ahead of the referendum
Avoid British assets. A weaker British pound has been the most direct result of Brexit risk, and I would expect further weakness, especially versus the US dollar if the odds between staying and leaving tighten.
UK equities and credit, particularly financials, are also vulnerable given uncertainty about how British-domiciled companies will operate in the rest of the EU.
Leave outcome
UK assets could suffer most. Weaker UK growth would adversely impact UK equities and credit across sectors, and continue to pressure the currency.
Higher risk premia could translate into higher UK government bond yields and steeper yield curves.
European equities could also suffer, especially companies for which the UK is a major market. Many European auto companies fit this category.
Remain outcome
I would expect significant rallies in assets that have already incorporated sizeable risk premia, including the British pound and UK equities.
European equities should also perform well in this scenario.
The views expressed here are those of Nanette Abuhoff Jacobson. They should not be construed as investment advice or as the views of Hartford Funds. Please contact a financial or tax advisor about your own particular situation.
1 Gross Domestic Product (GDP) is the monetary value of all the finished goods and services produced within a country's borders in a specific time period.
Investors should carefully consider the investment objectives, risks, charges, and expenses of Hartford Funds before investing. This and other information can be found in the prospectus and summary prospectus, which can be obtained by calling 888-843-7824 (retail) or 800-279-1541 (institutional). Investors should read them carefully before they invest.
All investments are subject to risk, including the possible loss of principal. Foreign investments can be riskier than U.S. investments due to the adverse effects of currency exchange rates, differences in market structure and liquidity, as well as specific country, regional, and economic developments. Fixed Income risks include credit, liquidity, call, duration, and interest-rate risk.
The views expressed here are those of Nanette Abuhoff Jacobson. They should not be construed as investment advice or as the views of Hartford Funds. They are based on available information and are subject to change without notice. Portfolio positioning is at the discretion of the individual portfolio management teams; individual portfolio management teams may hold different views and may make different investment decisions for different clients or portfolios. This material and/or its contents are current at the time of writing and may not be reproduced or distributed in whole or in part, for any purpose, without the express written consent of Wellington Management.
All information and representations herein are as of 05/16, unless otherwise noted.
119731 MFGS_0516
Disclosure: I/we have no positions in any stocks mentioned, and no plans to initiate any positions within the next 72 hours.
I wrote this article myself, and it expresses my own opinions. I am not receiving compensation for it. I have no business relationship with any company whose stock is mentioned in this article.