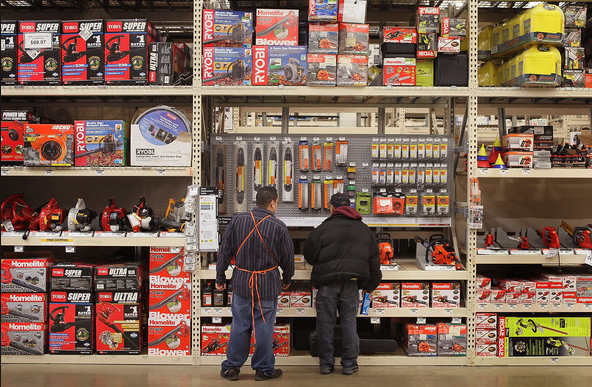 Home Depot (NYSE:HD) has been one of the best performing retail stocks in the entire market in recent years. The company's execution and position in a booming sector of retail have combined to produce astounding results and the share price reflects HD's good fortune. Its rich valuation has been a concern at times but given the way the company continues to blast through high estimates, it seems buyers are struggling to keep up with the business, not the other way around. And with Q1 earnings strong and coming with a guidance raise for this year, it seems the good times are set to continue.
I'll be using some charts from Simply Wall St. to help build my case.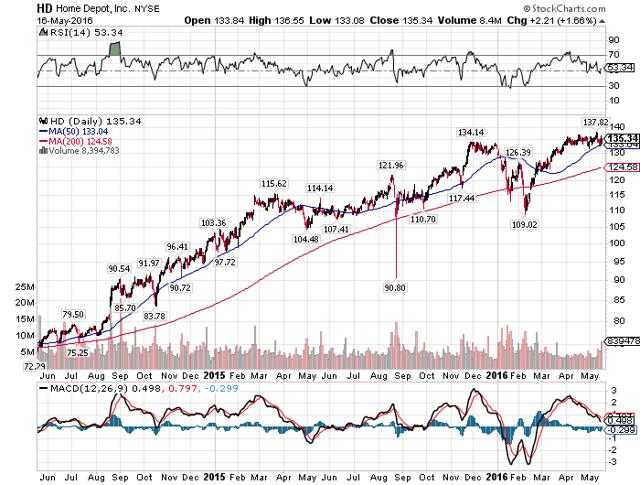 HD's torrid profit growth in recent years has been due to a variety of factors. Its sales growth has been flying higher via tremendous comp sales and a moderate footprint expansion. In addition, it has been gaining significant leverage on its SG&A costs as comp sales have continued to rise. And while product margins have underwhelmed, the other levers for profit growth have been plenty strong enough to work through what could otherwise be seen as a weakness.
We saw more of the same in Q1 as HD hit +9% total revenue on a +6.5% comp sales number. The comp gain was even better in the US and the simple fact is that HD is stacking comp gains on top of comp gains. Some retailers produce eye-popping comp gains based on weak comparables but HD's comparables for this year are anything but weak; the fact that HD produced that sort of gain on top of last year's Q1 is tremendous and it means that any concerns about sales weakness this year due to tough comparables is nonsense; HD's sales continue to defy gravity.
Product margins failed to impress once again but we are used to that with HD; this is a company that sells commodities and as such, gaining market share (and SSS) dictates that product margins are likely to be weak. The good news is that gross margins were only slightly weaker than revenue as gross profit dollars increased 8.5% against the 9% gain in revenue. This is going to continue for the foreseeable future for HD as gaining gross profit is not a priority. Normally I'd be concerned by this but HD's comp sales gains are far too impressive to worry about minor margin losses. And besides, those product margin losses are more than made up for with SG&A leverage.
This is something that HD is absolutely masterful at executing; SG&A costs continue to rise very slowly in comparison with revenue and that has led to some really terrific operating margin gains despite the fact that product margins are weak in a relative sense. SG&A costs rose at just 2.8% in Q1 against a 9% gain in total sales, producing yet another quarter of strong operating margin expansion on top of the revenue gain. This is how HD has been building its profits over the past few years and as comp sales continue to rise, this will continue. Operating income rose at twice the rate of revenue in Q1 and if that isn't bullish, I don't know what is.
Analysts see the party continuing indefinitely and why not? This chart shows HD's projected revenue growth for the next few years.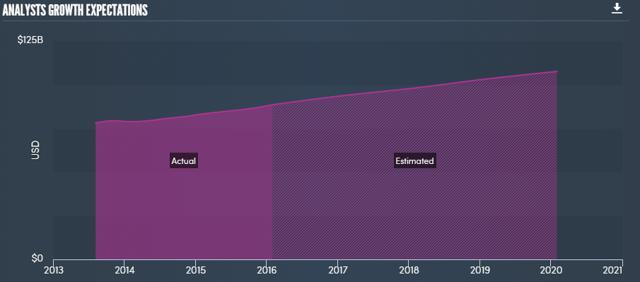 Sales are expected to rise at mid-single digit rates for the next few years, a level that HD could see some upside from. To be fair, as the years roll on and HD stacks comp gains on top of more comp gains, revenue increases will be increasingly difficult to come by. However, HD has shown an innate ability to continue to get people in the door and with housing prices continuing to remain elevated, HD's outlook for the next couple of years is still very strong. As long as housing remains solid HD will do very well and there is no reason to think housing is going to come crashing down anytime soon.
On the profit side, you really just can't beat this.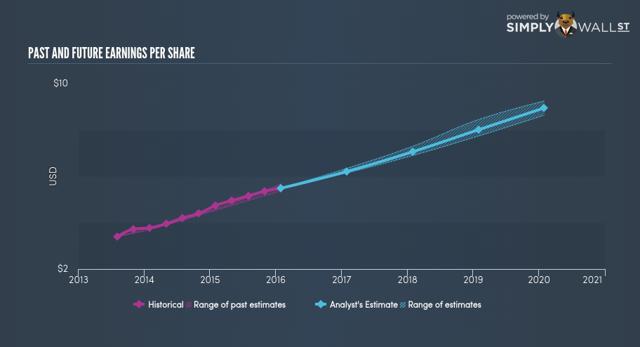 HD has the smoothest upward trajectory in EPS of any company I've seen in a long time and it is due to all of the things we've discussed. Namely, as sales continue to rise the company's operating expenses will continue to be leveraged and operating margins will rise irrespective of what product margins do. In addition, HD is buying back more than a billion dollars' worth of stock each quarter so it is reducing the float along the way. That will juice EPS gains that are already being made based upon the stellar execution of the business itself. So while product margins are weak, low operating costs mean that HD's profit growth levers - revenue, operating margins and buybacks - are all pointing significantly higher. There aren't many companies these days with all three but HD is certainly one of them.
On a valuation basis, HD certainly looks like it could be expensive. But remember that HD is a rare retailer in that it operates in perhaps the most bullish sector of the industry and its execution is infallible. These factors led the company to raise its guidance for this year and while shares are trading for about 22 times this year's earnings, that is a small price to pay for perhaps the best retailer anywhere. I don't say that lightly as there are great retailers left in this market despite the total carnage that has taken place of late but HD tops them all.
And given its profit growth trajectory based upon continued success with SSS growth and leveraging its operating expenses, the company's brightest days are likely still ahead of it. The reaction to the earnings report thus far has been muted - it is still early - but as HD continues to execute it will move higher over time. The easy gains have been made of course but HD is not done moving higher. And considering its also-ran brethren in the DJIA, I dare say that HD is the best stock in the Dow right now. There are others that are tremendous as well including Nike, Visa and Disney but for my money, none are better than HD right now. I'm remaining long.
Disclosure: I am/we are long HD.
I wrote this article myself, and it expresses my own opinions. I am not receiving compensation for it (other than from Seeking Alpha). I have no business relationship with any company whose stock is mentioned in this article.