The U.S. stock market has a fundamental problem. Corporate earnings are not good. Given that people typically do not like to pay higher prices for things that are becoming worth increasingly less, at some point this fact may come back to haunt investors. And while the picture looks kind of ugly on the surface, the view is even more unsettling when inspecting the dark underbelly of the market. As a result, the market badly needs some "E" - an increase in earnings in the price-to-earnings ratio. Otherwise, the "P" might take matters into its own hands to get stock valuations back on track
First-Quarter Earnings Recap
First-quarter earnings season is largely over. Through May 12, over 91% of all companies in the S&P 500 Index (NYSEARCA:SPY) have reported their latest quarterly results. Coming into the quarter, annual as reported earnings were projected to fall by -10.05% in Q1.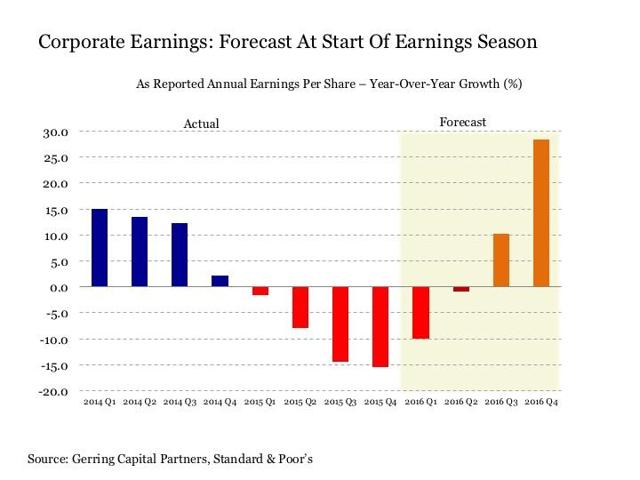 Through May 12, these same earnings have ended up falling by -13.10%. Taking for given the knowledge that the analyst community is notoriously optimistic with their earnings forecasts and that actual results almost always end up falling short of expectations, a few positive takeaways can be derived from these Q1 numbers. They may be hollow victories and are not yet confirmed with roughly one-tenth of S&P 500 companies still left to report, but they are initial positives nonetheless.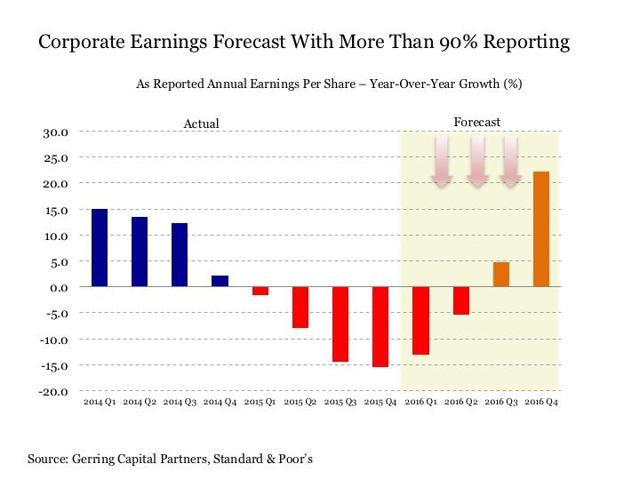 First, the rate of decline in annual earnings growth appears to have slowed. For example, annual earnings fell on a year-over-year basis by -14.44% in 2015 Q3 and -15.42% in 2015 Q4. Thus, if the latest growth number for 2016 Q1 does not deteriorate too much further - it will undoubtedly fall some more - it shows a potential slowing in the rate of decline in earnings on a year-over-year basis.
Also, the annual earnings per share number is showing signs of leveling after what has been a precipitous decline since 2014 Q3. For example, the decline in annual as reported earnings per share has averaged roughly -$4.00 per share, with a fairly tight distribution around this average (the lowest decline was -$3.06 per share and the highest was -$4.34). But for 2016 Q1, the annual EPS decline is only coming in at -$0.28. Once again, this number will likely fall further before the quarter is official. But with more than 90% of companies reporting, it appears that the decline in corporate earnings may finally be starting to at least level off.
Measurable Damage Done
Despite some potential early positive signs on the corporate earnings front, a measurable amount of damage has been done. And it is very possible that the rate of decline could accelerate anew in the coming quarters.
The stock market has been made expensive as a result of its earnings decline. For while the "P" in the S&P 500 Index is still below its all-time high levels reached in May 2015, the "E" has fallen by nearly -20% over the past year, thus causing the P/E ratio on the market to soar to 24 times earnings, a level that has been reached during a very small handful of periods dating back to the buttonwood tree a couple of centuries ago.
It is worthwhile to put the recent decline in earnings into context. The drop in 2016 Q1 annual earnings to $86.25 per share has resulted in a return to levels first reached in 2007 Q2. In other words, the U.S. stock market as measured by the S&P 500 Index has the same annual as reported earnings that it had nearly a decade ago. This latest decline also represents a return to earnings levels that existed in 2011 and 2012 up to the launch of market inflating QE3.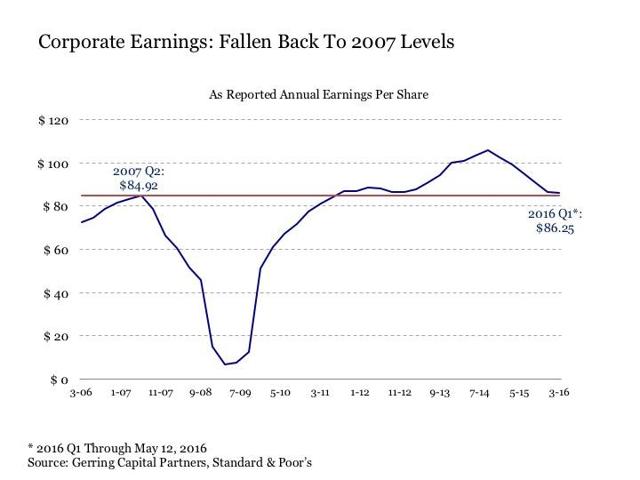 Of course, over this same time period, we have seen the stock market increase by more than a third. More simply, investors are paying a premium today for earnings that they could have first bought a decade ago. Are these earnings more sustainable today than they were in 2007? Perhaps, but then again many investors also were not likely factoring in the cascade lower in earnings that came not long after reaching these 2007 peak earnings, just as investors likely did not foresee a similar such drop off after earnings peaked in 2000 Q3.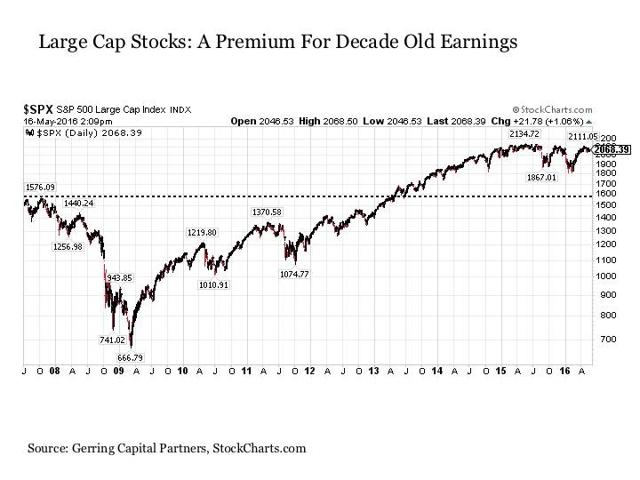 Markets are volatile, and so are corporate earnings. They always have been and will continue to be despite the coma that monetary policy makers sent the system into at times in recent years. And even if earnings are in the process of bottoming in the coming quarters, which is a BIG IF, the market valuation has become so stretched in the process that the downside risk is becoming increasingly meaningful.
The Dark Market Underbelly
When examining the underbelly of the market, the picture looks even more disconcerting in this regard.
We will begin with U.S. mid-cap stocks as measured by the S&P 400 Mid-Cap Index (NYSEARCA:IJH). As reported annual earnings among these mid-cap stocks have fallen by more than -10% year over year for six consecutive quarters. This includes two consecutive year-over-year drops in excess of -30% in 2015 Q4 and 2016 Q1 to date.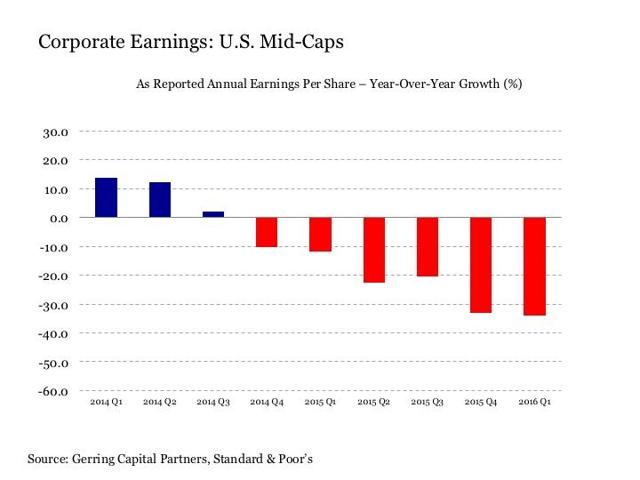 Unlike its large-cap counterpart, the mid-cap index is showing no signs of bottoming either from an annual earnings per share or rate of decline standpoint. For while 2015 Q4 annual earnings fell by -32.93%, they have already fallen by a more pronounced -34.00% year over year so far for 2016 Q1 and the quarter is not even over yet.
In the process, as reported earnings on the S&P 400 Mid-Cap Index have fallen back below 2010 Q1 levels.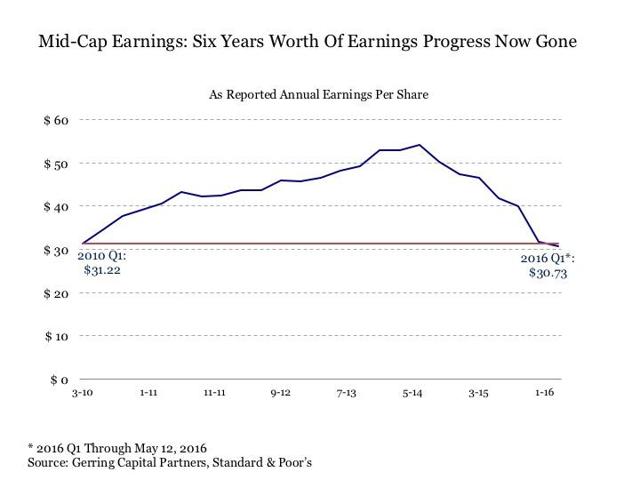 Of course, over this same six-year period, the S&P 400 Mid-Cap Index itself has more than doubled.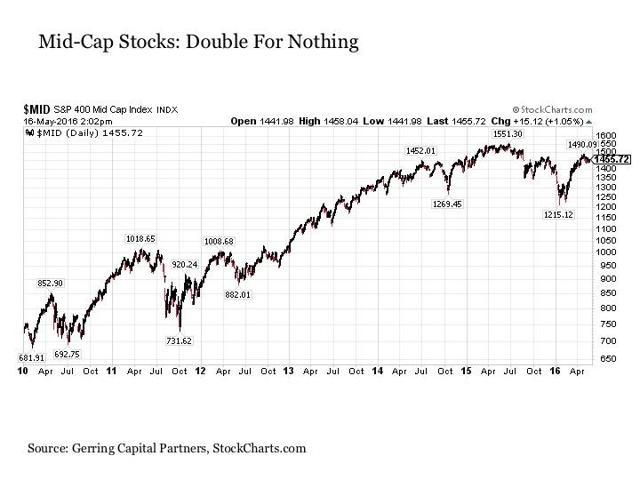 Put simply, the "P" on the S&P 400 Mid-Cap Index more than doubled over a time where the "E" ended up back below where it started six years ago. Needless to say, this does not bode well from a valuation perspective, particularly since the decline in mid-cap earnings has yet to show signs of truly abating. Overall, the S&P 400 Mid-Cap Index is now trading at a lofty 47.4 times trailing 12-month as reported earning, which is more than double its historical average of around 21 times earnings over the past decade.
Moving on to small caps, the S&P 600 Small Cap Index (NYSEARCA:SLY) has turned in a similar if not more pronounced performance to its mid-cap counterpart.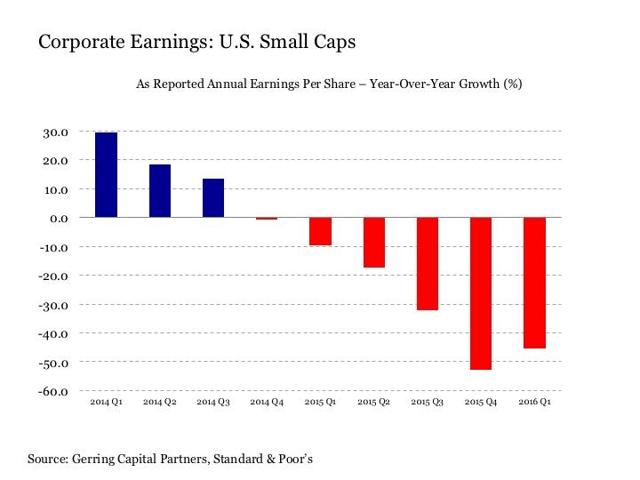 As reported annual earnings on the S&P 600 Small Cap Index have also fallen by six consecutive quarters to date. This includes a more than -30% year-over-year drop in 2015 Q3, an annual drop in excess of -50% in 2015 Q4 and another -45% year-over-year decline in 2016 Q1 to date.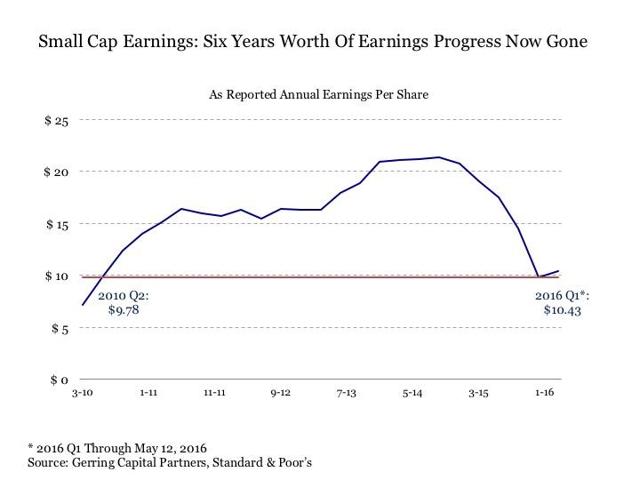 In the process, the annual earnings per share on the S&P 600 Small Cap Index has also fallen back to 2010 levels and would need to more than double at this point to return to its late 2014 peaks.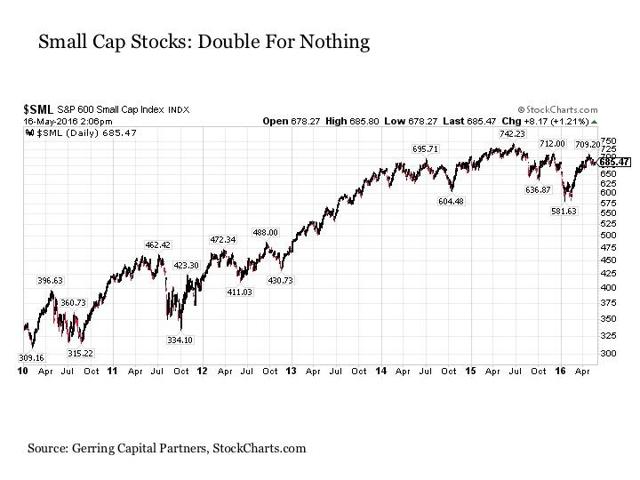 Once again, although earnings are now effectively no higher than they were six years ago, the S&P 600 Small Cap Index is more than double where it was at the start of the decade. As a result, the small-cap index now trades at more than 65.7 times trailing 12-month as reported earnings, which is closing in on triple its roughly 25 times average over the past decade.
The Bottom Line
Corporate earnings have been poor across the market for some time. They have been bad among large-cap stocks, and they have been decidedly worse among mid-cap and small-cap offerings. This major decline in earnings, along with stock prices that have risen sharply in recent years and held steady since, has caused valuations across the market to balloon to extraordinary levels in some cases.
As a result, if the market does not get the "E" that it needs soon in the form of a major reacceleration in corporate earnings, the "P" in the P/E ratio may end up getting increasingly depressed to the downside as the euphoric effects of global central bank monetary easing finally wears off.
Disclosure: This article is for information purposes only. There are risks involved with investing including loss of principal. Gerring Capital Partners makes no explicit or implicit guarantee with respect to performance or the outcome of any investment or projections made. There is no guarantee that the goals of the strategies discussed by Gerring Capital Partners will be met.
Disclosure: I/we have no positions in any stocks mentioned, and no plans to initiate any positions within the next 72 hours.
I wrote this article myself, and it expresses my own opinions. I am not receiving compensation for it (other than from Seeking Alpha). I have no business relationship with any company whose stock is mentioned in this article.