Zynga (NASDAQ:ZNGA) is one of those companies that has gained serious notoriety amongst its target market. It is one that basically has effectively specialized in the "freemium" social business model of mobile phone games, in which users are encouraged to pay money for advancement or upgrades in their supposedly free game. If the user chooses not to pay, he or she quickly finds him or herself waiting unbearably for progress, or rapidly taken over by others in the leaderboards.
This is implemented in their breakout games such as Farmville, Words With Friends, and Zynga Poker.
It is a controversial way of producing games for sure; many gamers and dedicated users are calling it out, claiming that it is leading us towards a dark future for mobile gaming, and that it is a sign of corporate greed taking hold over the true intent of the gamer.
But that's not the only problem that Zynga has. Various problems with the underlying company, its shrinking fan base, as well as underwhelming performance have driven the value of the stock down to a mere inkling of what its past levels used to be over the past 4-5 years.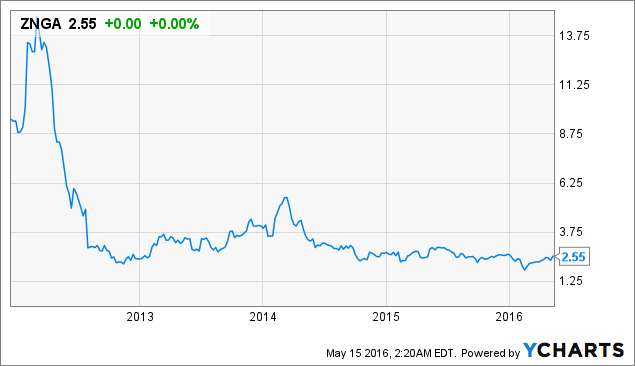 But now, people are now seeing a brighter future for Zynga coming down the line. Why? Their recent quarter has them raving. Supposedly, their results are a sign of brighter things to come.
Some highlights of their results are:
Revenue increased 1.9% YOY to $186.72 million for the quarter, beating the estimates of $162.19 million
Adjusted revenue, or bookings, of $181.63 million was above the company's estimates of the range of $150 million to $165 million
The share of mobile users in the company's adjusted revenue has increased from 73% to 76%. This is important for them, as their computer-based business is known to be not as successful as it once was
Analysts have increased their forecast; they now expect revenue increasing more than 6% this year and almost 12% next year
So this should be great, right? This is all objectively good news.
But it's not good enough. Some are becoming arguably overly jubilant about this company. A recent Seeking Alpha article says that this past earnings release is "ushering in a new growth mode" and is now a strong buy.
I completely disagree. Although the company has enjoyed relative success within the past quarter, that is nowhere near close enough to make up for its past lackluster performance and should, at the very least, be treated with extreme scrutiny before initiating a long position. In fact, on the contrary, it is a very viable candidate for a short.
First off, the current valuation and fundamental factors regarding the company already makes it seem like it is in a position far better than what it really is. Even with the recent earnings release, entering a position with these statistics is risky at best.
The company is projected to have $0.07 of EPS next year currently, putting it at a 38.64x forward P/E ratio. This is far above competitors such as Activision Blizzard (NASDAQ:ATVI) and Electronic Arts (NASDAQ:EA) that have a much more reasonable valuation, at 17.98x forward P/E and 18.47x forward P/E, respectively.
Data acquired from finviz on 5/15/16
Zynga also has negative management effectiveness ratios, whereas the industry average has positive values.
| | | | |
| --- | --- | --- | --- |
| Subject | Return on Equity | Return on Assets | Return on Investment |
| Zynga | -5.72% | -4.80% | -5.44% |
| Industry Average | 9.35% | 4.54% | 7.36% |
Data acquired from SunGard on 5/15/16
Granted, the values for the industry average aren't really anything to really cheer for, but the fact remains that currently, the management at Zynga are failing to generate desirable results that are at the very least in line with the industry average on their operations and business model. That should raise a significant red flag for potential investors.
Lastly, an important highlight is their shoddy profit margins.
Zynga has a -15.2% Operating Margin and a -13.2% Profit Margin.
Given that Zynga likely will not be able to change the prices for the virtual goods they do charge by a significant margin without serious drop in demand, the current status of their business model is quite rocky. They will either need to cut variable costs significantly, which is what they are trying to do, or substantially increase the volume of revenue coming in.
Now, another thing that people should still realize is that this past earnings release definitely did not heal all of the wounds that have been inflicted onto Zynga. It's not like they are suddenly poised to grow substantially and turn their past completely around just like that.
Average monthly users still declined a whopping 32% year over year to 68 million, and average daily active users dropped 21% year over year to 19 million. Those numbers should worry even the most optimistic of Zynga investors; how can you expect them to become a burgeoning growth prospect if their core fan base is shrinking?
The company themselves have even said in their quarterly earnings report on June 30, 2015,
Our financial performance will continue to be significantly impacted if we continue to lose users. If we fail to sustain the number of our paying players, if the rates at which we attract and retain players declines or if the average amount our players pay declines, our business will continue to decline and our financial results will suffer."
And on the note of their year-over-year performance, their past record leaves so much to be desired.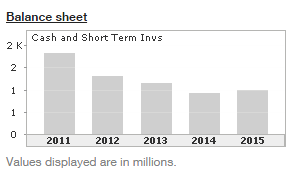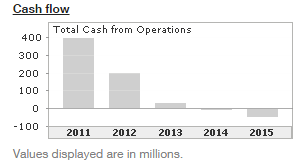 Data acquired from SunGard on 5/15/16
Their balance sheet and cash flow statement shows shrinking cash levels as well as the ability to generate more cash, respectively. They have been running out of available leverage to create blowout games and improve their fan base. It should be remembered that this is a company that has been and needs to continue growing their business by expanding their lineup of games. This can only be achieved through spending their current shrinking cash reserves or taking on debt because...

Data acquired from SunGard on 5/15/16
Their revenue sources have been shrinking and their net income has been negative for years. They are not in a position where they can use the income from yearly operations to invest towards new games and revenue sources.
This could very well be a situation spiraling out of control.
There's still many more problems associated with Zynga.
Advertising, which a significant source of their incoming user stream is rapidly becoming more and more costly as other developers and online presence are struggling to initiate themselves into the marketplace. The Cost per Impression and Cost per Click for Facebook (NASDAQ:FB) Ads as well as Mobile Ad Services are growing quickly, which will cut into their ability to market their games to their target market.
Facebook has also already revamped their user experience to block out the annoying notifications people would get from their friends regarding social games like Zynga's, in which they would be asked to check out their friend's farms or water their crops. This also has severely decreased the ability for Zynga's games to circulate around friend circles.
They have also had to deal with decreasing margins, as well as the unpredictable nature of the gaming community in which some games that rapidly go viral, seeming as if everyone is playing them, fall off in popularity just as quickly. Games they acquired from other companies such as Words With Friends isn't making as much money for them as they anticipated. Draw Something declined staggeringly in popularity after acquisition, causing Zynga to have to bear a loss of nearly $100 million.
These factors, along with the backlash they have faced from the gaming community with regards to the implementation of their addictive freemium business model, should leave investors apprehensive. Many people are becoming frustrated with their style of development, and are moving back towards games that are "pay once and never again." This can be evidenced by, again, the drop off in their users previously evidenced.
Zynga is not a stock to buy right now. If anything, it should be a viable candidate as a short position once the ill-advised positive momentum from their recent earnings report subsides. The main reason why they were able to get the recent results that they did was by cutting costs, not by innovating and increasing their business. This is a spotty plan that will be sure to have its fair share of negative repercussions down the line.
Disclosure: I/we have no positions in any stocks mentioned, and no plans to initiate any positions within the next 72 hours.
I wrote this article myself, and it expresses my own opinions. I am not receiving compensation for it (other than from Seeking Alpha). I have no business relationship with any company whose stock is mentioned in this article.