By Contributing Analyst Maxwell Parker
I recently wrote an article on Ryanair Holdings RYAAY, in which I discussed company growth and opportunities for expansion in the future. While I still believe that Ryanair is fundamentally strong, and will continue to succeed, it is important to note the implications a Brexit could have on the company.

Image source: Ryanair.
Ryanair currently flies over 35% of its passengers to and from the United Kingdom. With such a reliance on traffic from the UK, Brexit is a viable concern. If the UK is to depart from the European Union, strain will be placed on UK airlines through a reduction of investment in bases and airlines throughout the UK. This will negatively affect airlines like Ryanair and its competitor EasyJet, who are looking to aggressively expand operations throughout the region. Foreign investment is likely to be lost to countries like Ireland and Germany, if the UK is to leave the EU. This could offer additional opportunities for those speculating where that money may land.
A UK exit from the EU would certainly hinder air fare pricing and traffic. Extreme volatility would likely follow a Brexit and place downward pressure on airline pricing. CEO Michael O'Leary believes the pricing impact will be short-term, lasting between six to 12 months. Although a Brexit will place temporary strain on the company, management has stated that they will cut investment in the UK and look to invest in other areas of the European Union. This could ultimately pay off for Ryanair long-term if they are able to capture market share in other parts of Europe, while the UK sorts itself out. However, O'Leary strongly feels that remaining in the EU is in the best interest of the UK and airlines in the region:
As the UK's largest airline, Ryanair is absolutely clear that the UK economy and its future growth prospects are stronger as a member of the European Union than they are outside of the EU. Leaving Europe won't save the UK money or red tape because like Norway the UK will still have to contribute to Europe, and obey its rules if it wants to continue to trade freely with Europe, so it's clear that UK voters should vote Yes to Europe and Yes to the reformed Europe, that David Cameron has delivered. Ryanair, our people and I hope the vast majority of our customers, will all work together over the coming months to help deliver a resounding Yes vote on June 23rd. —Ryanair CEO Michael O'Leary
It's clear that the fear of a Brexit is causing concern for airlines like Ryanair and EasyJet. However, management of Ryanair has proven many times to be one step ahead with a solid contingency plan. Whether it came in the form of terrorist attacks or government regulation, Ryanair hasn't folded. With this in mind, Ryanair should be capable of navigating the muddy waters that a UK departure would create. O'Leary is a strong leader who is willing to innovate to provide value to shareholders. With that being said, investors should proceed with caution and continue following developments on how the Brexit vote will play out.
Growth Remains Strong
Despite the noise surrounding the Brexit, Ryanair has continued to impress in 2016 with strong passenger growth and load factor thus far: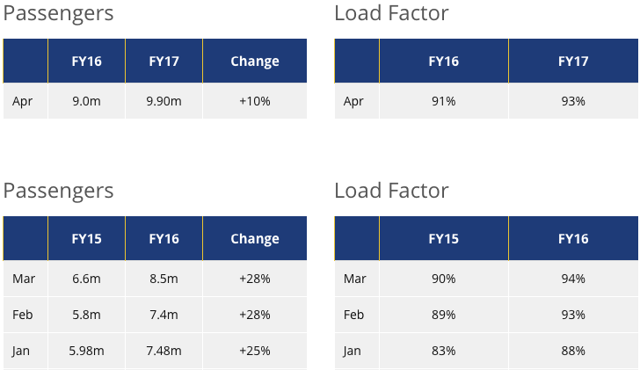 Source: Ryanair Investor Relations.
Ryanair share price has slid over 10% of late and is currently trading at a P/E (NYSE:TTM) of 11.98. This is offering good value for investors willing to take on the additional risk and take a stake in a fundamentally strong company with good growth prospects. I strongly encourage readers to pay close attention to the developing prospect of a Brexit and to take a long hard look at their portfolios as well. Impact of this event could extend further than initially meets the eye, so keep both eyes open!
Disclosure: I/we have no positions in any stocks mentioned, but may initiate a long position in RYAAY over the next 72 hours.
I wrote this article myself, and it expresses my own opinions. I am not receiving compensation for it (other than from Seeking Alpha). I have no business relationship with any company whose stock is mentioned in this article.