Apple's (NASDAQ:AAPL) $1 billion investment in the Chinese ride sharing service Didi Chuxing demonstrates the fallacy of a central bear argument, that Apple's $233 billion in cash is mostly useless because it's offshore. On the contrary, Apple is a global company that can find many uses for its off shore cash, offshore. Apple has only begun to flex its financial muscle.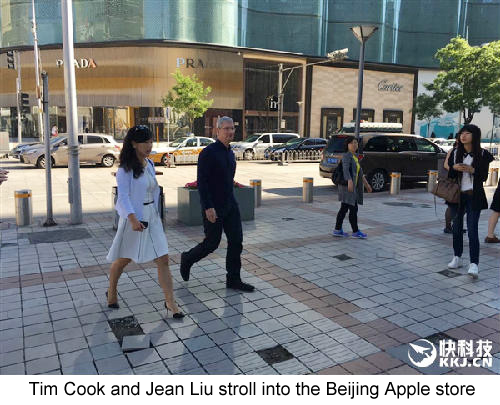 Source: Apple Insider
Big and Agile
The investment also lays to rest the notion that Apple, because of its size, must necessarily be slow to the point of dim-witted. Bloomberg reports that the deal was completed in 22 days. Didi president Jean Liu said:
The whole deal closed in lightning speed. We were very impressed by Tim. He's an amazing, iconic leader.
That's probably the nicest thing anyone has said in a long time about Tim, who has had to take more than his share of verbal abuse following the March quarter earnings report. In my article on the report, Apple: The Sleeping Giant Goes To War, I pointed out that Apple intends to fight back against its competitors such as Samsung (OTC:SSNLF), rather than allow itself to be pushed back into niche status.
This is a war that will be fought on many fronts. Besides becoming more price competitive (through the iPhone SE and probably subsequent iPhone models), Apple clearly intends to deploy its cash for maximum competitive advantage.
It's not necessarily easy for Apple to find investments. I often see suggestions that Apple should buy this or that company, but Apple only buys companies that want to be bought. And Apple has steadfastly avoided investing in companies with sky-high valuations. So companies that are still private, such as Didi or Beats, represent much better entry points for Apple.
Strengthening Ties
What does investing in Didi bring to Apple? Part of it is an attempt to mollify the People's Republic of China (PRC) government. It's the sort of "give back to the community" investment that goes over well in China. Despite loosening its control over the Chinese economy and welcoming limited foreign investment, the PRC is still extremely sensitive about exploitation by foreign companies.
In the period prior to World War II, China virtually ceased to exist as a sovereign nation, with various parts of it controlled by Japanese and European interests. This bitter history will always weigh on the minds of the PRC leadership.
In this context, it's understandable that foreign investments are usually limited to joint ventures, and the Didi investment fits the bill nicely. It's not clear how much of an interest Apple's $1 billion bought, but it's probably less than 25%.
Didi is backed by Alibaba (NYSE:BABA) and Tencent (OTCPK:TCEHY). Other investors include DST, Tiger Global Management, SoftBank Group (OTCPK:SFTBF), and Temasek Holdings, according to Bloomberg. With Apple's contribution, Didi has raised $3 billion in its latest round of funding.
In addition to strengthening economic and cultural ties between China and Apple, Apple gets a very significant augmentation of its marketing presence in the PRC. Didi is dominant in ride-hailing apps with an estimated 87 percent market share, but it also offers taxi hailing, bus and chauffeur services and even auto financing. The Didi app is the second largest platform for online transactions in China. One can easily see this becoming an advertising platform for Apple brand awareness and products.
Car Connection
Much has been made of the connection between ride sharing services such as Didi and the emerging technology of autonomous vehicles. Since Apple Car has become an open secret, there seems to be a natural connection.
It's easy to conceive of ride sharing services transforming into fleets of autonomous vehicles. I'm actually skeptical that this will fundamentally change the model of personal vehicle ownership. I think people will still want their own cars as soon as they can afford them, and the fact that future cars will include an automated chauffeur just makes them that much more desirable.
What I expect ride sharing services to do is what they are already doing, which is fundamentally transforming public transportation. In this they can be expected to be very important, especially in highly congested urban areas. From the standpoint of Apple, such fleets of autonomous vehicles become a ready market for the Apple Car.
The investment in Didi may provide a clue as to where Apple Car will be produced. I've said for some time that Apple needs a manufacturing partner for the Car. Given what a financial basket case Tesla (NASDAQ:TSLA) is becoming, I'm even more certain that Apple will look to a global supplier such as Magna International (MGNA) for basic manufacturing services. Magna has considerable presence throughout Asia.
Investor Takeaway
The Didi investment shows that Apple will not be shy about employing its cash to best advantage. Apple will continue to invest in foreign retail stores, and in capital equipment for manufacturing partners such as Foxconn and TSMC (NYSE:TSM). Other foreign acquisitions and investments will be on the table. Apple will continue to open overseas R&D centers, such as the reported Yokohama, Japan facility.
I believe Apple bears have chosen to underplay the impact of Apple's capital resources, because it just doesn't fit the "Apple in decline" narrative. It's also hard to quantify how that advantage plays out. How does the Didi investment translate into improved sales in China? It may be difficult to deduce an answer.
But I believe it will be beneficial, and Apple can engage in many of these kinds of investments. It's almost pocket change compared to the cash pile. So they don't all have to yield remarkable growth in the near term.
Apple is investing for the long term. Apple is for long-term investors, such as Berkshire Hathaway (NYSE:BRK.A) (NYSE:BRK.B), with a 3-5 year investment horizon. I remain long Apple.
Disclosure: I am/we are long AAPL.
I wrote this article myself, and it expresses my own opinions. I am not receiving compensation for it (other than from Seeking Alpha). I have no business relationship with any company whose stock is mentioned in this article.
Editor's Note: This article discusses one or more securities that do not trade on a major U.S. exchange. Please be aware of the risks associated with these stocks.