Are you looking for somewhere to hide while you wait out the retail bloodbath? Finally convinced Amazon will shut down the malls for good?
Welcome to the industrials, where companies old and new toil tirelessly to make the products that help the world go round — and they're rarely recommended to you by algorithmic emails.

Ametek (NYSE:AME) is an industrial conglomerate with a multitude of businesses and products, but it focuses its efforts on electronic instruments and electromechanical devices.
2015 results
Ametek's 2015 results are a mixed bag with mostly good results on various financial metrics. While revenue was down slightly, operating income, net income, margins, and most other metrics were still moving in the right direction.
Revenue for 2015 was double 2009 revenue as you will see later in this article when we review past results.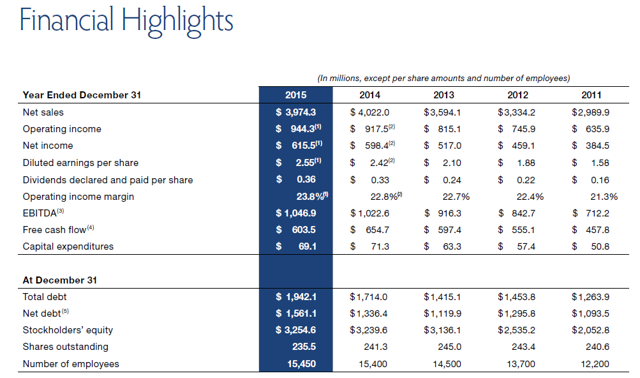 However, I am very skeptical of the organic revenue growth at the company, and it looks like most growth has come from acquisitions.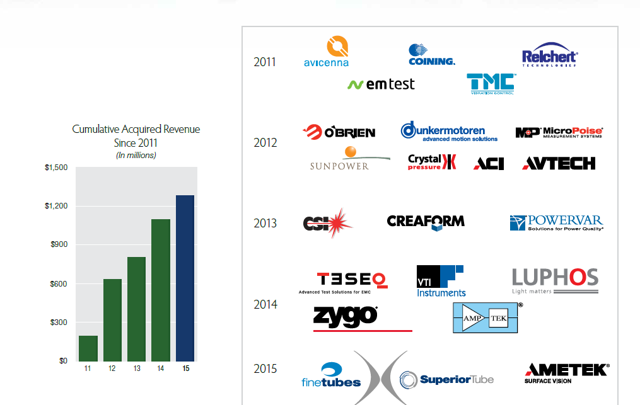 Moving on to the balance sheet, the biggest thing that stands out for me is that amount and ratio of goodwill. As we talked about above, the company is fairly acquisitive — some might even label it a "rollup" — although it has many legacy businesses that has been around for decades.
Goodwill results from buying a company above book value, and although it is entirely non-cash in nature, it can distort the balance sheet and, when written off due to lackluster operating results, can leave the a pile of debt that suddenly looks much more menacing.

As you can see, goodwill is 41% of total assets. Long term debt at $1.5 billion doesn't look so bad, but when you compare it to actual, hard assets and remove intangibles and goodwill, the picture is a lot different.
One aspect I like about Ametek is it has low capex requirements to maintain the business.
Capex for 2015 came in at only 10.27% of operating cash flow. The company spent more on interest payments, amortization, and a host of other things than they did on capex. As an industrial and a company that focuses on goods rather than services or software, this is a shockingly low capex.
This could also be construed as a negative or simply a sign that the company does not grow through investment and has instead focused that FCF on acquisitions instead of capex.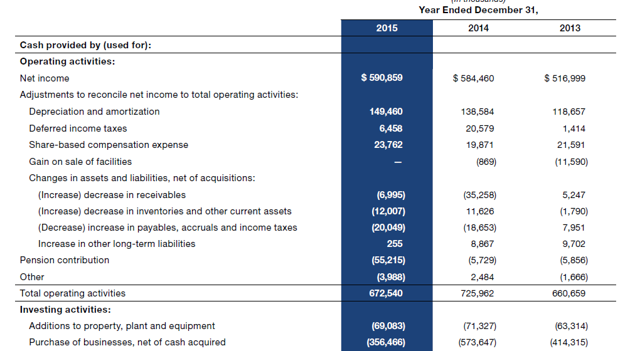 For contrast and context, Union Pacific (NYSE:UNP), a leading railroad, spent 63% of their operating cash flow on capex. Railroads are one of the most capital-intensive sectors in this respect, so that provides some context for the typical range and these numbers.
That being said, this is of course one of the reasons why the company can acquire so much. You can see the difference there in the investing activities section above.
What this means is that the integration, selection, price, and the general management of all of these acquisitions and future ones is absolutely integral to how Ametek does going forward.
Medical Exposure
Medical devices and other related products now account for 10% of Ametek's revenue. This was virtually none exist just 10 years before and is a stark shift for the company.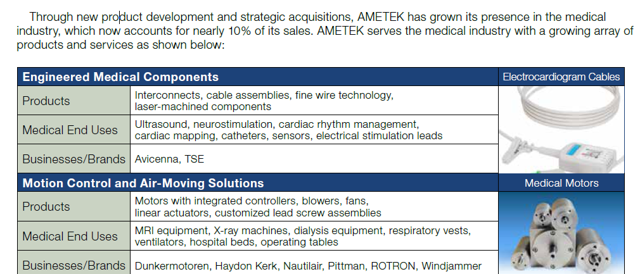 I personally like this development. Even if the healthcare field experiences costs cuts and more scrutiny in the near term, long term it is certain to keep growing at a pace quicker than overall GDP.
Many developed countries have aging populations. In those with the most young people, like India and China, Ametek has a tiny presence comparatively.
I also think there is further room for the company's active acquisition strategy to do well in this segment. According to Market Realist, in the US, which is the leader in the medical device industry, there are more than 7,000 firms selling devices of one type or another.
Many of these are small to medium-size companies of just the type and size Ametek likes to acquire.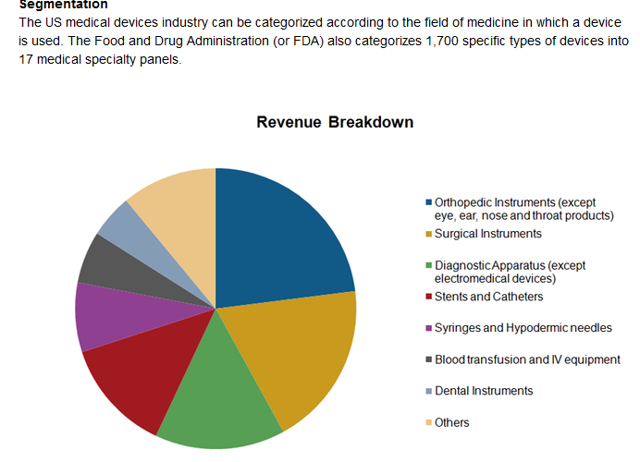 Financial Crisis Results
When a company looks too good to be true, or may be cyclical in nature, I look at its results from tougher times to see how the company handled things.
The best place to look is back in 2008/2009 and while you can expect results to decline across the board, I have found it instructive to see what happened in detail as a rough indicator of what could happen through future cycles.
A first positive sign is that Ametek kept its dividend level during '08-'09, when many companies cut or eliminated.

Results from 2009-2005 can be seen below: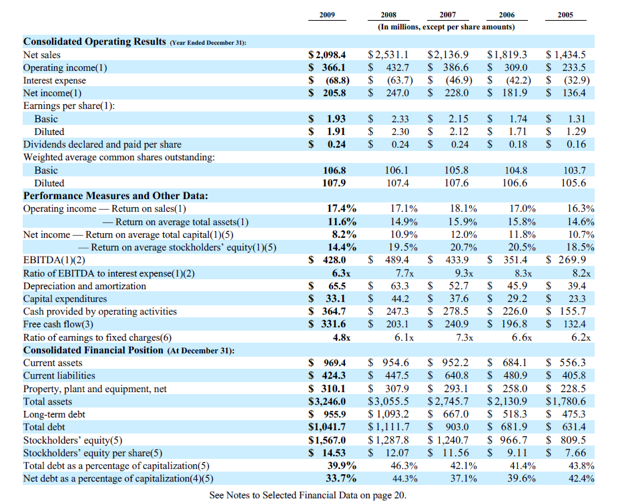 Sales fell 17% in 2009, returned to levels seen two years prior. Net income slumped 16.6%. Key metrics like ROA and ROE fell as well.
What stands out for me is that debt did tick up marginally over the Financial Crisis, but was very modest compared to increases seen before from 2006 to 2007. This indicates to me that management did not try to borrow their way out of a hole at a time when it might have been costly to do so.
I have seen many companies that had a unprofitable year in 2009 sandwiched between great results for the prior 5 years and the subsequent 5 years. The fact that Ametek was able to show fairly robust, although reduced numbers, during 2009 is encouraging.
The company also has room to cut costs when it needs to as SG&A expenses fell 21.2% in 2009 versus 2008.
Valuation
As of publication, Ametek trades at $47 per share on earnings of $2.46 for the current year and $2.65 expected for next year. This puts the TTM PE at 19.1, around the S&P 500 average.
The company is clearly not focused on the dividend, with a payout ratio of 14.81% and an erratic pattern of paying flat for many years and then raising 17% in 2014.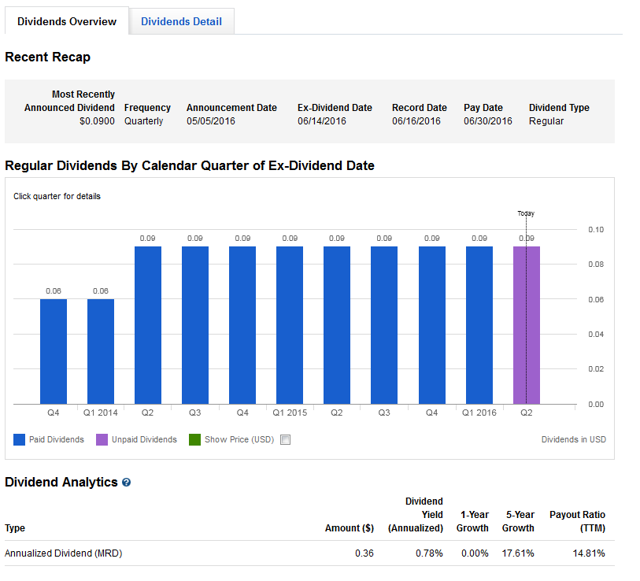 Ametek is trading at a price to book of 3.31 and price to sales of 2.80.
The Vanguard Industrials ETF (NYSEARCA:VIS) shows a P/E TTM of 18.44, a P/B of 3.47, and a P/S of 1.41.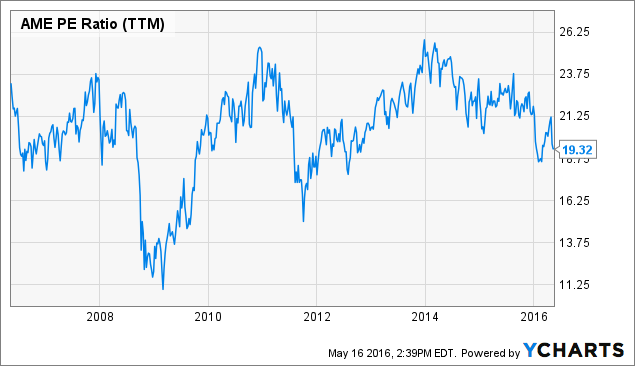 AME PE Ratio (NYSE:TTM) data by YCharts
Ametek appears fairly priced here, although I struggle to make a compelling case for immediate action, given other industrials with similar or higher qualitative attributes are trading at similar or lower valuations.
Is it worth it to pay up slightly for 3M's (NYSE:MMM) pedigree? General Electric (NYSE:GE) trades at a similar ratio, although its transformation leaves some uncertainty. Many other cyclicals that may be on the upswing, like Caterpillar (NYSE:CAT) and Cummins (NYSE:CMI), appear cheaper than Ametek.
Another industrial that is interesting here is Stanley Black & Decker (NYSE:SWK), which is priced similarly but is less cyclical and has a much better yield and dividend priority, although the two are in completely separate businesses.
Conclusion
Overall, Ametek appears to be a solid company, but its valuation does not move me to action, as I worry that the reliance on acquisitions, and the risks they entail, such as overpayment and integration, caution me to want some degree of safety when investing in the firm.
At the current fair valuation, I do not see that present and will likely wait for hysteria to hit, then revisit Ametek to see if that safety is there.
Disclosure: I am/we are long SWK, UNP, CAT.
I wrote this article myself, and it expresses my own opinions. I am not receiving compensation for it (other than from Seeking Alpha). I have no business relationship with any company whose stock is mentioned in this article.