It has been demonstrated over and over again that active mutual fund managers within the United States have had a very difficult time outperforming their respective benchmarks over reasonable time periods. Theoretically, this would be justified in competitive financial markets. But is this simply an anomaly found within the US, which happens to have the biggest fund market in the world?
In short, the answer is "no." Other fund management industries across the world that are susceptible to the same competitive forces should theoretically find themselves coming to the very same conclusions. But theory without empirical evidence is simply an idea or model of how the world works, not proof. Fortunately for investors and investment professionals alike, the empirical studies have extended beyond the borders of the US.
S&P Dow Jones Indices is well known for their SPIVA (S&P Indices Versus Active) scorecard. Twice a year, S&P Dow Jones produces a report that shows the performance of active funds versus indices over multiple time periods and across asset classes. One of the more important features of their scorecard is their ability to control for survivorship bias, which can be rampant in databases and therefore skew the results of any fund industry comparison. While results look "okay" for shorter time periods, once we extend to 5- and 10-year performance periods, the results are atrocious for the active fund industry.
In the US, for example, 83.18% of all domestic funds underperformed their benchmark for the 10-year period ending 12/31/2015.1 The most successful asset class was US Large Cap Value, which only saw 61% of active funds underperform the S&P 500 Value Index. Still, the vast majority lost. Further, only 60% of all domestic funds survived the entire 10-year period. That is almost 1 in every 2 funds that failed to last the entire period. Makes you think twice before committing large sums of money to any particular active manager for a long period of time.
This phenomenon is not just specific to the US equities market. The pie charts below show the 10-year statistics for percentage of active funds outside the US that have underperformed their respective indices.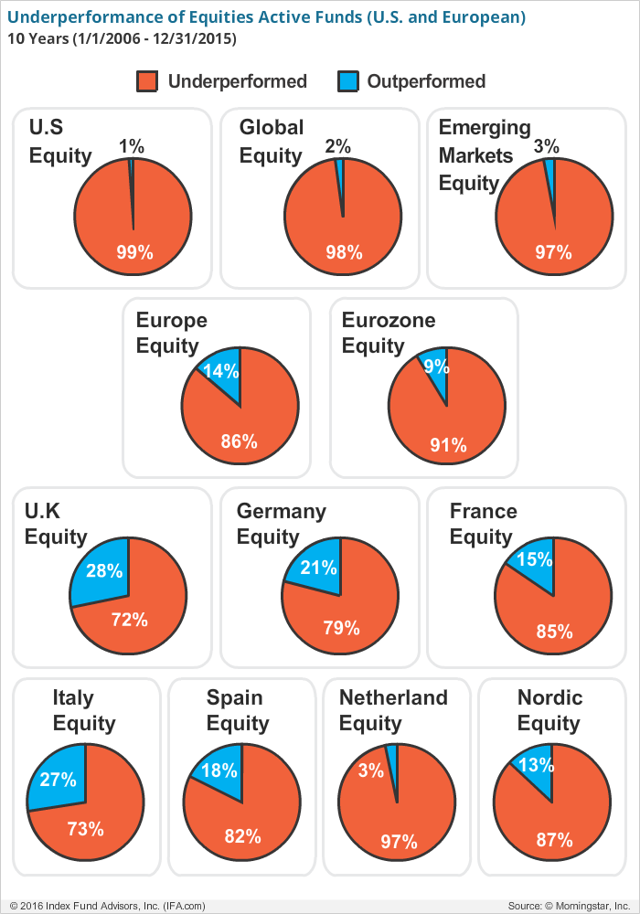 As you can see, the majority of active funds that cover the eurozone as a whole, the emerging markets and the United States failed to outperform their respective indices over the 10-year period ending 12/31/2015.2 These particular results are based on funds denominated in euros. The same relationship holds for funds denominated in other local currencies.
It goes without saying that any investment advice should be based on principles that have not only been demonstrated empirically, but are robust across different markets around the world. The failure of active management is not specific to the US. International markets are not immune to the principles of competition and market efficiency. I recommend that you stay clear from this casino.
---
[1] S&P Dow Jones Indices. SPIVA US Scorecard: Year-End 2015. McGraw Hill Financial. http://us.spindices.com/resource-center/thought-leadership/research/
[2] S&P Dow Jones Indices. SPIVA Europe Scorecard: Year-End 2015. McGraw Hill Financial. http://www.spindices.com/documents/spiva/spiva-europe-year-end-2015.pdf
Disclosure: I/we have no positions in any stocks mentioned, and no plans to initiate any positions within the next 72 hours.
I wrote this article myself, and it expresses my own opinions. I am not receiving compensation for it. I have no business relationship with any company whose stock is mentioned in this article.