This earnings season has seen some disappointments in the retail sector. Investors will get more guidance, and another read on consumer sentiment, from the sector as a handful of big-box stores ready to report this week. Target (NYSE:TGT), in the midst of a restructuring, opens its Q1 books ahead of the bell Wednesday. How well have its efforts to revive its core categories of baby goods, home, and apparel gone?
In the last quarter, TGT reported that sales in style, babies, kids, and wellness with its partnership with SoulCycle, increased by more than three times the company average. Was that sustainable? And what about e-commerce, a key sales area that TGT has hopes of driving higher by 40% in the long term? Are sales on track?
Based on analysts' estimates, it appears TGT may be squeezing more profit out of declining revenues. Remember though that TGT's revenues no longer include its pharmacy and clinic business, which it shipped out to CVS late last year. For the quarter, many analysts polled by Thomson Reuters are pegging earnings per share at $1.20, a 9% jump over the year-ago earnings. Revenues are projected to fall back nearly 5% to $16.32 billion.
Short-term options traders have priced in a potential 4.5% share price move in either direction around the earnings release, according to the Market Maker Move indicator on the thinkorswim®platform by TD Ameritrade.
Going into earnings the 74- strike puts were active among many options traders. Volume is light on the call side. The implied volatility is at the 50th percentile. (Please remember past performance is no guarantee of future results.)
Note: Call options represent the right, but not the obligation, to buy the underlying security at a predetermined price over a set period of time. Put options represent the right, but not the obligation, to sell the underlying security at a predetermined price over a set period of time.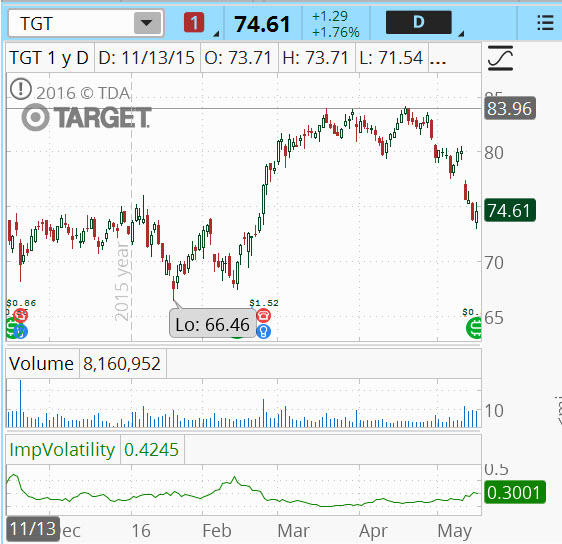 Figure 1: TARGET STOCK TRADING LOWER INTO EARNINGS. TGT's stock trended lower in the last week along with the broader retail sector. Chart source: thinkorswim® by TD Ameritrade. Data source: Standard & Poor's. Not a recommendation. For illustrative purposes only. Past performance does not guarantee future results.
TD Ameritrade® commentary for educational purposes only. Member SIPC. Options involve risks and are not suitable for all investors. Please read Characteristics and Risks of Standardized Options.
Disclosure: I/we have no positions in any stocks mentioned, and no plans to initiate any positions within the next 72 hours.
I wrote this article myself, and it expresses my own opinions. I am not receiving compensation for it. I have no business relationship with any company whose stock is mentioned in this article.