A reader has recently asked me if Cliffs Natural Resources (NYSE: CLF) will survive if it was forced to close its Australian operations due to oversupply of iron ore in the seaborne market. I decided that this will be an interesting topic to discuss.
Is the scenario realistic?
In my view, serious downside pressure can return to the iron ore market. Several bearish catalysts may emerge. The first one is the softness in China. I've seen many articles arguing pro et contra Chinese growth.
The situation is complicated by the fact that it's difficult to put full trust on the official Chinese statistics. Official PMI was 50.1 in April. At such level, you can't tell whether there is expansion or contraction in China.
One important market - copper - tells us the situation remains worrisome. I am not telling you that Chinese activity will fall through the floor, but such a scenario should be taken into account and the bearish thesis has some valid arguments.

The second possible catalyst is the strength of the dollar. I've recently discussed the possibility of stronger dollar in "Potash Corp.: Is This A Buy Point?" and I don't want to repeat myself here. In short, dollar strength may break the back of commodity rally and will surely push iron ore prices down.
The third catalyst is additional supply. Majors Rio Tinto (NYSE: RIO), BHP Billiton (NYSE: BHP) and Vale (NYSE: VALE) have recently become cautious about their iron ore expansion plans.
However, Vale has S11D that starts at the end of the year and the words of others should be tested by real results. Perhaps, the multi-year destruction of value has finally convinced the majors to make a serious shift in their policies and forget the "lower end of the cost curve" mantra. By the end of this year, we will know if they were eager to learn.
The combination of all three catalysts will crush iron ore prices. Once again, I am not stating that this will happen in reality. I am just telling that the scenario is realistic so there is practical sense to evaluate it.
How low should iron ore prices go to knock Cliffs' Australian operations out of the game?
In the recent quarterly report, Cliffs Natural Resources gave its pricing guidance for U.S. and Australian segments.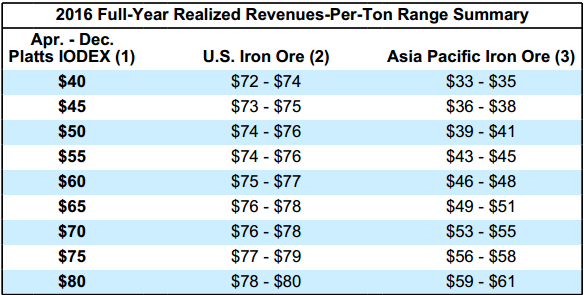 However, due to the recent upside on the iron ore market as well as the steel market, this guidance did not include the catastrophic scenario. To get a better feel of really bad numbers, we will have to go to the company's fourth-quarter report, where it presented pricing expectations for $30 iron ore.

In my view, $30 iron ore closes Cliffs' Australian operations. The company's current cash cost of goods sold expectations for the Australian segment are $30 - $35 per ton. While Cliffs will likely operate Australian mines at $35 iron ore to get a feel whether the downside is temporary, the $30 iron ore is just too low to tolerate it.
Let's shut down Australian mines
So, it's time to shut down Australian mines for the sake of our example. In this scenario, Cliffs continues to supply 17.5 million tons at costs of $55 per ton (I am rather optimistic on the cost side due to company's track record under Lourenco Goncalves' leadership). Revenue per ton drops to $70, and the margin shrinks to $15. At 17.5 million tons of sales, the company has $262.5 million of cash to pay for interest, capital expense and SG&A.
Current annual cash interest run rate is $185 million. The cash portion of SG&A this year is expected to be $70 million, while the capital spending budget is $50 million if we exclude the super-flux pellet project which will be funded this year.
In our scenario, we are already losing about $42 million per year. While one could expect further cost cuts if things get really dire, I will not be merciful to Cliffs in this example and will live the number as it is.
There is one important thing to think about. How fast do iron ore prices get to $30 if things go really south? Surely, this can't happen overnight, so Cliffs will have the time to enjoy higher prices and build some cash cushion before Australian mines become a drag on the bottom line.
The most important problem is debt.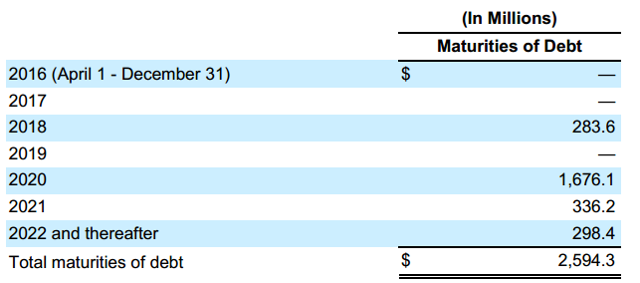 Cliffs has to meet the maturity in 2018 and then a debt wall in 2020. If iron ore prices fall, Cliffs won't be able to use money to repurchase debt on a discount and will have to refinance debt due in 2018.
In my view, if iron ore prices stay at $30 through 2018, Cliffs will need restructuring, although it can try to raise money and hope for a fast rebound before 2020, when it will have to refinance the debt again.
The good news
The good news is that after a multi-year bear market in iron ore, any dip to $30 will likely be temporary. This is too much pain for most producers.
Also, the scenario above requires a perfect storm for Cliffs and does not take into account any proactive steps by the company.
Cliffs is not a bullet-proof investment and has not been such in recent years. There is a scenario when the company goes belly-up, and that's what creates wild swings in the company's shares - and the opportunities for those willing to take risks on both sides of the trade.
Disclosure: I am/we are long CLF.
I wrote this article myself, and it expresses my own opinions. I am not receiving compensation for it (other than from Seeking Alpha). I have no business relationship with any company whose stock is mentioned in this article.