Introduction
A few months ago, as the Bank of Japan tiptoed into the murky waters of negative interest rate policy, I explored the possibility that NIRP was perhaps good for the global economy in the long-run (Why NIRP Is A Coming Global Reality And Why It's Good For The Global Economy). Probably in line with the reasoning of most central bankers, I understood that a negative nominal DFR (deposit facility rate) would have negative consequences on banks' profitability and lending, but as long as the move stimulated higher output and inflation via the portfolio substitution effect, it would be worth it in the end. However, nominal negative rates are having far worse consequences on the financial system than I previously expected, especially as it relates to the so-called "shadow banking" sector (i.e. OTC derivatives, swap agreements, etc.).
Latest Policy Rate (basis points)
(as of March 2016)
Lending Rate
Main Policy Rate
Deposit Facility Rate
Danish National Bank
5
0
-65
European Central Bank
25
0
-40
Swiss National Bank
50
-
-75
Swedish Riksbank
25
-50
-125
Bank of Japan
10
0
-10
Hungarian National Bank
145
120
-5
Using the experience of the Europeans and the Japanese, we can see the true effects of negative interest rate policy in application rather than as theory. And it is not pretty. Ask any hedge fund manager in Japan or banker in Europe - financial imbalances and dysfunctions are only getting worse. Take one consequence of negative rates: that swap/repo rates have been driven into the negative.
How are banks supposed to make swap agreements or fund managers supposed to hedge out interest rate exposure when floating-rate repayment rates are not allowed to be below zero but actually are? Pension plans/trusts in the AEs (advanced economies) already have enough trouble meeting their liabilities, but if we lose the ability to conduct swaps, we lose a critical function of LDI (liability-driven investment).
Even some scholars at the Bank of International Settlements and International Monetary Fund are concerned that negative interest rates are having the opposite intended effect, that is, that they are actually destroying lending, creating more financial imbalances, and exacerbating deflationary conditions rather than fighting them.
Domestic monetary policy regimes pay little attention to the build-up of financial imbalances: their main focus is inflation but, as has become abundantly clear, the imbalances can grow even if inflation is low and stable. This easing bias then spreads from the core economies to rest of the world, regardless of their domestic conditions.

-- Claudio Borio, Head of the BIS Monetary and Economic Department
One needs to merely look at the price performance of the stocks of major financial institutions in the U.S., Japan, and Europe or the global investment demand for gold to see how investors feel about everything going on, and investor behaviour/psychology is a potent force regardless of how policymakers feel about it.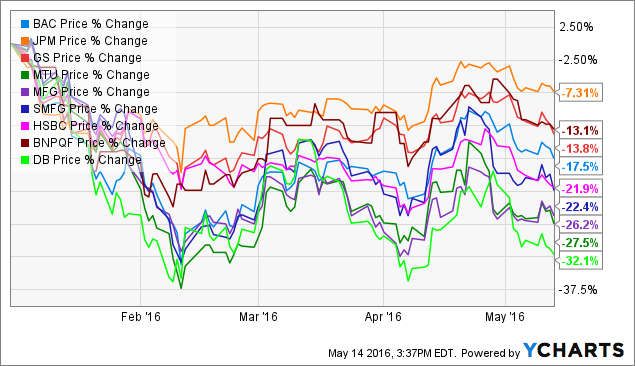 The funny thing is: even though the U.S. is nowhere near resorting to negative rate policy yet, Federal Reserve Chair Janet Yellen simply talking about the possibility of utilising NIRP in the future is enough to get investors in the U.S. skittish about bank stocks, such Bank of America (NYSE:BAC), JPMorgan (NYSE:JPM), and Goldman Sachs (NYSE:GS).
...we certainly are trying to learn as much as we can from the experience of other countries. That said, while I would not completely rule out the use of negative interest rates in some future very adverse scenario, policymakers would need to consider a wide range of issues before employing this tool in the United States, including the potential for unintended consequences.

-- Janet Yellen
Unintended consequences, indeed.
Europe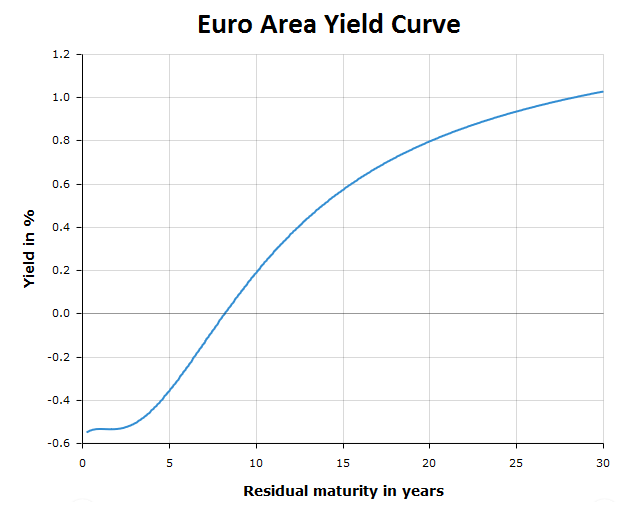 (Source: ECB)
In the Eurozone, the main impact of negative rates has been on the profitability of Euro banks, such as HSBC (NYSE:HSBC), BNP Paribas (OTCQX:BNPQF), and Deutsche Bank (NYSE:DB), via net interest margin and on corporate bond yields.
According to the ECB, net interest income accounts for ~51% of a bank's profitability, so any decrease in said income would have significant impact on the institution's bottom line. In the Euro Area Bank Lending Survey for Q1 2016 by the ECB, banks were asked to consider the direct and indirect effects of specific monetary policies, such as the Asset Purchase Program or the Negative DFR:
27% of Euro Area banks indicated that their liquidity situation had improved over the past six months (up from 23% in the October 2015 survey) and expect this to continue over the next six months
A net percentage of 81% of Euro Area banks reported a decline in their net interest income over the past six months. This impact is expected to increase to a net percentage of 85% over the coming six months.
Regarding the impact of the DFR on loans to enterprises, a net percentage of 45% of Euro Area banks indicated a decline in their lending rates over the past six months. At the same time, a somewhat lower net percentage (27%) of Euro Area banks indicated a decline in their loan margin for these loans.
Regarding the impact of the DFR on loans to households for house purchase, a net percentage of 49% of Euro Area banks indicated a decline in their lending rates over the past six months, while a net percentage of 33% indicated a decline in their loan margin.
While the asset purchase program has improved liquidity somewhat, negative rates have had a far more severe impact, especially on profitability and lending.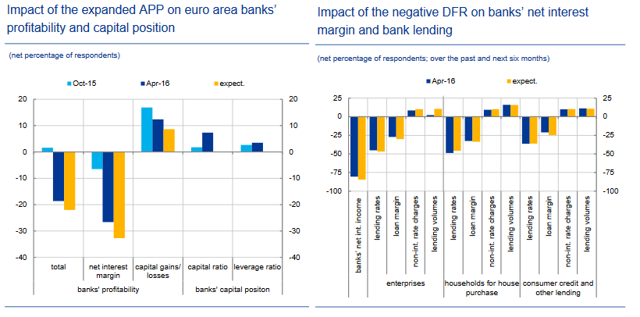 (Source: ECB Bank Lending Survey)
As for corporate bond yields, the ECB's policies are having their intended effect, i.e. the suppression of yields and the stimulation of corporate lending. As the Wall Street Journal reported in March, corporate bonds in the Eurozone periphery reached their lowest yield to maturity ever on March 29th at 0.76%, in a massive buying spree before the ECB had even bought a single bond.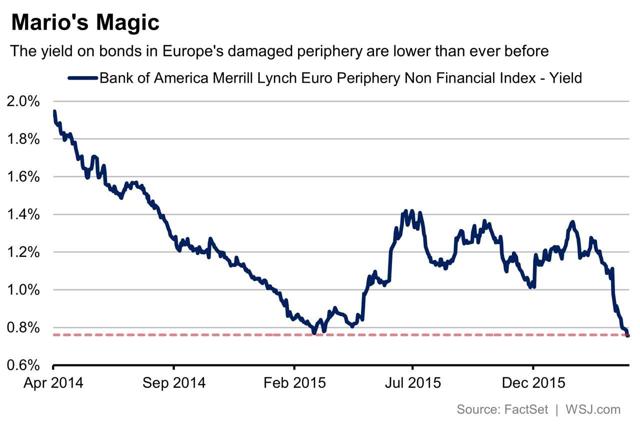 (Source: Wall Street Journal)
The question is: when will the corporate bond market become dysfunctional as the money market has? As we see with the money market in Europe and Japan, once investors along with their respective central banks have chased yields to the zero bound, markets experience massive bouts of volatility, illiquidity, and outright dysfunction.
In fact, money-market broker computer systems in Japan were not even ready for the implementation of negative interest rates until over a month after the BoJ decision...
Japan
The experience with negative rates has been far shorter in Japan, as they were only just introduced in February, however, the impact has been just as severe as in Europe. Now, I've already covered the impact of NIRP in Japan at great length in previous articles (Japan And The Toxic Remedy: Is It Working?), however, now that bank earnings season is here, we have even more unsettling data to process. Here are just some of the highlights coming out of Japan's major financial institutions:
Mitsubishi UFJ Trust & Banking Corp. (NYSE:MTU) will start charging mutual-fund managers and pension funds a 0.1% and 0.06% fee respectively on excess cash that it used to invest in the money market.
Sumitomo Mitsui Trust Bank Ltd. (NYSE:SMFG) says it will implement similar fees.
Mizuho Financial Group (NYSE:MFG) expects net profit for the current fiscal year to drop 11% to ¥600 billion because of thin margins at home and economic slowdowns in China and emerging markets. Mizuho said it expected the direct impact on its interest income from negative interest rates to come to around ¥40 billion for the current fiscal year.
As mentioned above, the greatest impact of negative rates has been on the money market system in Japan. According to the Money Broker's Association in Japan, trading volume plummeted after the BoJ introduced negative rates from around ¥20 trillion to ¥5 trillion. Financial institutions, clearing houses, money managers, regular pensioners - everyone is being affected by this. And it's telling that in one of the most technologically advanced international markets, computer systems could not even handle negative rates until nearly a month after.
Gold
With the global financial system buckling under all of this imbalance and dysfunction exacerbated by poor policy, it is no wonder that investment demand for gold, a traditional inverse of financials, has skyrocketed this year. As of May 6th, according to the CTFC, net speculative positions and open interest for gold was at an all-time high, at around +~271k net contracts. Despite actual physical demand for gold (such as in jewelry or electronics) falling and gold price $/oz falling, investment demand has risen 122% this quarter versus Q1 2015. Similarly, demand for ETFs and other products rose over 300% versus the first quarter of last year.

(Source: Reuters)
So-called goldbugs may be having a field day seeing their mining stocks (NYSEARCA:GDX) and gold paper stocks (NYSEARCA:GLD) shoot up, but this trend only makes me more and more concerned about the state of the global financial system; hearing Stanley Druckenmiller at the Ira Sohn Conference tell everyone to sell out of the stock market and buy gold may be music to goldbug ears, but it is nothing to celebrate. This type of investor behaviour is often the pretext for financial crises or worse...Lehman moments such as in 2008.
Conclusion
The advanced economies are leading the world into the financial abyss. By pursuing these desperate measures to jolt output and inflation back to life in Europe and Japan, not only have central banks destroyed the profitability and lending habits of banks, but they have actually exacerbated deflationary conditions across the world. Only two months after its implementation, NIRP has already killed off the bond market, swap markets, and money markets in Japan and, with pension plans already suffering, the situation can only get worse for LDI schemes. Unsustainable credit and asset bubbles are growing as real estate prices and corporate bonds in both Japan and Europe continue to grow far past their fundamental valuations.
And yet, nothing is being done to fix the structural issues that the global financial system faces. While the scholars at the IMF debate about the theoretical solutions, nary an actual politician or policymaker has the guts to step up and address these mounting imbalances.
Disclosure: I/we have no positions in any stocks mentioned, and no plans to initiate any positions within the next 72 hours.
I wrote this article myself, and it expresses my own opinions. I am not receiving compensation for it (other than from Seeking Alpha). I have no business relationship with any company whose stock is mentioned in this article.
Editor's Note: This article discusses one or more securities that do not trade on a major U.S. exchange. Please be aware of the risks associated with these stocks.