After Apple's (NASDAQ:AAPL) recent set of numbers, I found it amusing when I heard many bearish investors stating that Apple was about to enter a long term bear market. I mean, how can one form a judgment on a company just after a string of poor quarters? I acknowledge that guidance for the third quarter did not come in as expected but with the stock still hovering around the $94 level, it seems that the market is pricing in negative growth for the iPhone from here on in. I wouldn't write off iPhone growth so quick. In fact we could see a return to growth in the fall with the iPhone 7 but even if that doesn't transpire, Apple will keep on improving its ecosystem which will over time create even more "stickiness" for Apple's products.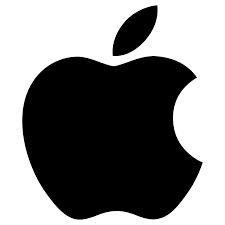 Bearish investors talk about where the growth is going to come from. They state that the number of carriers are decreasing as well as the number of users coming across from android devices but again I believe these are not valid reasons for assuming iPhone growth will become unstuck. When we look at fundamentals, technicals and valuation, Apple is still a strong buy at these levels in my opinion.
When analyzing the fundamentals, I always prefer to do it over a 10-year period to get a gauge of the company's history. Well revenue has gone from $19.31 billion in 2006 to a trailing twelve month average of $227 billion. Operating margins have gone from 12.7% to 29.4%. Earnings per share have gone from $0.32 to $8.97. Free cash flow has gone from $1.5 billion to a trailing twelve month average of $55.17 billion. Furthermore the company has over $53 billion in cash on its books after the first quarter and assets worth over $305 billion.
All the main fundamental metrics are rising which is first base passed irrespective of negative growth (in margins for example) in recent quarters. The second hurdle is debt which is probably the most crucial metric when evaluating a stock that is potentially a value play. In Apple's most recent quarter, long term debt spiked to $68.26 billion and equity rose to just over $130 billion. This gives us a debt to equity ratio of 0.53 which is fine as I usually look for ratios under 1. Even if you wanted to include all liabilities ($174 billion) in this calculation, the now "liabilities to equity ratio" would come to 1.33 which is still not high especially considering the amount of cash the company is holding on its balance sheet.
The other important metric value investors will look out for is the dividend which currently is 2.43%. Now Apple's quarterly dividend has gone from $0.38 in 2012 to $0.57 in 2016. An annual dividend growth rate of over 10% will definitely keep dividend investors interested especially considering the company's present valuation. Apple currently has an earnings multiple of just over 10 and a sales multiple of 2.3 both of which are well below their 5 year averages. If the company achieves its 2017 earnings estimates of $9.15 and bounces back to its 5 year average earnings multiple of 14.3, we would be left with a share price of $130+. Add the above to an ultra low pay-out ratio of 23% and it is easy to see why this stock will remain elevated from the likes of value and dividend investors.
In terms of sentiment, I have written in a previous article that I believe the Nasdaq has formed a daily cycle low which means it is only a matter of time before the index tests its all time highs. Sentiment on Apple hasn't been lower this year and this metric along with the Nasdaq being in its timing band to print a daily cycle low all add up to rising Apple prices over the summer. Sentiment never gets excessively bearish in Apple but as I have mentioned, it is at its lowest level in 2016 thus far.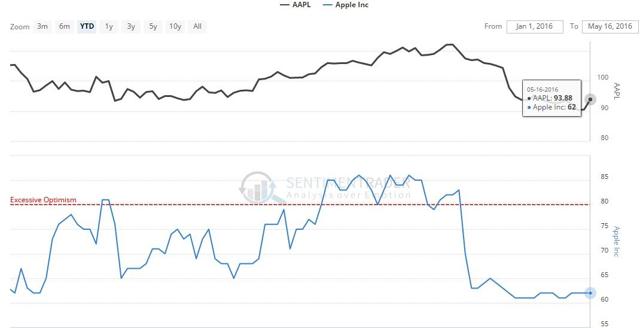 Source : Sentimentrader.com
I got an email from a follower asking how he could participate in a potential Apple rally using far less buying power than 100 shares of stock. Well a good way to trade or invest in Apple right now if buying power is an issue is by using call debit spreads. These spreads are the combination of a call option in the money and a call option outside the money. For example a debit call spread 45 days out (wrapped around where Apple is trading = around $94) would be a $93-$95 call spread and would cost just over $100 to take on this trade (this is your maximum risk). Furthermore the reason why I recommend this set-up in Apple for new investors currently is because Apple's implied volatility is very low by historical measures (see chart). This gives investors the chance to make money in this underlying not just from price movement but also from a spike in implied volatility in the near term.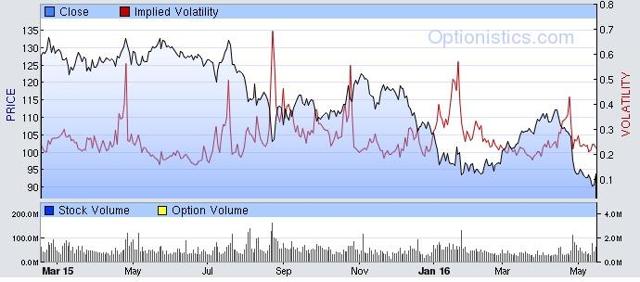 To sum up, I'm going to be adding a few good dividend and growth stocks to the Elevation Portfolio over the next several weeks, when I see value. It's imperative that they are not correlated and all don't have similar valuations in order to ensure that income is brought in every month; that, over time, will increase our share count. You can follow along by pressing the "Follow" button above.
Disclosure: I am/we are long AAPL.
I wrote this article myself, and it expresses my own opinions. I am not receiving compensation for it (other than from Seeking Alpha). I have no business relationship with any company whose stock is mentioned in this article.