On Monday morning, Range Resources (NYSE:RRC) announced that it would be acquiring Memorial Resource Development (NASDAQ:MRD) in an all-stock deal valued at $4.4 billion. The merged company will have an attractive liquidity position at a time when the capital markets have been resistant towards oil and gas companies. Following the merger, Range Resources will have a broader asset base with a deleveraged balance sheet and limited near term maturities that will put the company in a much better position to survive this oil & gas downturn. Despite recently reported losses, Range Resources has been producing moderate levels of cash flow and has maintained an adequate balance sheet. There are a number of advantages to this deal and while the oil & gas market remains weak, Range Resources is positioning itself well to navigate a prolonged industry storm.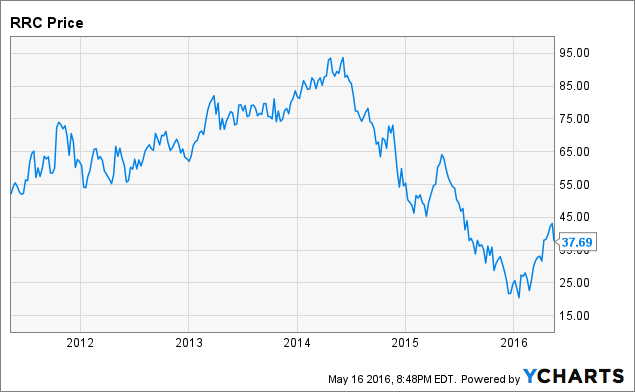 While Range Resources, is certainly gaining attractive oil & gas assets through this merger, the balance sheet and liquidity implications are much more significant. Range Resources has outlined meaningful benefits of the merger including improved credit metrics, cash flow figures and a larger hedge book at attractive prices. The slide below is from Range Resources' investor presentation and highlights the anticipated benefits of this merger.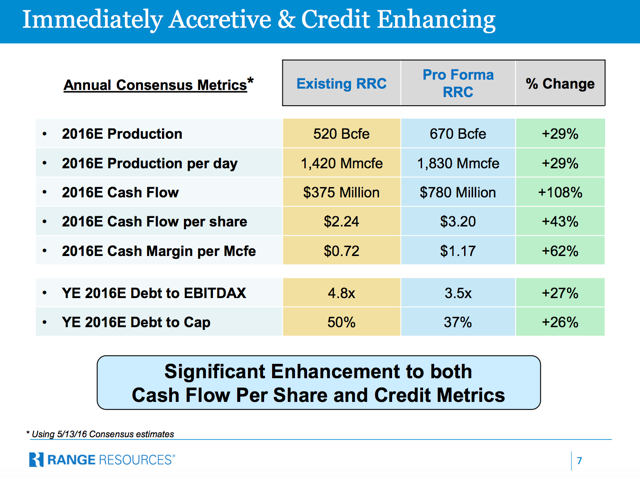 Source: Range Resources Investor Presentation
Liquidity certainly comes at a premium in today's energy and a number of notable upstream firms have been forced into bankruptcy due to excess leverage and excessive debt balances with debt service obligations that were unattainable. As the slide below describes, the merged Range Resources will have an additional $1 billion in untapped credit facility capacity and will not have any major debt maturities until 2019, which gives it a sizable cushion to navigate the downturn.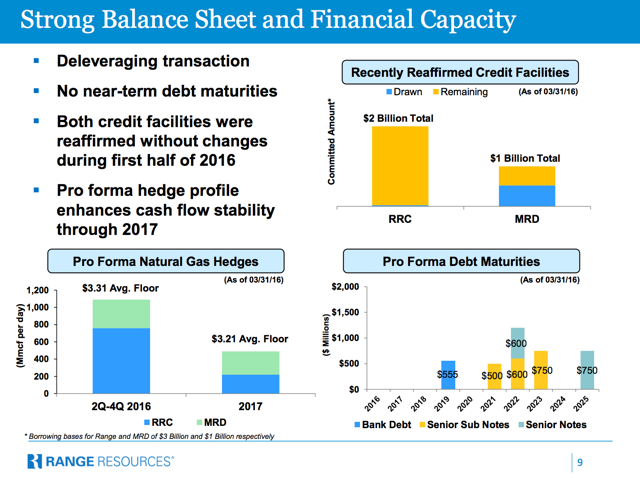 Source: Range Resources Investor Presentation
Range Resources and Memorial Resource Development operate in different geographic areas and the merged company won't gain much in terms of operating synergies outside of management consolidation, however this will support a more diverse production base with a strong foot in both the Terryville and Marcellus shale formations. Memorial Resources Development has held the GP interest and 50% of the IDRs of Memorial Production Partners (NASDAQ:MEMP) but has recently announced the sale of these interests back to the Memorial Production Partners for $750k in a move likely with the Range Resources merge in mind. Memorial Resource Development has shown the ability to meaningfully grow its oil & gas production in recent years while efficiently hedging its production and maintaining a healthy balance sheet.
While the performance of Range Resources' share price following this merger will be highly dependent on developments in the oil & gas market including price trends, the company is setting itself up to maintain a relatively deleveraged balance sheet through this downturn. The company's shares fell rather substantially on the news of this merger, as investors are concerned about the dilution that this deal would bring to current Range Resources shareholders. This merger makes strategic sense for Range Resources as the firm will be in a much better liquidity situation which will help it avoid tapping the capital markets at unattractive rates. Strong anticipated cash flows combined with limited near term debt maturities should allow Range Resources to emerge from the oil & gas downturn in a better position.
Jordan Flannery has been a contributor to Seeking Alpha since 2012 and has covered a wide range of companies, including many in the oil & gas space. To stay up to date with his latest Seeking Alpha articles, please click on the "Follow" button at the top of this article and consider subscribing to real-time alerts. Thanks
Disclosure: I/we have no positions in any stocks mentioned, and no plans to initiate any positions within the next 72 hours.
I wrote this article myself, and it expresses my own opinions. I am not receiving compensation for it (other than from Seeking Alpha). I have no business relationship with any company whose stock is mentioned in this article.