Seasonality
The "perma oil bears" have now found a new reason to argue for oil (NYSEARCA:USO) prices staying low for the remainder of this year. One chart they all point to is the "seasonality" oil price chart from the previous years.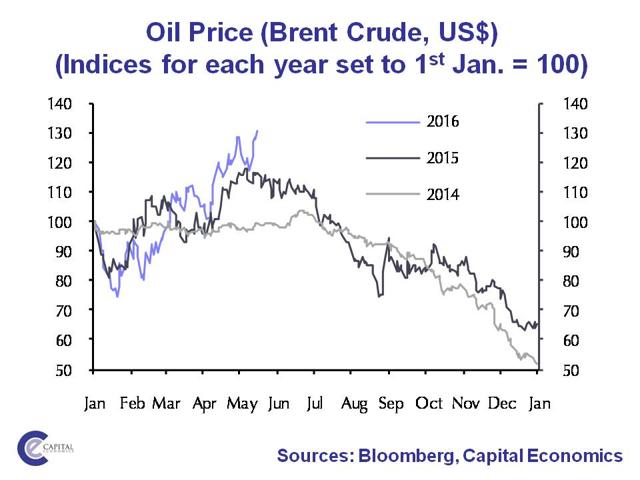 One of the most strangest things we've seen thus far is a chart comparing oil prices to what happened in 2014 and 2015. It's almost as Capital Economics decided that the past will dictate what happens in the future.
Seasonality is a concept that oil bears throw around to oil bulls that oil prices tend to decline from May to December. The reason being is that demand is the highest during the summer months, and as refineries go into fall maintenance, the "bidders" of crude oil drops and prices fall. We would normally agree that pure supply/demand for oil contracts do play a role in dictating oil prices, but what many forget is that the world is actually in an oil supply deficit today.
Nigeria's recent outage has officially put the world's demand/supply balance into the deficit. Canadian oil-sand production just got a rude awakening as the Albert fire has progressed north and forced some of the producers to shut down production once again. If the world is in a supply deficit and inventory begins to draw considerably over the next few months as we expect, then the seasonality chart should be thrown into the trash along with other "historical" trend studies.
The Myth of the Shale Band
We don't mean to pick on Capital Economics in particular, but some of the research on oil is truly strange.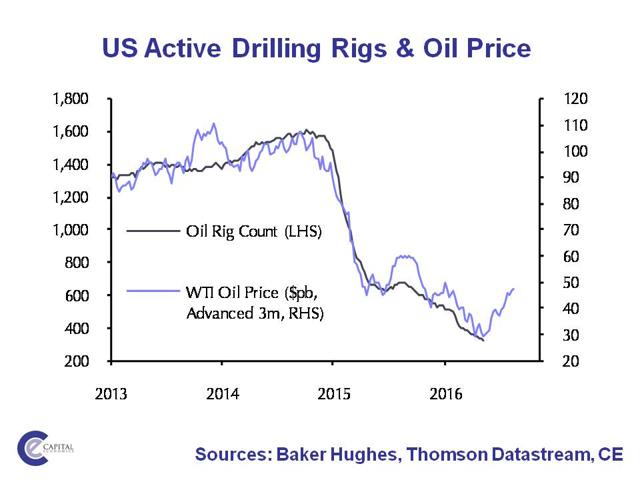 For macro forecasters, it's easy to look at the rise in oil prices and say, "Producers will bring back on rigs. Shale producers will take advantage of DUCs." Instead of generalizing a trend, one needs to study each individual company's financial position and compare that to its guidance in term of capex. If one studied all the U.S. E&P oil producers, it's very evident that production won't be coming back anytime soon.
The current spring redetermination period has been much harsher than previous periods. Many market participants thought November 2015 was going to catalyze a wave of E&P bankruptcies, and it turned out the opposite was true. Many of them were offered lifelines, and some credit lines weren't even cut.
Since the beginning of 2016, 21 E&P companies have filed for bankruptcy. Companies like Lightstream in Canada saw its credit line get cut dramatically as creditors no longer wanted to play the waiting game. Most oil shale producers in the U.S. have high debt relative to cash flow, and any sign of a rebound will see many producers actually hedge prices to pay down debt. As WSJ has reported, mid-caps have locked in at least 60% of oil production, while large caps locked in 45%.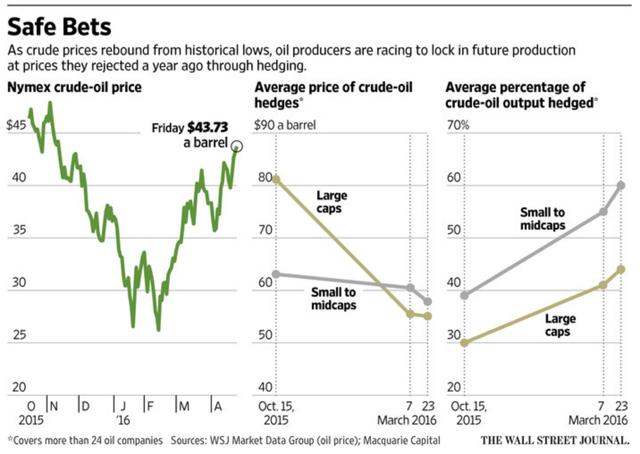 Any price rebound will be met with possible additional hedges leading to further debt payment. Creditors in many of these E&P companies have just experienced the worst downturn ever, and the scars left behind by some of the other E&Ps will likely result in tight credit conditions.
We suspect the spigots will be difficult to turn back on, and many of the producers will also struggle to find enough skilled oil field service workers to complete the jobs. Production will likely bottom out sometime next year around 8 million b/d.
Even if oil prices rallied to $60 today, the time it would take producers to complete only DUCs would be a year before U.S. production bottoms out. It would then take another one and a half years just to get oil production back to where we are today. The process will be long and tedious, and countries like Nigeria, Venezuela, and Iraq will continue to experience economic turmoil. Who knows what other black swan events are in store, but we definitely don't want to be on the short side.
Other Energy News
Energy Aspects told Reuters that oil output loss so far averaged 3.2 million b/d. This is a significant amount and should draw global inventory storage considerably starting at the end of Q2.
WTI spreads are at their narrowest this year for calendar 2017. We talked about the key to a bottoming oil market on March 7, 2016, in this article. So far, signs continue to point toward a balancing market.
If you enjoy our oil markets daily, please click on the follow button above and read our other energy write-ups. In addition, we also have a premium subscription platform that's tailored to long-term value-oriented investors. We provide recommendations of stock ideas and portfolio composition. Our HFI portfolio has now outperformed the SPY by 8% since inception. We look forward to you joining the HFI platform.
Disclosure: I/we have no positions in any stocks mentioned, and no plans to initiate any positions within the next 72 hours.
I wrote this article myself, and it expresses my own opinions. I am not receiving compensation for it (other than from Seeking Alpha). I have no business relationship with any company whose stock is mentioned in this article.