After nearly two months of much colder-than-normal weather, spring is finally here with just a month left until summer.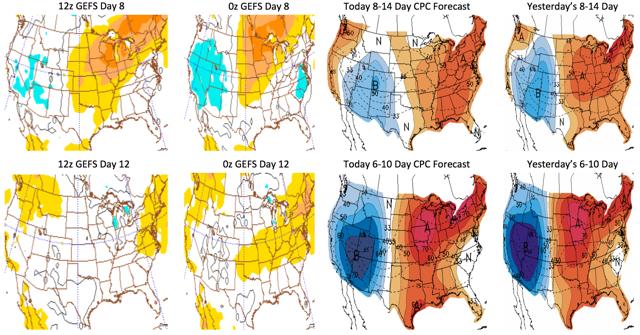 This weather forecast for the next 6 to 10 days is more neutral than bearish. Hotter-than-normal temperatures in the South and Southeast could increase cooling demand, while colder-than-normal temperatures on the West Coast will reduce cooling demand. The two pretty much offset, and that results in a neutral assessment.
Natural gas prices opened down yesterday, March 16, and remained down as long-range (14 days out) weather forecasts were a bit more bearish than normal. This could mean that cooling demand could come in below average until the summer cooling season, and the market will need to see further supply cuts to induce a price rally.

Natural Gas (NYSEARCA:UNG) prices were a bit higher this morning, but we expect them to remain range-bound for a while until there's a much clearer picture surrounding supply cuts.
We recently wrote an article titled "Natural Gas - The Perfect Storm Is Coming." In it, we talked about how 2016 exit supply is estimated to fall by 6.4% year over year. As a result of record low natural gas prices, we anticipate producers to use up 75% of DUCs this year to barely keep productions flat. Gas-equivalent rig counts recently hit an all-time low, and while we see the number stabilizing over the next several months, we do not see a rebound in rig counts anytime soon.
Given our assessment of the situation and Bentek recently reporting U.S. dry gas production hit a year-to-date low of 70.4 bcf/d, we think the supply response is just getting started. Despite choked back production of roughly 0.9 bcf/d, we think supply will continue to fall toward the end of the shoulder season and come in around 68 bcf/d.
We think this week's inventory report will be bullish for prices as we record another week of below-average injection, something the market needs to see in order to validate the "lower supply" theory. Natural gas prices could jump back to resistance and remain there until there's more clarity on how hot summer will be this year. So far, the forecasts all point to a much hotter-than-expected summer, and this will be very bullish for injection numbers.
As always, if you enjoy our natural gas daily, please click on the "follow" button above and read our other energy write-ups. In addition, we also have a premium subscription platform that's tailored to long-term value-oriented investors. We provide recommendations of stock ideas and portfolio composition. Our HFI portfolio has now outperformed the SPY by 8% since inception. We look forward to you joining the HFI platform.
Disclosure: I/we have no positions in any stocks mentioned, and no plans to initiate any positions within the next 72 hours.
I wrote this article myself, and it expresses my own opinions. I am not receiving compensation for it (other than from Seeking Alpha). I have no business relationship with any company whose stock is mentioned in this article.