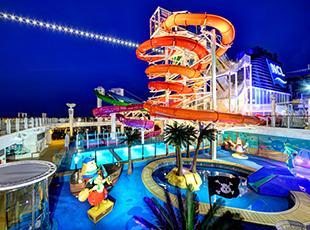 image source: ncl.eu
After having experienced a few cruises, I realize they can be a great relaxing vacation. There is an abundance of entertainment, food, drinks, excursions, etc. You can choose to be active and participate in various activities or you can be passive and relax by the pool or do a little of both. You can eat at all of the formal dinners and/or enjoy the casual buffets. Overall, it is an experience where travelers can easily let go of everyday stresses and enjoy time off from work.
The cruise line that I think stands out as having the highest growth potential in terms of revenue and earnings is Norwegian Cruise Lines (NASDAQ:NCLH). Norwegian is a good combination of low valuation and strong growth. Since Norwegian has a lower valuation and higher expected earnings growth (consensus) than Carnival (NYSE:CCL) and Royal Caribbean (NYSE:RCL), Norwegian's stock is likely to outpace its competitors.
The cruise industry's compound annual growth rate of 6.55% is expected to last through 2019 according to cruisemarketwatch.com. This will be beneficial for all of the cruise lines. I expect all of the cruise lines to perform well over the next two years as long as no major incidents occur that would change vacationers' perceptions of cruising.
The cruise industry has been increasingly offering larger capacity ships and more ports/destinations that consumers are demanding. This has helped drive growth in the demand for cruises.
Norwegian has some competitive advantages that make the company stand out over Carnival and Royal Caribbean. The key advantage that Norwegian has is its "Freestyle Cruising" concept. Other cruise lines have set dining times for the sit down dinners. Norwegian is different as it offers no fixed dining times or pre-assigned seating. Norwegian cruises offers 29 different restaurants on each of its ships. This attracts customers who like having more flexibility and variety with their dining options. The other cruise lines may have some restaurants, but not to the extent and variety that Norwegian offers.
Another advantage that Norwegian has is the youngest fleet of ships among the North American cruise lines. That gives the cruise line modern features with its unique aqua parks, accommodations, spas, restaurants, fitness centers, etc. Travelers are likely to be attracted to the excitement of Norwegian's modern fleet. Travelers are also more likely to gravitate towards Norwegian's modern fleet after hearing about the numerous breakdowns that Carnival experienced a few years ago. Norwegian's modern fleet can give passengers more peace of mind. Of course Norwegian is not immune to incidents, but having a modern fleet can provide a perception of increased safety for passengers.
Norwegian also owns its own private island in the Bahamas known as Great Stirrup Cay. Norwegian is the only cruise line to offer an inter-island itinerary in Hawaii. These unique features are likely to attract travelers who seek experiences that the other cruise lines don't offer.
Here's a fundamental comparison of the major cruise lines:
Norwegian

Royal Caribbean

Carnival

Forward PE

9.6

10.6

12.6

PEG

0.35

0.70

0.90

ROE

14%

9%

8%

Expected 2016

Revenue Growth

15.6%

7.5%

3.9%

Expected 2017

Revenue Growth

11.7%

6.4%

4.8%

Expected 2016

EPS Growth

30.6%

29.6%

26%

Expected 2017

EPS Growth

31%

15%

17%
Data source: Yahoo! Finance
Norwegian stands out with a lower valuation and higher expected revenue and earnings growth. Norwegian's double-digit ROE helps drive its earnings growth to outpace its competitors. Norwegian is a bargain-priced stock with strong growth. All three cruise lines look attractively valued as compared to the S&P 500's forward PE of 16.8. I expect all of them to perform well and outpace the S&P 500. However, Norwegian looks the most attractive with the lowest valuation and highest expected growth. Therefore, I expect Norwegian's stock to gain the most.
The Risks
The tricky thing with the cruise line industry is that it is highly sensitive to negative incidents. If a cruise ship breaks down while at sea, experiences a fire or a sickness breaks out on board, travelers' perceptions of cruising can be temporarily soured. These unexpected events can have a large negative impact on sales. For example, Carnival had trouble booking cruises after a series of incidents a few years ago even after discounting its tickets.
The industry is also sensitive to poor economic conditions since travel is an expense that is cut when consumers need to tighten their budgets.
Conclusion
Although, unexpected events can happen at any time that would temporarily hurt the cruise lines, the industry tends to do well over the long-term. Norwegian's low valuation and higher earnings growth is likely to lead the stock to outperform its peers. The company's differentiating factors such as a young fleet, its freestyle cruising concept, and unique itineraries is likely to drive Norwegian's growth to remain higher than its competitors.
Disclosure: I/we have no positions in any stocks mentioned, and no plans to initiate any positions within the next 72 hours.
I wrote this article myself, and it expresses my own opinions. I am not receiving compensation for it (other than from Seeking Alpha). I have no business relationship with any company whose stock is mentioned in this article.
Additional disclosure: If you like my analysis click on FOLLOW at the top of the article near my name. That will allow my articles to display on your homepage as they are published.