Orexigen (NASDAQ:OREX) have to get used to the concept that the sales road may not be as robust beginning in September of this year. The weekly sales of 15,000 scripts or more have a very real potential of being a thing of the past. That being said, the revenue story will improve in dramatic fashion.
This past week, Contrave sales came in at about 15,400. This is not the highest sales week that Contrave has ever seen, but it is in the top 5. That being said, the sector is still in trouble with sales trending down.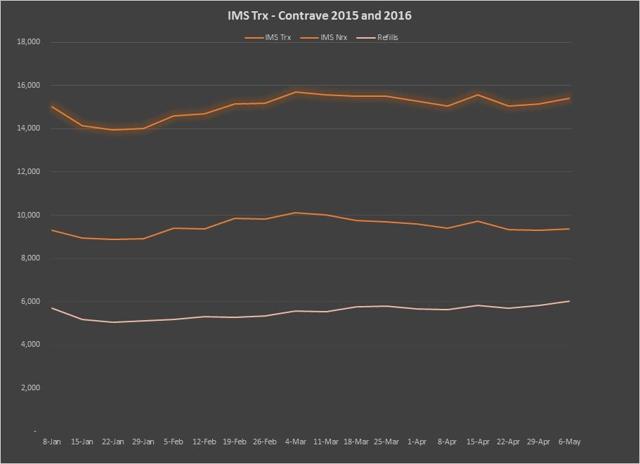 Chart Source - Spencer Osborne
On a quarter over quarter basis, we see that Contrave sales are pacing up by 6.21%. This is a better story than competitors Belviq from Arena (NASDAQ:ARNA) and Qsymia from Vivus (NASDAQ:VVUS), but off of the pace that would be needed to impress the street. In order for the company to hit the lowest end of guidance, sales need to be above 15,100. Thus, last weeks' sales are a decent result if you consider hitting the low end of guidance as acceptable.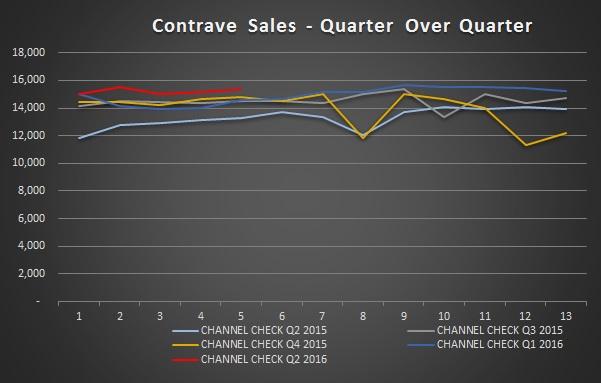 Chart Source - Spencer Osborne
On a year over year basis, the comparisons will still look good to a person not well versed in the sector. Year over year growth is currently pacing at 18.90%. This number is moving lower each week and the year over year comparisons will begin to get much tougher going forward. If sales overall begin to trend down, the year over year in Q3 could be a very modest positive at best. You can see in the chart below that the 2016 trend line is already flatter than the 2015 trend line. The 2016 trend line will continue to flatten out as the year progresses.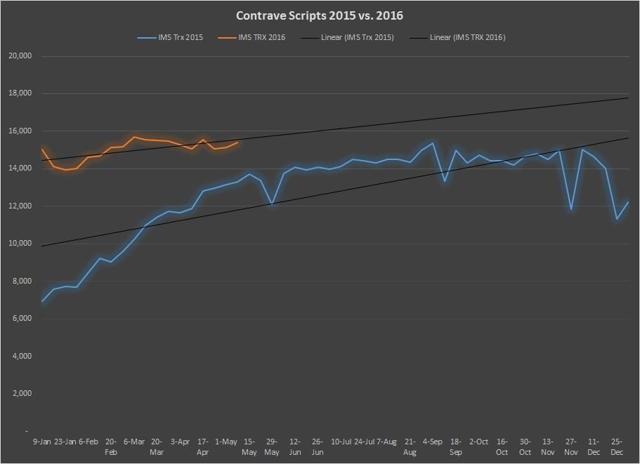 Chart Source - Spencer Osborne
From a market share perspective, Contrave is still the pace setter. Contrave has a market share of 41.42% of the 4 branded anti-obesity agents on the market. Contrave and Saxenda from Novo Nordisk (NYSE:NVO) are the only two players showing positive market share trends. That being said, Orexigen investors would be wise to look at the Belviq data and see what transpired when its partner Eisai pulled the marketing and sales rep plug.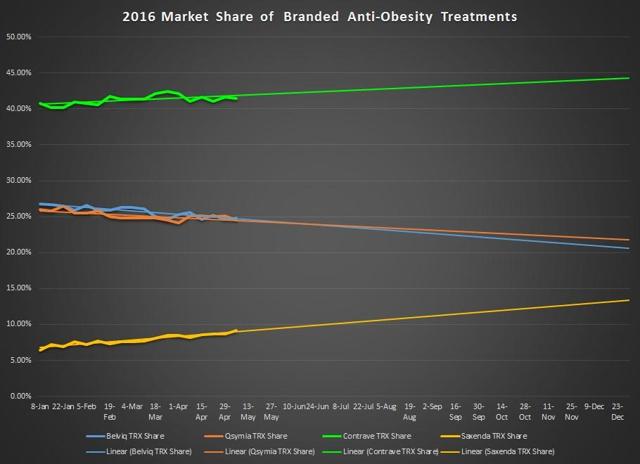 Chart Source - Spencer Osborne
Looking at the overall sector gives an indication of overall sentiment in the space. As of this week, the sector has seen year over year growth of 4.56. The big problem is that in recent weeks the sales trend has been below what was being sold in 2016. Essentially, we are 6 to 8 weeks away from seeing the overall sector growth go into negative territory.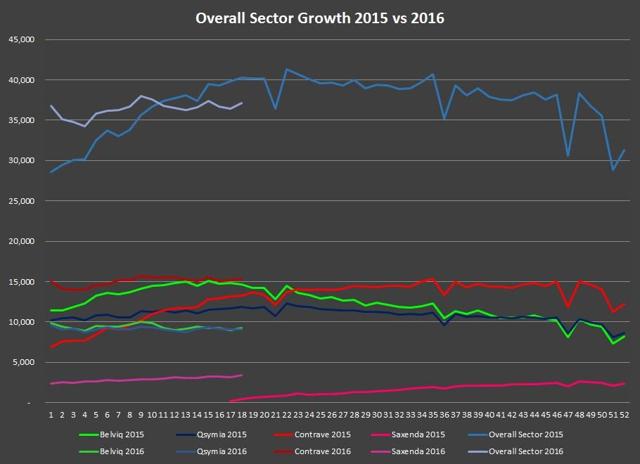 Chart Source - Spencer Osborne
What I am going to say now will not be very popular with longs, but it is better to see this information now than to have it surprise you later. The bulls will argue that getting 100% of revenue will be a great thing for Orexigen. Investors may learn the hard way that this is not always the case. Orexigen will also bear 100% of the cost. To give you an idea, consider looking at the $15 million a quarter that Vivus spends marketing Qsymia. This is a cost that Orexigen does not currently have. You cannot look at just one side of the coin.
Royalty revenue under the partnership deal when scripts average 15,000 was $2.6 million on 195,000 scripts. That $2.6 million was 20% of overall revenue of $13 million.
If the company spends $15 million marketing the drug, but only has $13 million in revenue, the loss on the drug (excluding costs to manufacture and operate) is $2 million. What happens if sales drop to 10,000 scripts per week? At $66 per script, the revenue in a quarter would be just $8.6 million. As you can see, Orexigen needs some serious growth to make this work. The company is saying all of the right things, but history of competitors provides data that points to a result different than management projections.
Certainly some investors will want to give the benefit of the doubt. There will be some that will even think that Orexigen management will do things differently and more efficiently. My answer is this. A few companies have tried to make the anti-obesity sector work and none have the magic bullet. Unless I see sales ramp up through the next quarter, I will err on the side of caution and call this a very speculative play unless sales spike up big in Q4 under managements' strategy as a stand-alone. Follow the data and you will arrive at a land of caution. Stay Tuned!
Disclosure: I am/we are long ARNA, NVO.
I wrote this article myself, and it expresses my own opinions. I am not receiving compensation for it (other than from Seeking Alpha). I have no business relationship with any company whose stock is mentioned in this article.
Additional disclosure: I have no position in Orexigen or Vivus
Editor's Note: This article covers one or more stocks trading at less than $1 per share and/or with less than a $100 million market cap. Please be aware of the risks associated with these stocks.