Step 1: Look to Germany
Germany is expected to have 3.6 million asylum seekers by 2020. This number is based on estimates of 500,000 refugees entering the country per year after 800,000 more enter in 2016. With 1.1 million people arriving in 2015, these numbers definitely seem plausible. It could obviously vary wildly, depending on political decisions and events in the Middle East. The story all over the news is that the refugees are overwhelming Europe. People are asking how the countries will be able to accommodate so many people. Germany, however, will have very little problem doing so, at least financially. In 2015, Germany achieved the largest budget surplus since the reunification of Germany in 1990. Throughout this article I will explain why this is important and more importantly, how to profit from it with just two easy steps.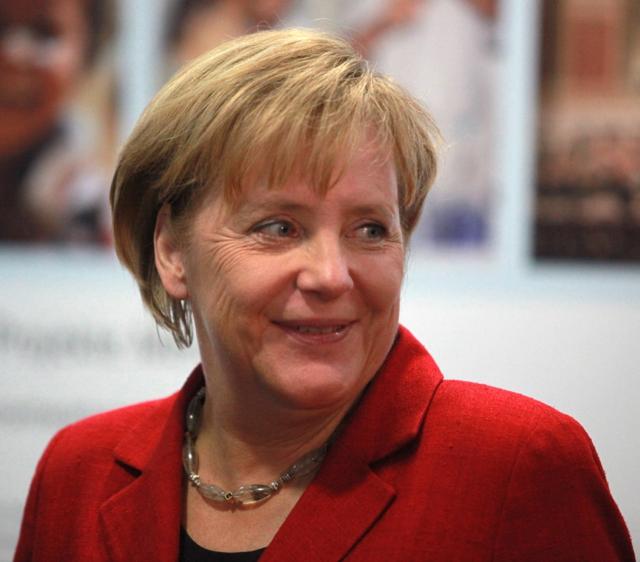 (Merkel is happy, probably because of the giant budget surplus!)
Germany's budget surplus in 2015 was 19.4 billion euros, which amounts to 0.6 percent of Germany's GDP. Budget surpluses are a thing of the past, at least in the United States where I reside. Most developed countries would love a good budget surplus. In 2014, the budget surplus was 8.9 billion euros, or about 0.3 percent of GDP. Overall, the trend is up! These are exciting financial times for Germany, especially since their debt to GDP ratio stands at a lower (compared to the US) ratio of 71 percent. (Perhaps Germany is finally realizing they are in violation of the 1998 Stability and Growth Pact of the European Union, which, among other things, prevents European Union countries from having over 60 percent debt to GDP)This surplus comes after accounting for the increased spending on refugees and migrants. Government consumptive spending rose 2.7 percent in 2015. So, just how much do the migrants cost?
According to a study by the Cologne Institute for Economic Research (IW), 50 billion euros will be needed to shelter, feed and train the refugees in Germany over the next two years. This works off an estimated cost of 15,000 euros per migrant, which includes language and integration classes on top of the essentials. Given that Germany currently has a budget surplus with the current number of refugees, how much of a burden will the migrants in 2016 cause? Assuming zero migrants from 2015 become employed and not accounting for the increased profits caused by millions of additional consumers, the new wave of 800,000 predicted migrants in 2016 will cost Germany 12 billion euros. Germany would still have a budget surplus of 7 billion euros assuming the same fiscal results as 2015. However, German Finance Minister Wolfgang Schäuble has stated that the large surplus will be "by law completely reserved for financing the refugee crisis." ( Source) So 19.4 billion will be going towards the migrants this year, and next year too if the same budget surplus holds. Let's assume some of that surplus can be carried over for 2017's expenses as well. (It is worth mentioning that some German officials have stated they expect a small deficit in 2016, however they are likely assuming none of the surplus can be carried over into the next year, which may very well end up being the case) The additional 500,000 migrants of 2017 are estimated to cost an additional 7.5 billion euros. So seeing that 2016 had 7.4 billion left over, this essentially means Germany will be breaking even after taking in migrants up until 2017.

(Temporary German housing - Who do you think got paid to build it?)
Let's not forget though, this money isn't simply being burned. In fact, it's being used in a manner that is highly stimulating to an economy. Every dollar will be used for goods or services in Germany. Germany will have millions of new customers to buy goods and services. For those that do not know, Germany has a population of around 80 million. Migrants have accounted for over 1 percent of the population growth recently. Some companies have been benefiting greatly from this influx of migrants. Manufacturers of modular housing are "more or less sold out," (Please feel free to read more about the stories of booming business as a result of the migrants here). In a country with aging demographics this is a very strong boost to the economy, especially for certain products, which I will now get into.
Step 2: Identity Companies That Will Have Increased Sales and Profits
So now that we have covered German's ability to finance the migrants with their current budget, let's examine where this money will go. Most obviously, construction. New housing for millions of people will need to be made. Examples of German construction companies that have U.S. ADRs include HeidelbergCement (OTCPK:HDELY), Hochtief (OTCPK:HOCFY), Praktiker (OTC:PRAGY), and Bilfinger SE (OTCPK:BFLBY). These migrants, being young, will obviously need phones as well. Deutsche Telekom AG (OTCQX:DTEGY), Freenet (OTC:FRTAY), and Metro AG (OTCPK:MTTRY) stand to benefit. Consumer staple companies which sell household products, like Henkel AG & Co KGaA (OTCPK:HENKY), also stand to benefit.
If you want to benefit off the growth of sales in Germany, I recommend investing in companies that get a majority of their sales from Germany, avoiding large multinational companies as they derive a large portion of their revenue overseas and therefore are dependent on global markets. Smaller cap stocks can help you isolate your investment to Germany alone. If you are not the type to buy individual stocks, there are several German ETFs, but they carry fairly high fees. QDEU has the lowest fees; however it is geared more towards value and quality. EWG is the largest German ETF in the U.S., but the fees are fairly high at around 0.5 percent. Please also note that German withholding taxes on dividends are quite high. Currently, it stands at 26.4 percent. If your dividends would normally be in the 15 percent tax bracket, you can cancel out that 15 percent using the foreign tax credit but you would still be "out" the difference, as far as I've been informed by my tax consultant. Please note I am not a tax professional. However, the higher your U.S. taxes, the lower the withholding tax will be after the foreign tax credit. Given that dividends will not be your only source of return, I do not believe a slightly higher tax rate is enough to turn away from such a promising investment. German companies are averaging valuations in the low teens. You can easily find quality companies with a P/E ratio under 15 - try getting that with the SP 500. The DAX (Germany's main index) currently trades at a forward P/E ratio of 12. There is opportunity in Germany and I for one am taking advantage of it. Care to join me?
Disclosure: I am/we are long DTEGY, HENKY.
I wrote this article myself, and it expresses my own opinions. I am not receiving compensation for it (other than from Seeking Alpha). I have no business relationship with any company whose stock is mentioned in this article.