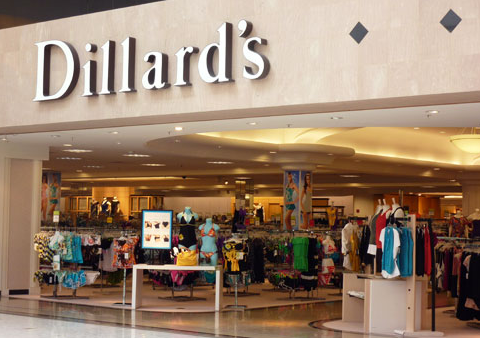 Dillard's (NYSE:NYSE:DDS) has certainly had an interesting several years since the financial crisis. After the stock traded for almost nothing as DDS struggled, the company rebounded unlike virtually any other and shares eventually crested $140. But times have been tough for the entire mall department store complex of late and that certainly includes DDS. The company has been posting very weak results for some time now but the stock was resilient. That is, until it wasn't. After Q4 results were posted and shares shot up to $85, I said I was shorting DDS like there was no tomorrow. That has worked out quite well as shares are now under $60 off of the even weaker Q1 report. But now that such a large gain has accrued for shorts, is it time to take the money and run or is there more downside left in DDS?
I'll be using some charts from Simply Wall St. to help me out.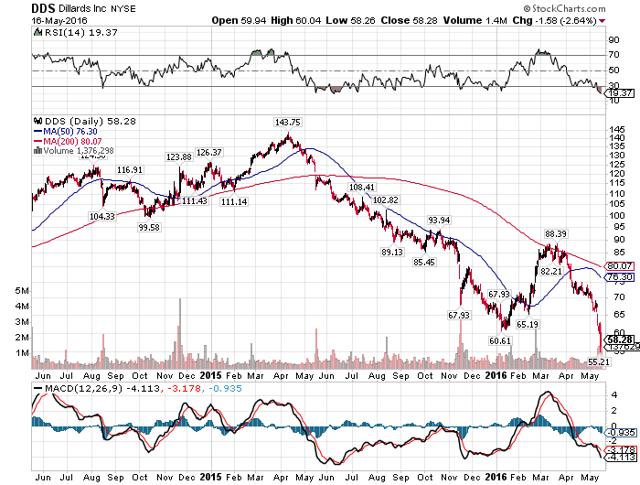 DDS has been suffering from weak sales numbers for some time now and Q1 was no respite. Total merchandise sales and comp sales both decreased 5% as DDS kicked off the fiscal year with a resounding thud. The company's reliance on mall traffic is certainly not helping and its lack of compelling merchandise assortments is doing the rest of the damage. DDS has been struggling with revenue since the stock topped out a year ago and it seems the new fiscal year isn't going to offer up any sort of positive resolution.
The terrible SSS performance predictably crimped gross margins as they fell 140bps in Q1. Anytime a company achieves strongly negative SSS margins are likely to be under pressure and DDS showed that in Q1. The obvious consequence of weak sales numbers is markdowns as DDS worked through some dead inventory in Q1. That pressures profit margins but to its credit, inventory was roughly flat during Q1. Considering the significant decline in SSS, inventory could have been bloated but wasn't. Still, DDS has problems and they don't end with poor revenue growth.
To further the pain, SG&A costs fell on an absolute basis during Q1 due to a variety of factors but as a percentage of sales, moved up 90bps as the decline in SG&A was outpaced by the decline in SSS. That means that out of the three main drivers of profit growth - revenue, margins and SG&A costs - DDS went zero-for-three in Q1. The result is a substantial loss of net income (5.2% of sales this year against 7% of sales in last year's Q1) and with all three metrics moving in the wrong direction, it will take an epic turnaround for DDS to reverse the damage that is being done. I saw this last year which is why I said I was shorting DDS but to be fair, things have deteriorated more rapidly than I even thought.
So we've established that DDS' tough run certainly continued in Q1, but what about going forward? This is what analysts think DDS will do from a total sales basis for the next couple of years.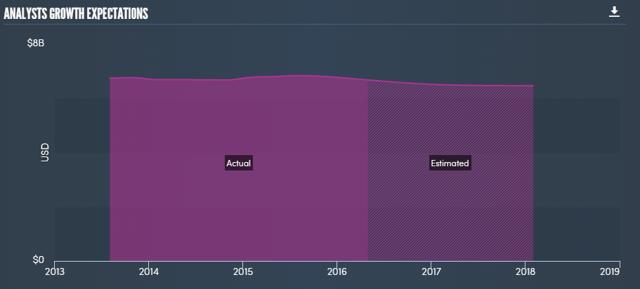 DDS' projected revenue growth is, in a word, underwhelming. This comes as no surprise of course as the company hasn't produced meaningful revenue growth in years and given the utter lack of any positive catalysts in Q1's report, I'd argue there may be more downside than just what analysts are projecting here. With department store capacity bloated across the industry, players like Macy's and Dillard's along with any number of other apparel retailers will continue to struggle as there is simply too much product chasing too few spending dollars. That's a recipe for disaster and that is why the department store stocks are getting hammered.
We already know that Dillard's is going to have weak sales numbers for the foreseeable future - the only variable is how weak they end up being. And this is going to continue to pressure margins as it did in Q1, leading to an EPS trajectory that looks like this.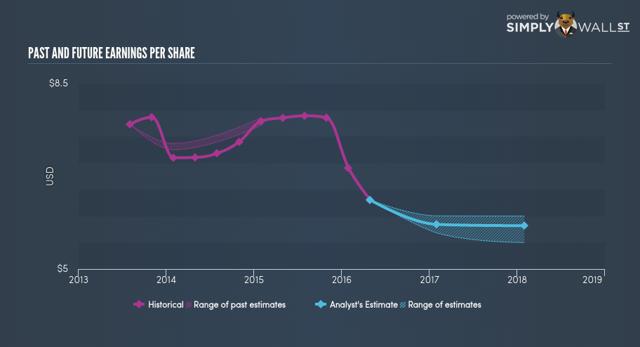 This is an unmitigated disaster if you're a DDS long as the company's EPS is plummeting and won't stabilize until next year or later. And once it does, it isn't expected to go anywhere, meaning the days of $7 or $8 in EPS are long gone and while they may return at some distant future date, terrible SSS, overcapacity in the industry and margins that are suffering as a result will keep a lid on EPS. DDS shares have obviously begun to reset to the new reality of its earnings growth trajectory but whether it is done doing so is yet to be seen.
At 9.8 times this year's earnings, DDS is certainly much cheaper than it has been in the recent past. This stock used to trade closer to double that level when it was a high-flyer but those days are dead and gone at this point. Still, I'd argue that for a company that is in freefall like DDS in a terrible sector of retail like mall department stores, DDS could easily get cheaper. EPS is in an epic downtrend with no upside catalysts in sight and the stock is technically a disaster. The beating it took off of the 200DMA a couple of months ago hasn't relented and with a new lower low, it certainly seems the bias is still to the downside.
For a company with so many problems, 9.8 times this year's earnings is still too high and for that reason, I think we'll see DDS under $50 before things get better. I'm pressing my short despite sitting on large gains already because DDS isn't cheap enough yet.