I believe that investors who buy companies that are simultaneously inexpensive, generate high returns on invested equity and are supported by some of the best investors in the world are usually sound investments. The market may take some time to come to this conclusion itself, but eventually, value becomes too attractive to pass up. At the same time, though, I believe that there's rarely a free lunch, and companies like Bed Bath and Beyond (NASDAQ:BBBY) are potential "value traps." Taking all of the above into account, I'm in the somewhat schizophrenic position of being someone who is simultaneously excited about this company and nervous about it at the same time. One company that has me in such a state is Bed Bath and Beyond. On the one hand, the company enjoys a return on equity of just shy of 33%, is priced very inexpensively, and the company has just announced a dividend. At the same time, the company announced an increase to the share repurchase program. I've been more critical than many of buybacks, but in this case they make sense as a way to return value to shareholders. Shares are inexpensively priced relative to their recent performance. On the other hand, a strong argument could be made that the United States is "over-retailed." After looking at the pros and cons of Bed Bath and Beyond, I've come to the conclusion that this is a reasonable buy at these levels.
Overall Health of The Economy
An obvious risk with a company like Bed Bath and Beyond is the fact that they rely on a relatively healthy consumer, which in turn relies on a relatively healthy economy. It seems that at the moment, the U.S. economy is actually in reasonably good shape. Things aren't great but they seem fairly good at the moment. For that reason, I'm not as concerned that the company will turn south anytime soon.
Trends In Retailing
"Retail" is a very complex business, and it must be said that even expert forecasters either disagree outright or they have wildly differing views. In my opinion, then, investors need to focus on the trends that exist within Bed Bath and Beyond itself. What I see emerging is a company that has slowing earnings, as revenue starts to slow, and the mix of sales becomes less favorable to the company. This trend is troubling, but not a sign that things have deteriorated to the point of being a reason to avoid the company.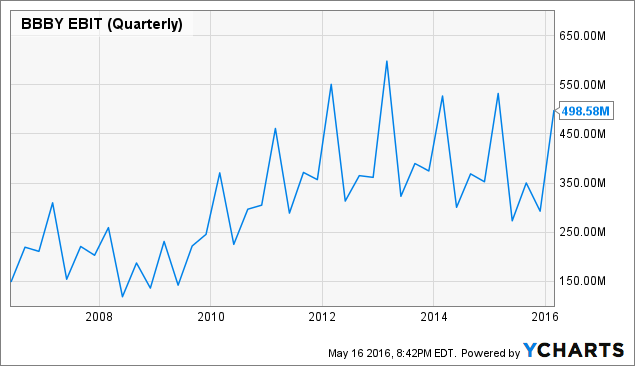 BBBY EBIT (Quarterly) data by YCharts
Expert Opinion
In my opinion, the small investor must constantly be reminded that they're one of the least expert investors. It's easy to get carried away, staring into our computer screens, and assume that we have knowledge others lack. We often don't. For that reason, I believe it's a good idea to see how sophisticated investors, in aggregate, feel about a given name. When I review the case of Bed Bath and Beyond, it seems that institutional ownership, while volatile, has been quite supportive of the company. This may be because it's seen as a value investment or may be because it's seen as a takeout candidate. The reason is largely unfathomable and largely irrelevant. This seems to be a company that institutional investors like.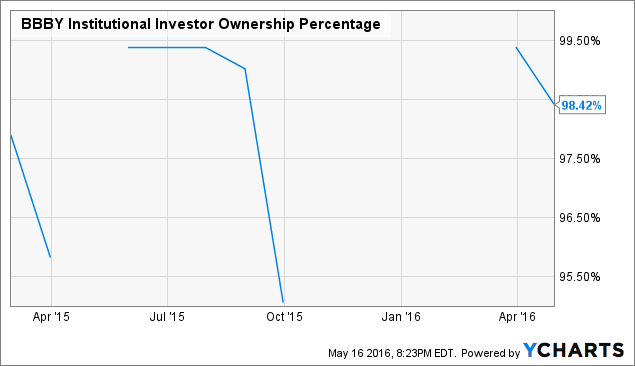 BBBY Institutional Investor Ownership Percentage data by YCharts
Leverage Is A Sore Spot For Me
One thing that might be troublesome about Bed Bath and Beyond is the fact that there is $1.5 billion of long term debt outstanding. I prefer less leverage on the balance sheet, so this is difficult for me. It's not sufficient to drive me away, as interest expense remains relatively muted, and there are so many other positives going on here, but I will be watching closely to see if leverage increases. If it does, I will re-evaluate my position in this company.
Financial Engineering To The Rescue
Another thing that's worth noting is the fact that Bed Bath and Beyond's rising earnings per share are only part of the story. This shouldn't lead investors to conclude that the company has grown organically for some time. The fact of the matter is that earnings per share have been bolstered by the large reduction in share count. At the same time, it could be said that activities like this allow for the introduction of a dividend, so it's not a cut and dried situation.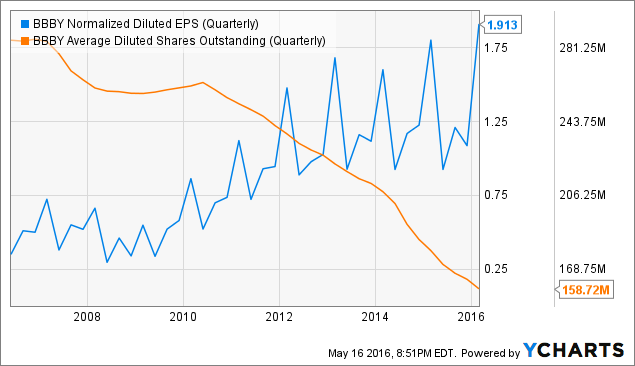 BBBY Normalized Diluted EPS (Quarterly) data by YCharts
In conclusion, I would say Bed Bath and Beyond is a good investment at these levels. The market knows about the debt level and has adjusted the price. The market knows about deteriorating margins and has adjusted the price. The market knows about the financial engineering that's largely responsible for earnings per share increases. In other words, most of the negatives surrounding this company have already been factored into the price and therefore, an investor would be wise at this point to acknowledge the problems and buy in. Much more sophisticated, institutional investors know all of this and seem to remain committed to this name. I believe Bed Bath and Beyond is a buy at these levels.
Disclosure: I/we have no positions in any stocks mentioned, but may initiate a long position in BBBY over the next 72 hours.
I wrote this article myself, and it expresses my own opinions. I am not receiving compensation for it (other than from Seeking Alpha). I have no business relationship with any company whose stock is mentioned in this article.