Sell in May, shop online.
A bomb dropped on retail stocks this earnings season, in particular department stores were amongst the hardest hit. Iconic names like Macy's (NYSE:M), Kohl's (NYSE:KSS), and Nordstrom (NYSE:JWN) all reported less than stellar earnings, and all the stocks have suffered double-digit losses since the beginning of the year. The stock performance has been dismal as most the sector digs deeper into bear territory, again. While the sector struggles to grow, Amazon continues to impress investors as the stock hit new all-time highs the same week brick and mortar retailers hit new yearly-lows.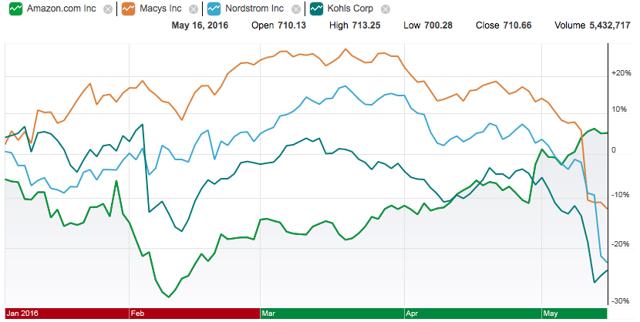 With every earnings season, there are winners, and there are losers. The only clear winner on this chart has been Amazon (NASDAQ:AMZN); the perennial elephant in the room as far as Brick & Mortar retailers are concerned. Amazon functions as a technology and media company, as well as the ultimate retail disruptor. The macro story in this sector clearly favors a trajectory away from physical retailers, and towards an online consumption model that favors logistics, pricing power, and convenience over the hands-on shopping experience. Shareholders in these three department store names, as well as many other fashion retailers, found themselves deep underwater after this recent Retail Storm.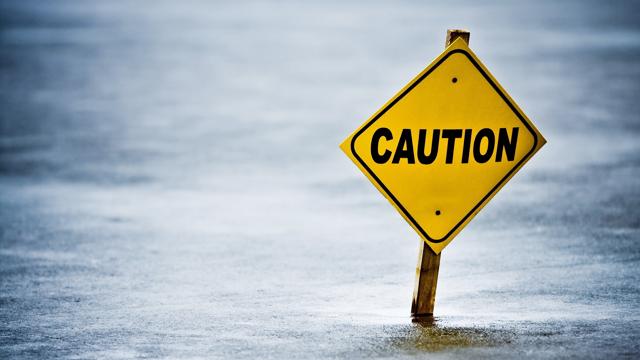 Caution, Ugly Charts Ahead!
A quick look at some of the individual names that reported last week paints a precise picture of slowing traffic, unfavorable seasonality, and rising inventory levels.
Macy's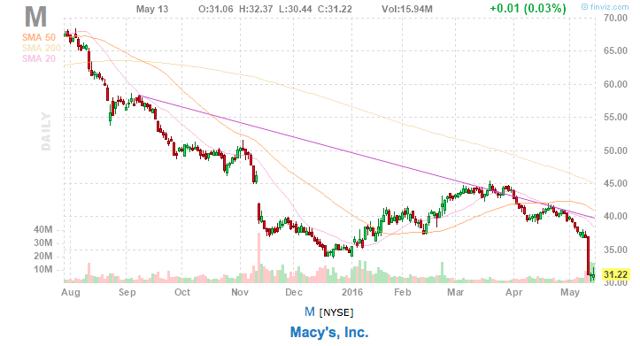 Last August, after Macy's reported earnings, we projected that shareholders should expect more pain, and since that time the share price has been cut in half. Realistically, the share price is cheaper, but valuation is currently at 10x earnings, rather than 12x earnings last summer. On May 11th, Macy's reported an EPS of $0.40, beating estimates by $0.04. Revenue came in at 5.77B (-7.4% Y/Y), and missed by $180 million. The company cited continued weakness in consumer spending levels. The company also guided down EPS estimates for the year from $3.80-$3.90 to $3.15-$3.40- meaning the drop this month did not make Macy's any cheaper on a forward P/E basis. Tourism has also been an issue, and the company specified weakness with apparel and predicts same-store sales sliding 3-4% for the year. As compelling as the dividend seems: declining sales and foot traffic coupled with rising inventory should keep investors on the sidelines. The value of property owned by Macy's does not offset these declines because without these properties sales cannot be realized. A difficult task lies ahead for Macy's, and the bullish answer of selling property or becoming a department store REIT is not as simple, or bullish as it sounds.
Per Share Data

M

EPS excluding extraordinary items (TTM)

3.09

EPS Normalized (MRFY)

3.77

Rev per share

81.95

BV per share (MRQ)

13.45

Tangible BV per share (MRQ)

-0.84

Cash per share (MRQ)

2.38

Cash flow per share

6.32

Indicated Annual Dividend (US)

1.51

* Data above as of Apr 30, 2016
Kohl's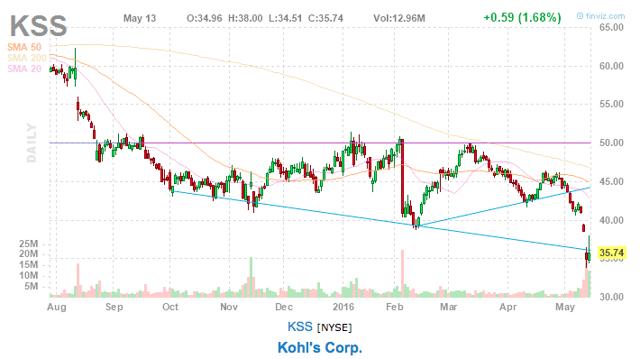 On May 12th, Kohl's reported a dismal quarter, compounded by harsh sector sentiment, sending the stock to new yearly lows. EPS came in at $0.31, missing by $0.06, and revenue at $3.97B (-3.6% Y/Y), missing by $160 million. Same-store sales were also down to -3.7%, and the company cited weakness in apparel as the main culprit. Operating income as percentage of sales slipped down to 2.7% from 6.8% a year ago. Ouch! That number alone should send investors running towards the exit, but the dividend currently yields over 5%, so this should be one to watch in the coming quarters as the company struggles in this new, brave Amazon world. The Per Share Data for KSS looks like a compelling value. The company currently has $2.27 in cash per share with the dividend payout at $2.00 per share, and KSS trades near its tangible book value. Those numbers, however, can change quickly if Kohl's cannot turn sales and margins north in the coming quarters.
Per Share Data

KSS

EPS excluding extraordinary items

2.94

EPS Normalized (MRFY)

4.00

Rev per share

100.02

BV per share (MRQ)

28.48

Tangible BV per share (MRQ)

28.48

Cash per share (MRQ)

2.27

Cash flow per share

7.90

Indicated Annual Dividend (US)

2.00

* Data above as of Apr 30, 2016
Nordstrom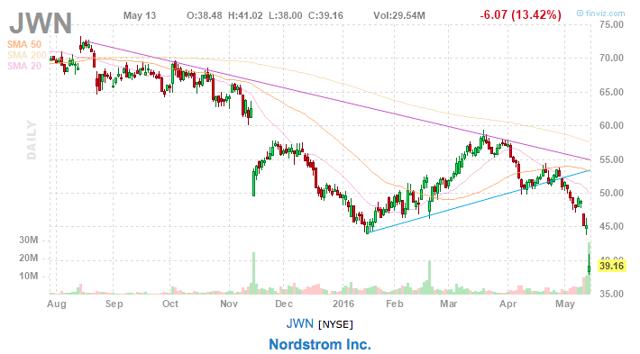 Nordstrom reported after the bell on May 12th, and the stock tumbled nearly 14% afterhours on lackluster earnings, and this is after the stock hit fresh 52-week lows in sympathy with Kohl's numbers from that morning. EPS came in at $0.26, missing estimates by $0.20, and revenue at $3.25B (+0.9% Y/Y), missing by $30 million. Increased markdowns to control inventory contributed to a bad quarter, but the company cited "lower than expected sales" as the major factor: net sales increased 2.5 percent while comparable sales decreased 1.7 percent, compared with the same period last year. Blake Nordstrom, co-president, said this:
"Our first quarter results were impacted by lower than expected sales. In response we have made further adjustments to our inventory and expense plans. As the pace of change in retail continues to accelerate, we remain committed to serving customers by taking steps that will continue to meet their expectations while driving profitable growth."
The pace of change has accelerated, and the decrease in earnings creates additional weakness for JWN's numbers. Return on Invested Capital dropped to 10% from 12% the quarter prior, and the company wasted $50 million to buy 1.0 million shares in the first quarter. Expenses as a percentage of sales increased across the board with higher markdowns to "better align inventory to current trends", which can always be an issue for fashion-apparel retailers. All in all, gross profit decreased with inventory growth of 5.4% versus net sales growth of 2.5% resulting in a negative spread of 3%, which the company cites as an improvement from the negative spread of 7% in fourth quarter of 2015. The only real bright spot for Nordstrom was off-price net sales, aka Nordstrom Rack, which increased 11.8%, and with comparable store sales up 4.6% from a year ago. Nordstrom is sometimes mentioned as a best-of-breed retailer amongst the department stores, but owning the best house in an abandon neighborhood can be toxic for one's portfolio.
Per Share Data

JWN

EPS excluding extraordinary items

2.77

EPS Normalized (MRFY)

3.16

Rev per share

78.08

BV per share (MRQ)

5.05

Tangible BV per share (MRQ)

2.54

Cash per share (MRQ)

2.71

Cash flow per share

6.00

Indicated Annual Dividend (US)

1.48

* Data above as of Apr 30, 2016
If these stories all sound familiar, it is because they all share common themes. Inventories rising, sales declining, weakness in apparel, underwater with buybacks, spending on initiatives to help spur growth online, and each quarter it gets a little worse, not better, as the environment that these department stores operate in is really unfavorable, and conditions are worsening and not hitting a trough before rising again.
History's Mysteries
How will this all end? We cannot predict the future, but we can always learn from the past. In the past decade J.C. Penney (NYSE:JCP) suffered declining sales, amassed debt, closed stores, sold real estate, slashed and eventually cut dividends, destroying nearly 90% of shareholder value along the way.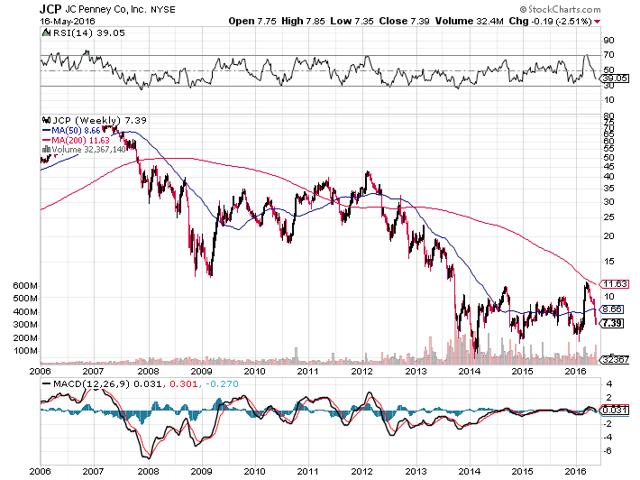 Dividends can be enticing, and M, KSS, and JWN all pay quarterly dividends with very attractive yields. A quick history of JCP's dividend according to dividend.com is as follows:
"JCP initiated its first quarterly dividend in 1987. The company increased its dividend until 2000 when it cut its dividend for the first time from 54.5 cents to 28 cents. In October 2000, JCP slashed its dividend again to 12.5 cents. This payout amount remained unchanged until the company saw an upside in 2005. In 2006, JCP increased its dividend from 12.5 cents to 18 cents. Although JCP's share price began to sink in 2007, the company boosted its dividend again to 20 cents per share. During this time, its share price tumbled, and JCP's share price continued to fall 80% over the next two years. JCP suspended its 20-cent dividend completely in 2012."
Comparing these retailers to the fate of J.C. Penney will surely render a slew of 'no-ways', but how many investors have been waiting for JCP, the perennial turn-around story; a story that could last another decade or more. Unlike the three department stores above, shareholders in JCP no longer receive a dividend, but they do get a messy balance sheet plagued by debt, which continues to hamper the company each and every quarter. J.C. Penney is an example that cannot be ignored, and an all too familiar cautionary tale that investors should take to heart. The mall is dead, and the numbers put up by these department stores will continue to deteriorate each quarter. Attempts to compete online will be expensive, hit and miss, and will not help increase traffic in the physical stores, which will start closing to help reduce costs. The new retail landscape will not include some of the traditional names of the past, and investors would be wise to avoid the mall, especially the department stores and fashion-apparel retailers. Not every department store will go the way of J.C. Penney, but the future looks bleak, and there is more than a good chance not all will survive in their current form.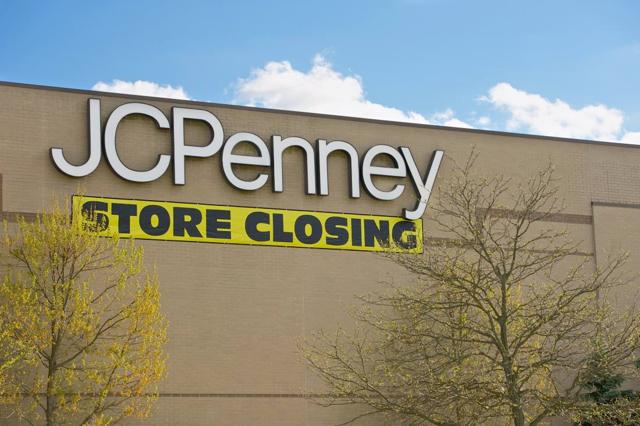 What's Next?
On Friday May 13th, consumer-spending numbers came in better than expected, but most of that spending is not finding its way into traditional shopping malls. To top it off, apparel keeps coming up as a common weakness amongst all the department stores, and most fashion/apparel stocks (too many to list) have been sold off. Online retailers are not the only ones cutting into mall traffic. Ross (NASDAQ:ROST), TJ-Maxx (NYSE:TJX), and the big-box retailers start reporting this week: Home Depot (NYSE:HD), Target (NYSE:TGT), Wal-Mart (NYSE:WMT), and Costco (NASDAQ:COST) to name a few. These companies, and what they report, should help investors discover whether or not the economy, and consumer, is really as strong as Friday's numbers suggest. Unlike the department stores, these companies sell items that the customer needs, as well as items that the customer wants. Macy's, Kohl's, and Nordstrom compete with these retailers in one category or more, and the evidence suggests they are losing on this front as well.
The best way to play this sector is to avoid it all together. The dividend yield for all three stocks, (M, KSS, JWN), are not valid measures of safety. Dividend income-seekers could find themselves underwater quickly. Declining sales coupled with a very tough macro climate signals that the department-store dividends seem unlikely to grow in the coming years with no guarantees of safety. Hopes of turnarounds, improved margins, consolidation, and shifts in current mall traffic trends are only that, just hopes.
As much as these are individual stocks and unique stories, the Amazon effect hurts them all. These are not compelling buy and hold, set it and forget it, long-term investments. It does not take a financial guru to read the writing on the wall, the long-term macro trends that everyone can or could see coming are real, here and now wreaking havoc upon equities appropriately.
Disclosure: I/we have no positions in any stocks mentioned, and no plans to initiate any positions within the next 72 hours.
I wrote this article myself, and it expresses my own opinions. I am not receiving compensation for it (other than from Seeking Alpha). I have no business relationship with any company whose stock is mentioned in this article.
Additional disclosure: This article is for entertainment purposes only and is not meant for investment advice or direction. Investors are strongly encouraged to perform due diligence and/or consult with their financial advisor.