The International Monetary Fund (IMF) updated in April its WEO forecasts for the world. The Fund describes the months between this and its previous projections (October 2015) as a period characterized by volatility, weak growth in advanced economies, and continued headwinds for emerging markets. Global growth was revised down from 3.4% to 3.2% for 2016. Latin America was not the exception, going from 0.8% to -0.5%. Is the regional recession easier to blame on Brazil? Venezuela? China? Commodity prices?
Recall that GDP growth and expectations play a key role in explaining the performance of our regional bullish ETFs: Argentina's (NYSEARCA:ARGT), Brazil's (NYSEARCA:EWZ), Chile's (NYSEARCA:ECH), Colombia's (NYSEARCA:GXG), Mexico's (NYSEARCA:EWW), and Peru's (NYSEARCA:EPU). So we monitor closely our ETF sample and economic activity. This is how indices and GDP have performed recently: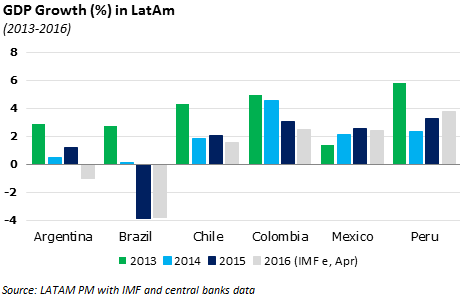 The IMF expects recovery until 2017, driven primarily by Asia. Latin America will not be one of the motors behind EM growth. Compared to other regions, Latin America will be the worst performer in terms of GDP growth with a modest 1.5% in 2017. The recovery described by the IMF will come from emerging Asia (6.3%) and the Sub-Saharan Africa (4%). The Middle East and North Africa are expected to grow at 3.3% in the same year. It is important to keep an eye on these imbalances in EMs growth. The bearish EM ETF, the Direxion Daily Emerging Markets Bear 3x Shares ETF (NYSEARCA:EDZ), is an important hedging instrument to cover from any unexpected EM surprises (China?).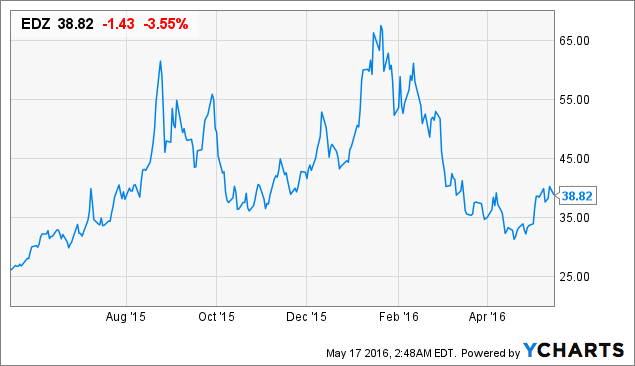 EDZ data by YCharts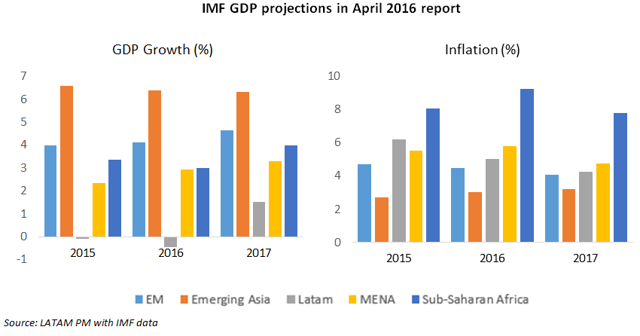 Looking closer, at the country level, there are interesting differences between the IMF's projections published this week and the projections made 6 months ago in the October report. The first striking one is Ecuador. After years of distance between the IMF and Ecuador, the South American country reestablished the Consultation IV visits of the Fund so it could make an assessment of the economic conditions in the country. The result was that Ecuador was expected to contract 0.5% of GDP in 2015 and to grow zero in 2016. Although Ecuador managed to grow 0.5% last year, the Fund came with new estimates of -4.5% and -4.3% for 2016 and 2017, respectively.
The Ecuadorian Economic Ministry has already complained about the estimates, linking them to political biases. The truth is that with the low oil prices, the country has been forced to slash its budget more than 10% for this year. Government spending has been the main driver for growth in Correa's administration; without it, Ecuador is decelerating quickly.
The IMF also thinks that Brazil and Venezuela are having deeper crises than what it originally thought. For 2016, growth expectations in Brazil went from -1% in April's report to -3.8%. For the same year, Venezuela's projection went from -6% to -8%. In both cases, the crises are extending into 2017, and together with Ecuador, these countries explain the crisis in the entire region.
The surprise to the upside is Argentina. Although the IMF expects for 2016 a crisis slightly deeper than 6 months ago, for next year, the Fund expects a GDP growth close to 3%. This significant improvement from October's GDP growth projection of 0% is purely explained by Macri's victory and its reformist agenda of cutting subsidies, removing capital and currency controls and regaining access to capital markets.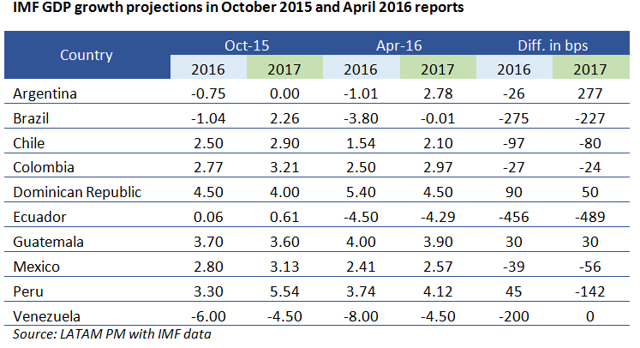 In terms of consumer prices, Venezuela is out of the charts. The Fund has increased its projections to 720% inflation for 2016 and a hyperinflation of 2,200% in 2017. The rising trend that the IMF is expecting is not minor; it could be the trigger for unsustainable levels of social unrest that can lead to a change in government.
Brazil and Colombia's annual inflation rates for 2016 and 2017 have also been increased. While in Brazil changes respond to a less restrictive monetary policy, in Colombia BanRep has not been able to stop the pass-through coming from the depreciation of the peso and the effect of El Niño drought in food prices.
Ecuador is the positive surprise in terms of inflation. The country is lifting tariffs used to recover part of the decrease in fiscal revenues due to the falling oil prices. However, the main driver for this decreasing trend is likely to be the weaker aggregate demand also forecast by the fund.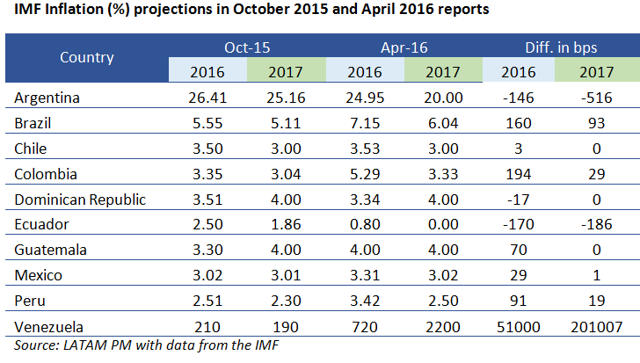 LATAM PM's take: From IMF projections, it is evident that there are differences across countries. South America will continue to be affected by the decline in commodity prices, while Mexico, Central America and the Caribbean will benefit from the U.S. recovery.
The IMF discussed risks for global growth that could change Latin American growth projections for the coming years. First, there is the risk of the return of financial turmoil, which could affect confidence and demand and create a negative feedback loop through weaker consumption and investment. To the financial turmoil is also linked a lower appetite for riskier assets that could lead to possible capital outflows from emerging markets.
China's model transition towards consumption and services led growth is another risk, especially for South America, which has stronger links to China though trade.
Climate change events such as El Niño drought will also be a key risk to follow in countries such as Ecuador, Colombia and Venezuela.
Disclosure: I am/we are long EWW, EDZ.
I wrote this article myself, and it expresses my own opinions. I am not receiving compensation for it (other than from Seeking Alpha). I have no business relationship with any company whose stock is mentioned in this article.