China's economic growth is slowing down, whether it is a hard landing or not. This will continue to have implications for the global economy, and Latin America is no exception. China's weaker economic dynamism compromises the growth model of several countries in the region. Although commodity prices have recently picked up (and Venezuela is surely thankful for the oil comeback), the Brazilian economy fell more than 6% year-on-year in March, and a recession exit still looks far in the horizon.
Over the last decades, the increasing Chinese soft power in the region has been forged through economic ties in trade, investment and financing. (Just this week and on growing concerns over the disastrous Venezuelan economy, China announced a bilateral trade for US$5 billion to be announced soon; it has lent more than US$50 billion to Venezuela since 2007). As China went through its economic miracle, Latin America (LatAm) also enjoyed the economic boom, seizing the chance to supply metals, fuels, and food. China will grow around 6.5% in 2016, down from the 9.7% average of the last ten years. Although 6.5% is still a considerable figure, this is already hitting the region hard and it is likely to decrease in the following years.
China's economic woes are shifting its attention inwards, diminishing financing and investment in LatAm; but the short-term economic shock for the region is coming via trade. Both imports and exports that China has with the region have gone from $6.6 and $8.0 billion respectively in 2001 to $126 and $135 billion in 2014, albeit at a recent slower pace. Since 2012 trade between China and the region stopped its growth.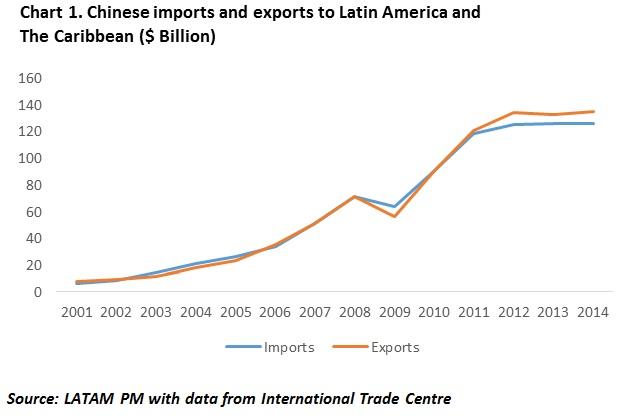 As it happens whenever we talk about such a heterogeneous region, the relationship with China differs from one country to another. The trade flow of countries like Chile, Mexico and Uruguay in 2014 is around 17 times larger than it was in 2001; but for Colombia, Costa Rica and Bolivia, it has increased by more than 60 times in the same period.
As we wrote recently, we had a reminder last week that turbulent times are not over and that global demand will continue to affect Chile's economy. China reported on Monday that imports unexpectedly fell 11% in April from a year earlier, undermining the outlook for the price of copper. This caused the Chilean peso to have its worst week in almost a year weakening by 4% as investors increased their short positions on the peso in the currency forwards market. In 2014, Chile sent in exports around 8.1% of its GDP to China, making of the Andean country one of the most exposed countries to China's demand, only after Costa Rica. The peso, currently at 690.5 per USD is likely to depreciate on disappointing Chinese data. This could benefit exporters like Viñedos Concha y Toro (NYSE:VCO), the winery behemoth, but it could affect inflation and domestic consumption, too.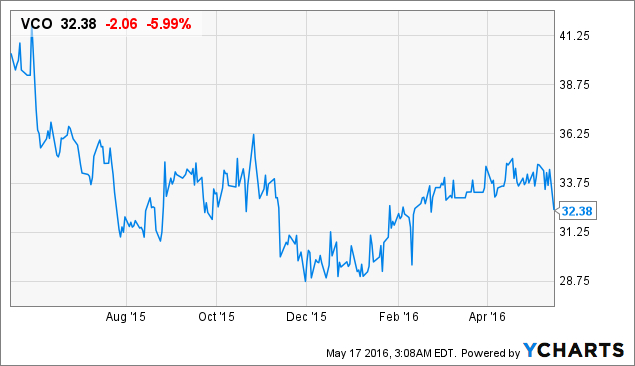 The size and the evolution of the trade relationship with China have different importance in the economies of the region. Mexico sends in exports around 0.8% of its GDP to China every year. This is less than half of the 2.2% that Brazil sends; however, the striking difference comes with Uruguay's 4.6%, Venezuela's 5.5%, Chile's 8.1% and Costa Rica 8.4%.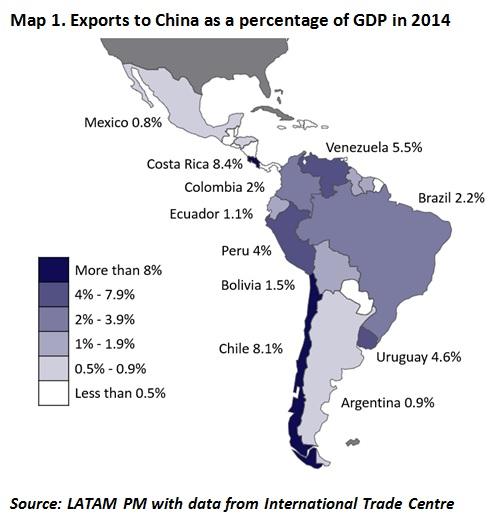 Costa Rica sends goods to China worth almost a tenth the size of its economy every year, of which 85% are integrated circuits. The debt of the trade relationship is evident now in the growth rates of the two economies. Costa Rica's GDP growth increased progressively from around 2% in 2001 to 8% in 2006 and 2007, which coincides with China's maximum GDP growth in the decade (of 14% in 2007). When the Chinese GDP growth fell to around 10% in 2008 and 2009, Costa Rica's growth collapsed to -1%. Costa Rica is not alone in its dependency on the Asian giant. There are at least other 6 major economies that send in exports more than 2% of its GDP to China. All forged this relationship in the last 15 years, since China joined the World Trade Organization in 2001.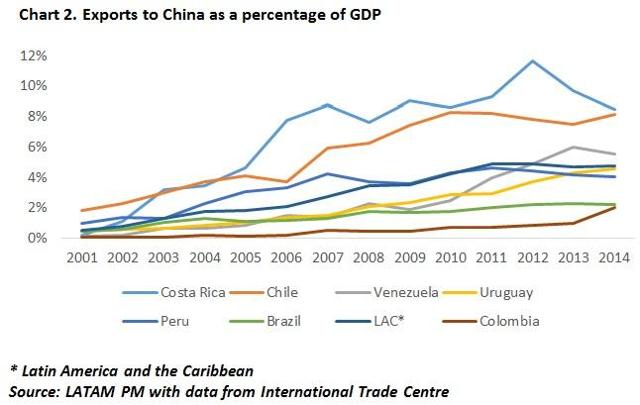 LATAM PM's Take: The map presented above can also be seen as a map of risk. The darker colors show the countries that face considerable challenges in terms of economic growth in the coming years. Most of these countries are still growing, but if China's weaker growth ends in a hard landing, they are likely to experience economic recessions. The region will have to strengthen its relation with other trade partners in order to maintain its growth coming from international trade. Countries like Chile, Colombia, Costa Rica, Dominican Republic, Mexico, Peru and other Central American nations have already started to strengthen their trade relations with the US, Europe and other Asian countries with bilateral trade agreements and the TPP. This process is likely to be followed by others in the region.
Ecuador has recently been having a renewed interest in negotiating a trade agreement with the European Union, while Argentina is doing the same, pushing from within the sleeping Mercosur. Although some countries are lagging behind in this diversification process, it is crucial for the highly dependent nations in terms of their trade relationship with China to create strategies to maintain their economic development path going forward.
Disclosure: I/we have no positions in any stocks mentioned, and no plans to initiate any positions within the next 72 hours.
I wrote this article myself, and it expresses my own opinions. I am not receiving compensation for it (other than from Seeking Alpha). I have no business relationship with any company whose stock is mentioned in this article.